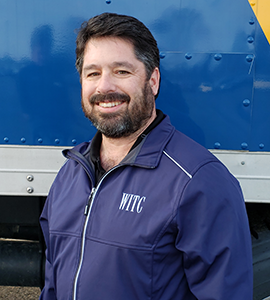 Contact
---
715.246.6561 ext. 4299
1019 S Knowles Ave. New Richmond, WI 54017
"We not only train students how to pass their CDL test, we also train students the skills employers are looking for. We take our students into rush hour traffic to downtown Minneapolis and St. Paul, through the hills and through the snow. We plan and implement long-distance trips through all sorts of conditions. We tour weigh stations, visit with DOT enforcement officers and tour truck driving operations. The short time commitment of the program and low tuition costs make this program a quick and low-cost gateway to a lucrative career."

---
Biography
In addition to 23 years of truck driving experience, Brian Hudson has taught some of the premiere driving instructors in the industry where he learned many great lessons about instructing students and proper driving techniques. One of his favorite aspects of teaching is when he runs into a past student, and they share how they have succeeded in his or her career, what they have learned in their experiences and how their lives have improved. 
According to Brian, there is a national shortage of qualified commercial truck drivers, and that shortage grows each year. Most students leave Northwood Tech with several job offers when they finish the 10-week course. After earning their CDL, students are finding various avenues for their new careers. They can choose to see the countryside and drive as an over-the-road truck driver. Others are choosing to work locally, picking up and delivering freight. Some graduates buy their own trucks and become business owners and employ their drivers. Others are finding careers in a job where truck driving is a small part of their work day, such as in the construction industry.  
In his spare time, Brian enjoys spending time with his family, riding his Harley, and fishing. He also enjoys geocaching, hiking, kayaking, falling down (also known as skiing) and just about anything that keeps him away from watching Brady Bunch reruns. He also has a Puggle (pug and beagle mix) that he sometimes forces to go for a walk.