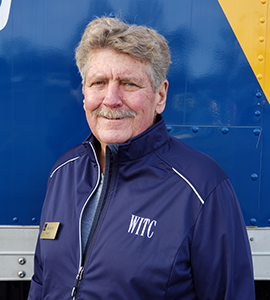 Contact
---
1900 College Drive, Rice Lake, WI
"This program is taught by experienced drivers who have a passion for the job. The instructors at Northwood Tech share their knowledge with new drivers in a very straight-forward, no-nonsense way."

---
Biography
Driving truck had been a dream for Louis (Butch) Knauff since he was 5 years old. His father was a heavy equipment operator and truck driver, and Butch followed in his footsteps. After many years of experience on the road, Butch still enjoys the work. 
Butch approaches teaching from the perspective that all students are unique. His goal is to adapt his learning methods to accommodate each student whether that be audio, visual, hands-on or a combination thereof.
In his spare time, Butch enjoys spending time with his wife and pets – one dog and two cats. He also likes to hunt, fish and work on small engines.