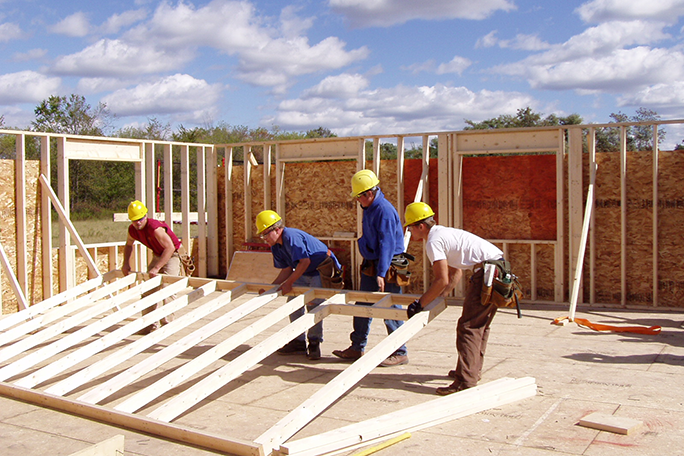 Program Overview
Rice Lake
Carpenters construct, erect and repair buildings and other structures made of wood, wood substitutes, steel and other materials. Topics covered during the Carpentry ABC Apprenticeship program include, but are not limited to: wood building materials, fasteners and adhesives; hand and power tools; floor systems; wall and ceiling framing; window and exterior doors; blueprint reading and elevations; site layouts; foundations and flat work; concrete and patented forms; reinforcing, handling and placing concrete; tilt up wall systems; exterior finish; roof framing and applications; thermal and moisture protection; stairs; framing with metal studs; drywall installation; interior finishes; metal building; and welding.
Cutting-Edge Industry Curriculum
Associated Builders and Contractors (ABC) is a respected leader in industry-training curriculum.
Get paid on day one for on-the-job training and in-class instruction.
In the next few years, the construction industry will need as many as two million new craft professionals to fill the jobs available. 
General Information, Requirements and Application Process
Application Process

To learn more about the steps to apply or to apply, visit the ABC of Wisconsin website

Complete Accuplacer Next Gen entrance assessment (individuals with valid ACT or Classic Accuplacer scores do not have to test)
Confirmation of admission from Northwood Tech's Academic Affairs Apprenticeship Office
For questions, contact Leigh Emrick (see contact information below)

Work Description

Construct, repair and remodel all aspects of commercial and residential construction - from concrete forms and building framework to exterior and interior finishing

Operate a wide range of professional power tools and precision measurement devices

Read and interpret prints and specification books to coordinate and schedule work with other trades

Terms of Apprenticeship

Four-year training program

5,840 hours on-the-job training

576 hours paid related instruction

Requirements

Applicants must be at least 17 years of age and must have high school diploma or equivalency

Meet required norms on aptitude test (if required)

Reading, writing, comprehension and communication skills

Physically able to perform trade

Valid driver's license or reliable transportation
For More Information
Contact Northwood Tech for information about the skilled occupations and industries in Northwest Wisconsin and advice about the requirements and application procedures. The College works closely with regional apprenticeship offices (located in Chippewa Falls, Wausau, Milwaukee, Appleton and Madison), business and industry, and local labor union offices.
ABC of Wisconsin's flexible, affordable craft and safety training leads to industry-recognized, national credentials for today's leading construction positions. Together, ABC of Wisconsin helps individuals train, transform and triumph as they pursue meaningful careers that advance their potential and build strong communities.