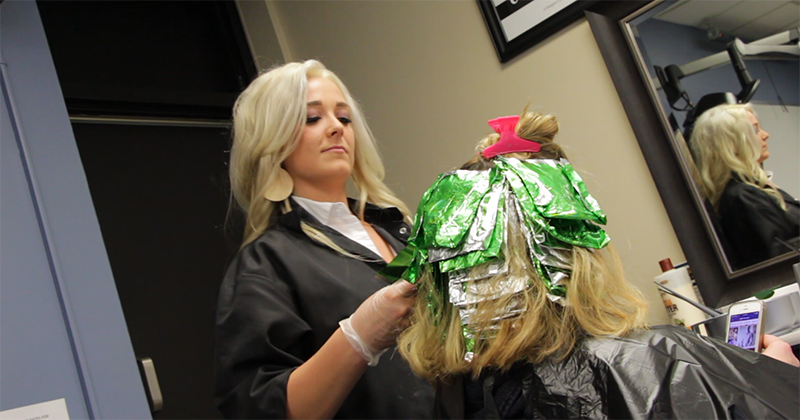 Program Overview
Online
Cosmetology is a vibrant career with many employment and career opportunities. Salons, spas, barber shops, and beauty supply companies are in need of professional stylists.
A career in cosmetology combines professional techniques with creativity to provide a challenging career with many rewards. The cosmetology apprenticeship program provides the theory training to allow the student to satisfy the Wisconsin state requirements to become a licensed professional.
Cutting-Edge Industry Curriculum
Pivot Point is a respected leader in industry training curriculum.
Enjoy the freedom and flexibility of online learning from you home or work setting.
Instructors are available to students by email on a daily basis providing quick and effective feedback and assessment.
General Information and Application Process
Application process, forms and contract

Obtain application from links to forms below or contact the Bureau of Apprenticeship Standards.

Confirmation of admission from Northwood Tech's WDA Office

When you have found an employer/sponsor, contact the Bureau of Apprenticeship Standards.

Work Description:

Wisconsin Laws and Rules about:

Salon Ecology

Safety and Sanitation

Salon Operations

Theory of Hair Cutting, Styling, Coloring, Permanent Waving, Chemical Relaxing,  Manicuring and Artificial Nails, Facials, Applied Communications.

Working Conditions:

Generally work in clean, pleasant salons with good lighting and ventilation.  This occupation also requires strong interpersonal communication skills and standing for long periods.  Work hours usually include evenings and weekends.

Qualifications:

be at least seventeen (17) years of age

be employed full time, at least thirty-two (32) hours or more per week, including paid related instruction

make a commitment to the apprenticeship program policies and procedures

be physically able to perform the duties of the occupation with reasonable accommodations if necessary

provide their own or reliable transportation to related classroom instruction and on-the-job training

if the apprentice is still in high school, he or she must meet the requirements in the Apprenticeship Manual and may work part-time.

Terms of Apprenticeship:

Two year training program

3,712 hours on-the-job training

292 hours paid related instruction, online delivery

After completing the program, apprentices must pass the state test to be licensed as a practitioner.
For More Information:
Contact Wisconsin Northwood Tech for information about the skilled occupations and industries in Northwest Wisconsin and advice about the requirements and application procedures. Northwood Tech works closely with regional apprenticeship offices (located in Chippewa Falls, Wausau, Milwaukee, Appleton and Madison), business and industry, and local labor union offices.
Obtain application from links to forms by contacting: 
Bureau of Apprenticeship Standards
When you have found an employer/sponsor, contact the Bureau of Apprenticeship Standards.
Contact:
Eric Lockwood
Director, Apprenticeship and Academies
Northwood Technical College
715.246.6561, ext. 4297
Professional Licensure
Northwood Tech's Cosmetology Apprenticeship meets the requirements of the Bureau of Apprenticeship Standards in Wisconsin. Northwood Tech has not made a determination whether this program meets licensure requirements in states other than Wisconsin. Students who may be seeking professional licensure in states other than Wisconsin should contact the appropriate apprenticeship bureau or licensing board in that state to verify that the Northwood Tech program meets licensure or certification requirements.