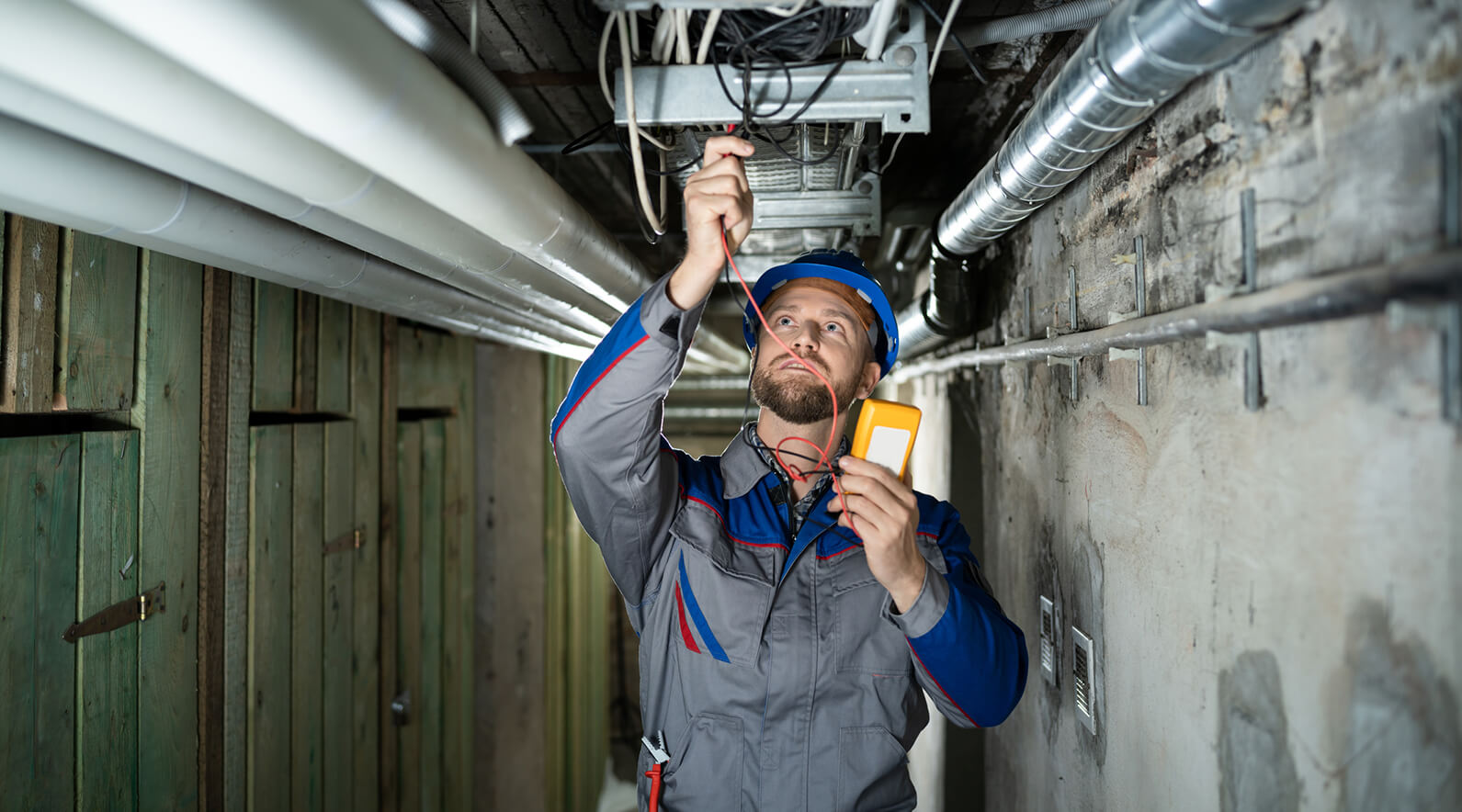 Program Overview
Hybrid Delivery - On Site at Rice Lake campus and Online
The Electrical Construction Apprentice is an earn-while-you-learn program of on-the-job training combined with related classroom instruction. During the apprenticeship, the apprentice works on-the-job learning the electricial construction trade under the supervision of qualified journeymen. Apprentices are trained under a written training agreement called an indenture. While indentured, the employer agrees to teach the student the skills of the trade and the apprentice agrees to learn the skills involved.
As an Electrical Construction Apprentice you will learn to install, maintain, and repair electrical wiring, equipment, and fixtures; ensure that work is in accordance with relevant codes; and may install or service street lights, intercom systems, or electrical control systems.
All apprentices start and end the apprenticeship with an employer. The goal of an apprenticeship is long-term job stability. 
When you complete your apprenticeship, you will be eligible to write the state journeyman electrician exam.
Successful completion of the electrician construction apprenticeship allows the apprentice to be eligible for 39 credits of the 60 credit technical studies journeyworker associate degree. 
General Information and Application Processes
Application Process

Locate an employer that is willing to sponsor you in the electrical apprenticeship. Registered apprenticeship is 90% on the job training and 10% classroom instruction. Therefore, all apprenticeship programs requires employment prior to enrolling in a program. Research potential employers to identify a good fit. You may need to work for an employer for a period of time before they're sponsor into the apprenticeship. Download Employer Application Here

 

Pass exam requirements. The Next Generation Accuplacer entrance exam is required unless you've have valid scores from ACT (15+ in math and 16+ in reading) or Classic Accuplacer that are less than five years old. To take the Next Generation Accuplacer exam contact the nearest Northwood campus. Speak with a Student Services representative and request to schedule an exam to enter the electrical construction apprenticeship. A college application must be completed prior to testing.
Obtain a copy of your high school transcript or GED and ACT exam scores, if applicable.
Email completed apprentice application, high school transcripts/GED and exam scores to local Apprenticeship Training Representative Long Vang at long.vang@dwd.wisconsin.gov
Northwood Technical College is contacted by the Apprenticeship Training Representative once the application and approval process is complete. Communication is sent out to new apprentices prior to the start of the semester with information regarding registering for classes, class schedule, paying for tuition and purchasing textbooks.

Work Description

Construction Electricians install, maintain, and repair electrical wiring, equipment and fixtures; ensure that work is in accordance with relevant codes; and may install or service street lights, intercom systems or electrical control systems.

Working Conditions

Electricians work indoors and outdoors at homes, businesses, factories and construction sites. Because electricians must travel to different worksites, local or long-distance commuting is often required.

On the jobsite, they occasionally work in cramped spaces. The long periods of standing and kneeling can be tiring. Electricians may be exposed to dirt, dust, debris, or fumes. Those working outside may be exposed to hot or cold temperatures and inclement weather. Those who work in factories are often subject to noisy machinery.

Qualifications

Apprentices, at the time of assignment for apprenticeship: shall not be less than seventeen (17) years of age, shall be a high school graduate, or have a high school diploma, or have attained a High School Equivalency or G.E.D and have the ability to legally work in the U.S.

Be physically fit and able to perform the tasks of the trade. Applicants who reach the employability status may be required to successfully pass a drug screening test prior to placement. 

Be required to furnish proof of age

Must furnish an official transcript of schooling and grades obtained

Must meet required norms on approved aptitude tests

Must have the ability to get to work and school on a timely and consistent basis

Must have satisfactorily (with a passing grade of "C" or better) completed one year of high school algebra or its equivalency (1) Equivalent courses are defined as: one (1) full year of high school Geometry, Algebra II, Trigonometry, or Calculus that are satisfactorily completed with a passing grade of "C", or one (1) post high school Algebra, Geometry, Algebra II, Trigonometry, Calculus course with a passing grade of "C".

To qualify as an equivalent, each course is required to be satisfactorily completed in its entirety, and each course will be considered separately.

Terms of Apprenticeship

 

Four year program
8,000 hours on-the-job training
576 hours of paid related classroom instruction
104 hours of non-paid related instruction on own time
First six months is the probationary period
A state journeyperson examination at the completion of the apprenticeship
Wage scale of apprentice systematically increases throughout the apprenticeship
For More Information:
Contact Northwood Technical College at Rice Lake for information about the skilled occupations and industries in Northwest Wisconsin and advice about the requirements and application procedures. Northwood Tech works closely with regional apprenticeship offices (located in Chippewa Falls, Wausau, Milwaukee, Appleton and Madison), business and industry, and local labor union offices.
Contact:
Eric Lockwood, Director, Apprenticeship and Academies
715.246.1871
Professional Licensure
Northwood Tech's Electrical Construction Apprenticeship meets the requirements of the Bureau of Apprenticeship Standards in Wisconsin. Northwood Tech has not made a determination whether this program meets licensure requirements in states other than Wisconsin. Students who may be seeking professional licensure in states other than Wisconsin should contact the appropriate apprenticeship bureau or licensing board in teh state to verify that the Northwood Tech program meets licensure or certification requirements.