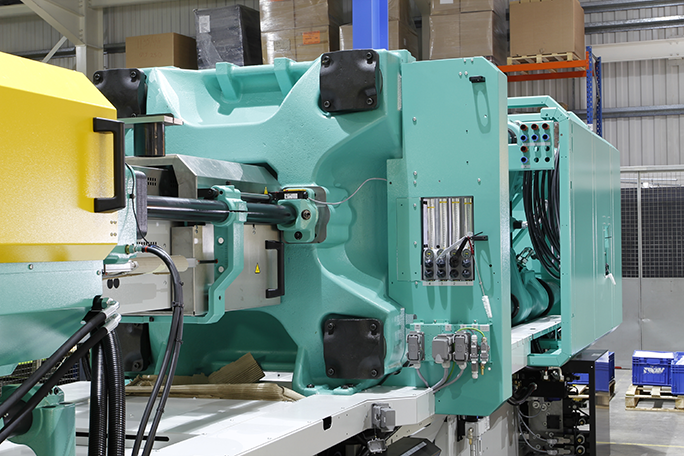 Program Overview
New Richmond
Injection molding machine setters set up and tend machines that transform plastic compounds into a wide variety of consumer goods such as toys, tubing and auto parts. They install plastic injection molds on the molding machine; make necessary connections of the electrical, hydraulic and cooling systems to the mold; insure that the correct plastic material, plastic melt temperatures, shot size, injection speed and pressures are set; and cycle the machine and adjust the molding parameters until acceptable parts are produced. 
Units of instruction include electricity, hydraulics and pneumatics; statistical process control; plastic mold design and blueprint reading; technical mathematics; basic tool room machine shop operations; and an overview of many of the plastic molding processes other than injection molding. 
All apprentices have an employer. There is no need to look for an employer after you finish your training.
All theory is backed by hands-on applications at your workplace, allowing you to explore the processes that will become the foundation for your career.
Get paid on day one for on-the-job training and in-class instruction.
General Information and Application Processes
Application Process

Obtain application from the Bureau of Apprenticeship Standards.
To become an apprentice in the state of Wisconsin, one must first be indentured by the State Bureau of Apprenticeship Standards (BAS).
Complete and return your application with a copy of a high school transcript or GED.
Confirmation of admission from Northwood Tech's WDA Office.
Contact an employer on your own. Each company has its own requirements for entry into the apprenticeship program.
Once you have a sponsor, contact the Bureau of Apprenticeship Standards who will create an apprenticeship contract between you and your employer

Program Outcomes

1. Classify the structure and properties of plastics
2. Install (and maintain) molds
3. Set up injection molding machines
4. Compare plastic processes used in the industry
5. Analyze mold design and construction
6. Interpret industrial prints and schematics
7. Apply mathematics to industrial situations
8. Solve problems by troubleshooting equipment components and processes
9. Apply automation principles to injection molding and plastics

Qualifications

Entry requirements vary by employer
High school diploma or equivalent
Applicants apply directly to participating employers

Terms of Apprenticeship

Four-year training program
7,744 hours on-the-job training
576 hours of paid related classroom instruction

Working Conditions

Injection molding machine setters work in a typical factory shop setting and use protective equipment such as safety belts and protective glasses to avoid common hazards. This highly technical apprenticeship program requires a thorough understanding of the material taught in this program. 
For More Information:
Contact Northwood Tech for information about the skilled occupations and industries in Northwest Wisconsin and advice about the requirements and application procedures. Northwood Tech works closely with regional apprenticeship offices (located in Chippewa Falls, Wausau, Milwaukee, Appleton and Madison), business and industry, and local labor union offices.
Obtain application from links to forms by contacting: 
Bureau of Apprenticeship Standards
When you have found an employer/sponsor, contact the Bureau of Apprenticeship Standards -
Contact
Eric Lockwood
Director, Apprenticeship and Academies
Northwood Technical College
715.246.6561, ext. 4297