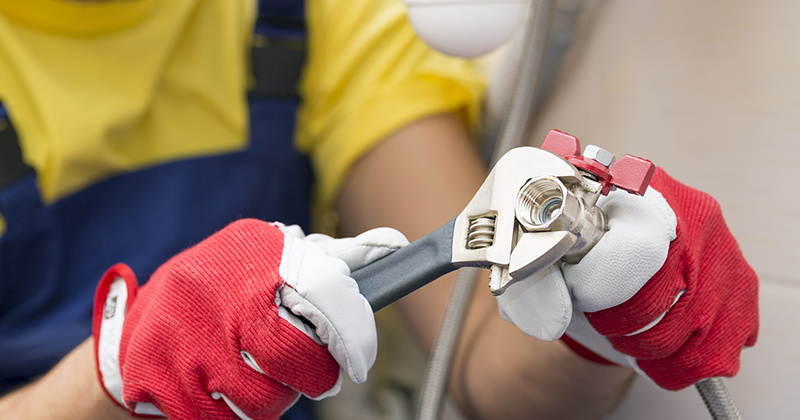 Program Overview
Ashland, New Richmond and Rice Lake Campuses
The plumbing apprenticeship is an earn-while-you-learn program of on-the-job training combined with related classroom instruction. During the apprenticeship the apprentice works on-the-job learning the plumbing trade under the supervision of qualified journeymen. Apprentices are trained under a written training agreement called an indenture. While indentured, the employer agrees to teach the student the skills of the trade and the apprentice agrees to learn the skills involved.
As a plumbing apprentice you will learn to design, install, repair and maintain piping systems such as soil, waste, vent, potable water, wastewater treatment, gas systems (medical, propane, and natural) in residential, commercial, industrial buildings and at utility sites.
All apprentices have an employer. There is no need to look for an employer after you finish your training.
When you complete your apprenticeship, you will be eligible to write the state journeyman plumbing exam.
The credits earned in the plumbing apprenticeship program also apply towards an associate's degree.
General Information and Application Processes
Application Process

Take letter of introduction to prospective employers for an interview.
Interview with the Joint Apprenticeship Committee (JAC)
Complete Accuplacer Next Gen entrance  assessment (individuals with valid ACT or Classic Accuplacer scores do not have to test). Contact WITC Student Services Rice Lake, New Richmond, Superior, or Ashland.
Complete and return your application with a copy of a high school transcript or GED and a copy of driver's license or plan of travel.
Confirmation of admission from Northwood Tech's WDA Office
Obtain application from links to forms below or contact the Bureau of Apprenticeship Standards (see address and phone below).

Work Description

Plumbers install pipes for water, gas, sewage, and drainage systems and install bathroom and kitchen fixtures, drinking fountains, and laundry equipment. They cut and thread pipe and assemble and install valves, pipe fittings and pipes.

Working Conditions

Work is active and sometimes strenuous. Work indoors and outdoors on a ladder or scaffold, in trenches or unfinished sections of new buildings. May work in uncomfortable positions or stand for long periods of time.

Qualifications

High school diploma or GED
Age 18 or high school graduate at 17
Possess a valid driver's license or means of transportation
Physically capable of performing the trade
Recommended high school courses: general math, algebra, geometry, trigonometry, mechanical and architectural drawing, general science, shop courses, and English

Terms of Apprenticeshi:

Five year program
8,000 hours on-the-job training
572 hours of paid related classroom instruction
260 hours of non-paid related instruction on own time
First six months is the probationary period
A state journeyperson examination at the completion of the apprenticeship
A licensed journeyperson is eligible to work under supervision of a master plumber throughout the state of Wisconsin
After three years a journeyperson may take exam for a Master License which is needed to become a licensed plumbing contractor.
Wage scale of apprentice systematically increases throughout the apprenticeship
For More Information:
Contact Northwood Tech for information about the skilled occupations and industries in Northwest Wisconsin and advice about the requirements and application procedures. Northwood Tech works closely with regional apprenticeship offices (located in Chippewa Falls, Wausau, Milwaukee, Appleton and Madison), business and industry, and local labor union offices.
Obtain application from links to forms by contacting: 
Bureau of Apprenticeship Standards
When you have found an employer/sponsor, contact the Bureau of Apprenticeship Standards.
Contact:
Eric Lockwood
Director, Apprenticeship and Academies
Northwood Technical College
715.246.6561, ext. 4297
Professional Licensure
Northwood Tech's Plumbing Apprenticeship meets the requirements of the Bureau of Apprenticeship Standards in Wisconsin. Northwood Tech has not made a determination whether this program meets licensure requirements in states other than Wisconsin. Students who may be seeking professional licensure in states other than Wisconsin should contact the appropriate apprenticeship bureau or licensing board in that state to verify that the Northwood Tech program meets licensure or certification requirements.