What is accreditation and why does it matter?
Accreditation provides assurance to the public, in particular to prospective students, that an institution has been found to meet the accrediting agency's clearly stated requirements and criteria and that there are reasonable grounds for believing that it will continue to meet them.
Accreditation provides both public certification of acceptable institutional quality and an opportunity and incentive for self-improvements in the accrediting institution.
An institutional accrediting agency evaluates an entire educational institution in terms of its mission and the agency's standards or criteria. It accredits the institution as a whole. Besides assessing formal educational activities, it evaluates such things as governance and administration, financial stability, admissions and students services, institutional resources, student learning, institutional effectiveness, and relationships with internal and external constituencies.
Regional Accreditation
Northwood Technical College, a technical college in the Wisconsin Technical College System, is accredited by the Higher Learning Commission (hlcommission.org), an institutional agency recognized by the U.S. Department of Education.
What is the Higher Learning Commission? 
The Higher Learning Commission (HLC) is an independent corporation, which was founded in 1895 as one of six regional institutional accreditors in the United States. The Higher Learning Commission accredits degree-granting post-secondary educational institutions in the United States. 
If you are unable to access any of these documents, please email Rebeccah Cusick or call 715-645-7035.
Open Pathway
Prior to September 2018, Northwood Tech participated in the Academic Quality Improvement Pathway (AQIP) for maintaining accreditation with the Higher Learning Commission (HLC). The AQIP Pathway was introduced in the late 1900s as an option for institutions to maintain their accreditation with HLC. AQIP is focused on quality assurance and institutional improvement, but with an added emphasis on helping institutions achieve continuous quality improvement.
After an evaluation of accreditation pathways, the HLC made a decision to phase out AQIP and transition institutions to Open Pathway. The Open Pathway follows a 10-year cycle and is focused on quality assurance and institutional improvement.
The last required reports to the HLC by the College are linked below. Northwood Tech will be submitting its next report, the assurance argument, in August of 2022.   
Specialized Program Accreditations
Northwood Tech has several programs that are required to maintain professional or specialized accreditation or licensure requirements. Programs with these specialized requirements are listed below.
Definition and Standards
Northwood Tech meets established standards and is approved for the instruction of veterans, orphans of war veterans, state and federal rehabilitation students and members of the workforce needing training or retraining. Northwood Tech meets the definition of an institution of higher education, and students are entitled to participate in federal financial assistance programs.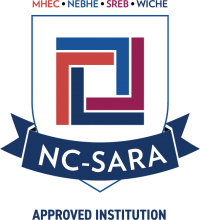 National Council for State Authorization Reciprocity Agreements
Wisconsin Indianhead Technical College has been approved by Wisconsin to participate in the National Council for State Authorization Reciprocity Agreements. NC-SARA is a voluntary, regional approach to state oversight of postsecondary distance education.