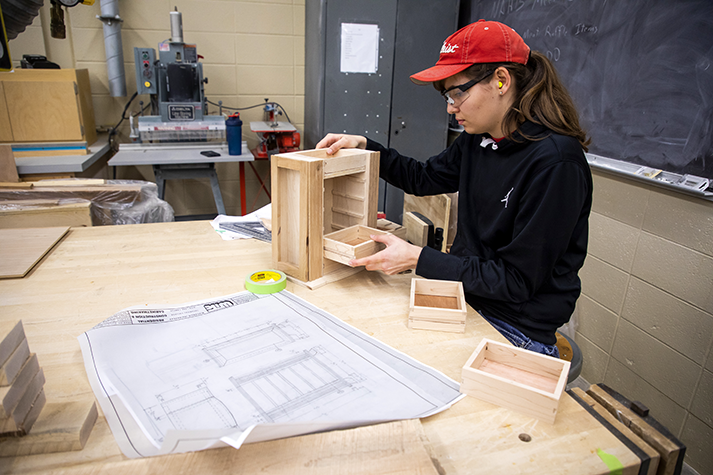 Architectural Woodworking/Cabinetmaking
Technical Diploma
29 Credits | 1 Year
Financial Aid-Eligible
Rice Lake
Career Cluster: Architecture and Construction
Transform sheets of plywood into your own custom creations in the Architectural Woodworking/Cabinetmaking program. This two-semester program is a fast track to becoming a cabinetmaker or finish carpenter. 
Program Overview
The Architectural Woodworking/Cabinetmaking technical diploma will provide you with the knowledge and skills necessary to work in cabinet and/or furniture shops, furniture factories, display shops and finish the interior of homes. You'll learn the fundamentals of cabinetmaking and furniture making along with installation and interior finish, print reading, math concepts, and CNC machine operation. Safety principles and the use of hand and power tools will also be covered. 
Program Outcomes
Architectural Woodworking/Cabinetmaking graduates will be able to:
Read blueprints
Identify materials
Set up machinery
Operate saws, joiners, planers, shapers, sanders and other woodworking machinery
Assemble parts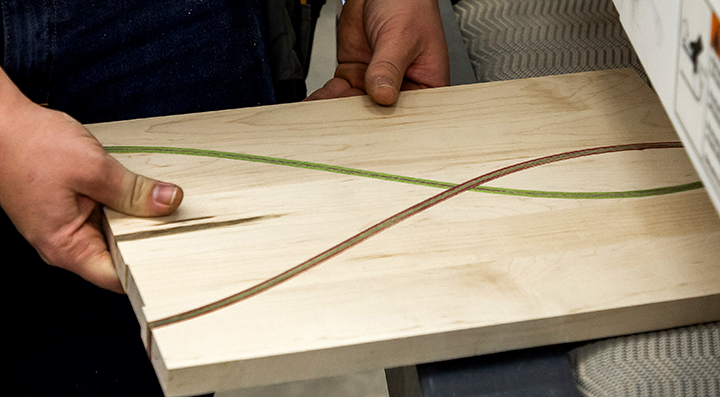 Stay on top of the latest architectural woodworking/cabinetmaking technologies and methods with this technical diploma.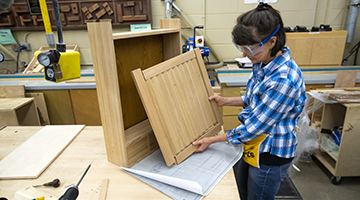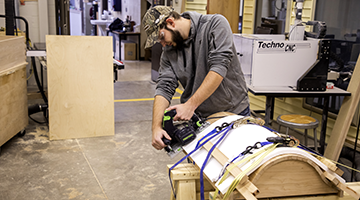 Learn multiple techniques and processes to finish cabinets and furniture.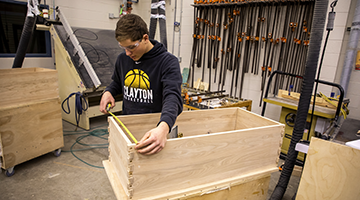 Develop well-rounded and versatile skills.
Academics
Architectural Woodworking/Cabinetmaking classes are offered in a face-to-face setting. This allows you to enjoy the traditional college experience with your peers and instructors, while learning from one another. 
As a student in this program, you will design and construct heirloom furniture. 
You'll learn from industry-respected instructors who have many years of experience. 
You will create cut list and process stock to build cabinets.
Curriculum
You will learn the fundamentals of cabinetmaking and furniture making along with installation and interior finish, print reading, match concepts and CNC machine operation. Safety principles and the use of hand and power tools will also be covered. 
This course provides instruction in reading and interpreting shop drawings, residential drawings, and commercial building plans. Emphasis is placed on building terminology and learning conventional techniques of communicating building methods from the designer to the builder. Students learn to visualize the structure and to interpret elevations, plan views, details, and sections from drawings. They also learn to read and interpret building specifications.
This is a lab/shop/theory application. This course covers the basics of cabinet and furniture construction. Fundamental machine operations and safety rules are taught. The students are required to construct, by approved machine methods, the common joints used in good construction. The study of wood and other materials, hand tools and bench work, shop drawing, design, and layout are a part of the basic course.
This is a lab/shop/theory application that focuses on finishing and fine tolerances of the cabinet making trade. This course will provide the skills needed for advanced production cabinetmaking, including materials cut lists, ordering, setting up machines for production cabinetmaking, assembly as well as production wood finishes. PREREQUISITE: 32410302 Cabinet and Furniture Making 2.
Architectural Woodworking/Cabinetmaking is Part of a Career Pathway
As an Architectural Woodworking/Cabinetmaking student at Northwood Tech, you can earn credentials each step of the way! 
You could take this first and get a credential.
Potential Careers
Cabinet Installer, Cabinetmaker, Machine Operator, Furniture Maker, Interior Finish Carpenter
Continue your education to obtain an associate degree. 
62 Credits / 2 Years Full Time
Potential Careers
Carpenter (Construction), Woodworking Machine Operator, Furniture Finisher, Millperson, Machine Setup Person, Cabinetmaker, Wood Machinist, Salesperson, Estimator, Draftsperson, Material Handling Specialist
Range of Yearly Salary
Insufficient data to report
Continue your education to obtain a bachelor degree. 
Northwood Tech has a simple admission process that can be completed in one visit. To start the process, simply fill out an application form along with a $30 application fee. After you've successfully submitted your application, your next step is to schedule an admissions meeting with a Northwood Tech counselor to discuss your goals and expectations. That's it! 
Tuition and Fees
Northwood Tech breaks down the cost of education, so you'll have a good idea of how much your education will cost. 
Financial Aid
Financial aid is available to help you pay for your education. It can come in the form of grants, loans, federal work study, military and veterans benefits, division of vocational rehabilitation benefits and scholarships. 
Estimated Total Program Costs 2021-22*
Architectural Woodworking/Cabinetmaking
29 Credits | 1 Year
$5,059
---
*Tuition is an estimate and does not include any miscellaneous fees for various courses, tools, books, supplies or uniforms. Program book costs are in addition to tuition and fees and vary depending on course selection and where the books are purchased or rented. 
After the Northwood Tech Architectural Woodworking/Cabinetmaking Program
Upon completion of the program, you will obtain an Architectural Woodworking/Cabinetmaking technical diploma. 
Transfer Options
Transfer your Northwood Tech credits to a four-year college in Wisconsin to obtain your bachelor's degree and beyond.
Career Outlooks
Northwood Tech's graduates experience success. Learn more about the types of careers you can get after graduation.