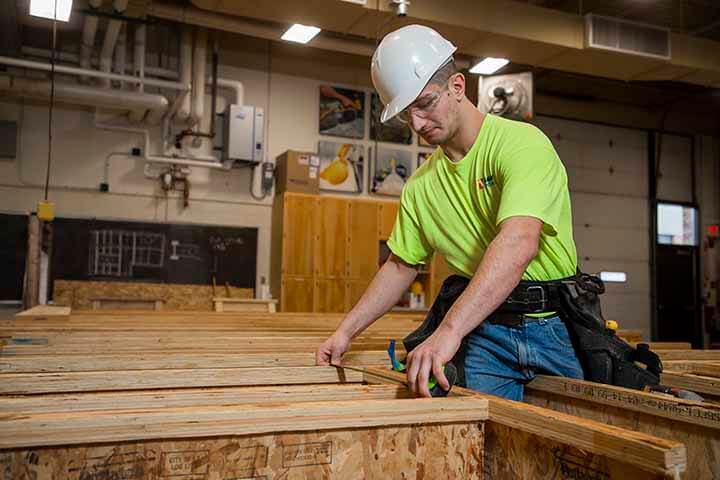 Construction and Cabinetmaking
Unique in the State
Technical Diploma
62 Credits | 2 Years
Financial Aid-Eligible
Rice Lake
Career Cluster: Architecture and Construction
Construction and Cabinetmaking has always been the back bone to economic growth in this country. This is the perfect program to get you into multiple career options within the industry to fill this ever-demanding need.  
Program Overview
The Construction and Cabinetmaking program will provide you with the knowledge and skills necessary for job success in the construction industry. You will learn the fundamentals of building design, construction, layout operation, related mathematics, print reading, estimating, CNC, cabinet construction and materials of industry. You will use hand and power tools that are commonly used in construction and fabrication to assemble furniture, cabinets and build a custom home off site.
Program Outcomes
Construction and Cabinetmaking graduates will be able to:
Use hand and power tools and equipment
Apply industry recognized safety practices and procedures
Analyze sustainable building practices
Interpret construction drawings
Interpret building codes
Demonstrate industry building practices and material application
Implement the knowledge you have learned by spending time each week working on and building furniture, cabinets and structures, under the supervision of an experienced instructor. Mastercam (CAD/CAM), Softplan (CAD), and other technologies related to building energy efficiency are utilized to get you that job that you are seeking.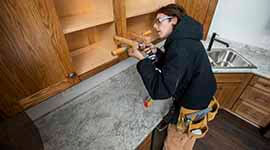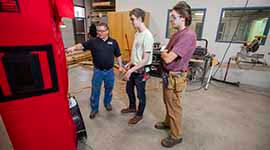 Utilize the latest software and technology.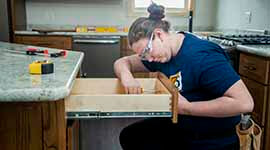 Develop well-rounded and versatile skills. 
Academics
Construction and Cabinetmaking classes are offered in a face to face setting. This allows you to enjoy the traditional college experience with your peer students and faculty, while learning from one another. 
This marks the 20th year of second-year students constructing a house from start to finish. As a student, you will frame exterior and interior walls and set the floor system and roof system. You will completely finish the exterior and interior of the house.
Furniture & Cabinet Making
First-year students design and construct heirloom furniture. Second-year students will design and construct the kitchen and vanities for the student house project.
The Construction and Cabinetmaking two-year technical diploma includes two embedded technical diploma options. Students in various locations have the option to earn the less-than-one-year Construction Essentials technical diploma and the Architectural Woodworking & Cabinetmaking one-year technical diploma and continue your education to complete the two-year Construction and Cabinetmaking program.
Required Courses
Program-specific subjects covered include print reading, cabinet and furniture making, drafting, CNC machining, site surveying, construction framing, advanced construction (offsite student house project), and estimating and production cabinetmaking.
This is a lab/shop/theory application. This course covers the basics of cabinet and furniture construction. Fundamental machine operations and safety rules are taught. The students are required to construct, by approved machine methods, the common joints used in good construction. The study of wood and other materials, hand tools and bench work, shop drawing, design, and layout are a part of the basic course.
This is a lab/shop applications course that covers the operations required in building layout, and the framing of floors and walls to meet Wisconsin State Code. Competencies are learned through actual hands-on applications. COREQUISITES: 32410339 Print Reading for Building Construction, and 32804325 Applied Technical Math 1.
This course introduces students to the subject of residential design and construction. The problems faced by builders and designers before actual construction begins are emphasized. Students complete a series of detail drawings to acquaint them with the materials used and the methods of fabrication in sketching, lettering, line weights, and use of the scale are stressed. Standard house plans are utilized to acquaint the student with the drawings used in home construction. Students are also introduced to state, federal, and local codes. PREREQUISITE: 32410339 Print Reading for Building Construction.
Construction and Cabinetmaking is Part of a Career Pathway
As a Construction and Cabinetmaking student at Northwood Tech, you can earn credentials each step of the way!
You could take this first and get a credential.
9 Credits / 1 Year Part Time
Potential Careers
Construction Worker, Construction/Carpenter Laborer, Carpenter Assistant, Carpentry Framer
Potential Careers
Cabinetmaker, Cabinet Installer, Furniture Maker, Machine Operator, Interior Finish Carpenter
This is the program you're looking at.
62 Credits / 2 Years Full Time
Potential Careers
Carpenter, Woodworking Machine Operator, Furniture Finisher, Millperson, Machine Setup Person, Cabinetmaker/Furniture Maker, Salesperson, Estimator, Drafter, Material Handling Specialist, Interior/Exterior Finisher
Continue your education to earn your bachelor's degree.
Northwood Tech has an easy admission process that can be completed in one visit. Please see the details under the "Requirements and Application" section to get started.
Tuition and Fees
Northwood Tech breaks down the cost of education, so you'll have a good idea of how much your education will cost.
Financial Aid
Financial aid is available to help you pay for your education. It can come in the form of grants, loans, federal work-study, military and veterans benefits, division of vocational rehabilitation benefits, and scholarships. 
Estimated Total Program Costs 2023-24*
Construction and Cabinetmaking
62 Credits | 2 Years
$11,331
$920 for tools, supplies and uniforms
---
*Tuition is an estimate and does not include any miscellaneous fees for various courses, tools, books, supplies or uniforms. Program book costs are in addition to tuition and fees and vary depending on course selection and where the books are purchased or rented. 
After the Northwood Tech Construction and Cabinetmaking Program
Upon completion of the program, you will earn technical diplomas in Construction Essentials, Architectural Woodworking & Cabinetmaking, and Construction and Cabinetmaking.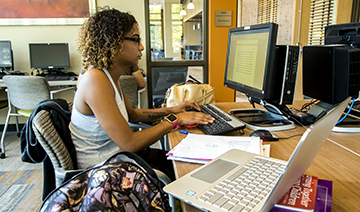 Transfer Center
Transfer your Northwood Tech credits to a four-year college to earn your bachelor's degree and beyond. 
Career Outlooks
Northwood Tech's graduates experience success. Learn more about the types of careers you can get after graduation.