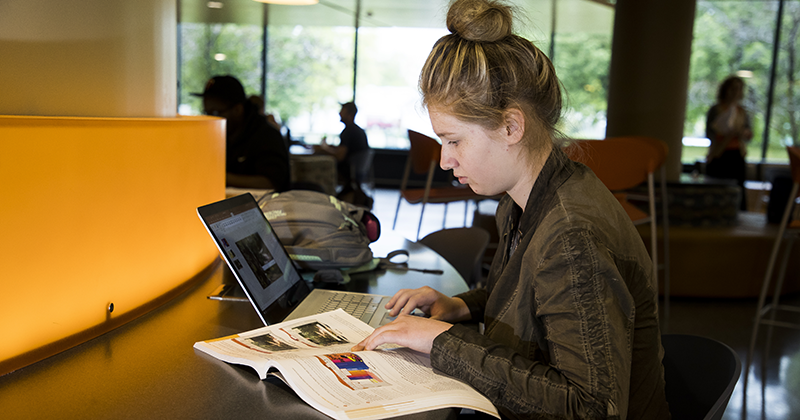 There are major changes and improvements coming to the 2024–25 Free Application for Federal Student Aid (FAFSA) form. As a result, the new form will be available in December 2023.
Get Money for College
Be one of the more than 70 percent of our current students to receive some type of financial aid including loans, grants, scholarships and employment. 
To determine if you are eligible for financial aid, you will need complete the Free Application for Federal Student Aid (FAFSA). We highly recommend that you apply at least 12 weeks prior to the semester starting to ensure that your financial aid is processed before classes start.  
How to Apply
First, create an FSA ID.
 An FSA ID is a user name and password used to log in to U.S Department of Education websites and to electronically sign Federal Student Aid documents. If you are a dependent student, a parent will also need create an FSA ID to sign the FAFSA.
Second, complete a Free Application for Federal Student Aid (FAFSA).
What You'll Need to Apply
Get organized. To simplify filling out the FAFSA, gather the following documents and other information and have them with you when you are completing your FAFSA:
 Federal Income Tax Return 
 W-2's from each job worked
 Unemployment, Social Security, Wisconsin Works W2, and any other documentation of income you received
Be sure to apply as soon as possible. You are a dependent student if you are under the age of 24 and single, do not have dependents, or you are not a veteran and will need your parents' Federal Tax Returns and income information.
Note: The Northwood Technical College Federal School Code is 011824.  For some processes, it may be listed as Wisconsin Indianhead Technical College with a Rice Lake or Shell Lake address.  This is the correct option.
How Different Types of Financial Aid Work
The Northwood Tech Financial Aid office assists students by awarding financial aid to help pay education-related expenses. Financial aid is available from federal, state, and private resources. There are four primary types of financial aid programs: grants, scholarships, loans and federal work-study.  Refer to the Department of Education Federal Student site for a comprehensive overview of the federal programs.

Scholarships are free money you do not have to pay back. There are a variety of scholarships available for students of all income and academic achievement levels, so check to see which you may qualify for.

Federal work-study is money you will not have to pay back. You earn federal work-study money by working part-time through Northwood Tech. You can use this earned money to help pay for your education-related expenses.

FAFSA Resources
Visit this online tutorial for a guide for students to successfully complete the free application for Federal Student Aid.
You may also want to visit this online tutorial for a guide for students to update tax information on the free application for Federal Student Aid.