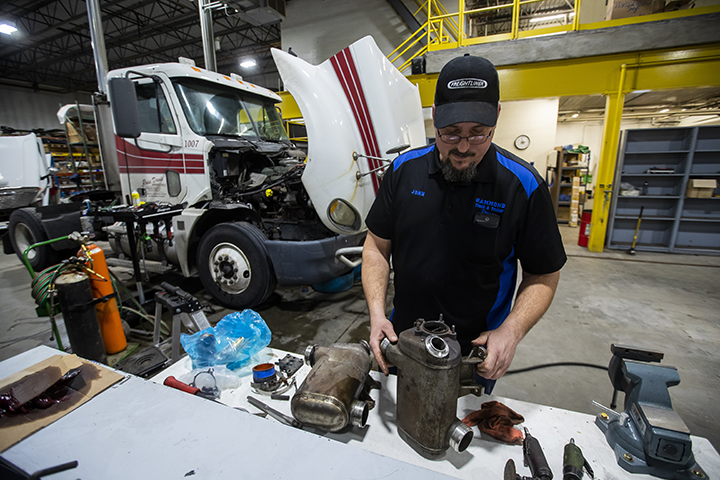 Diesel Equipment Technician
Technical Diploma
57 Credits | 2 Years
Financial Aid-Eligible
New Richmond
Career Cluster: Transportation, Distribution and Logistics
This program will be modified for the 2022-2023 academic year pending advisory committee and WTCS approval. Please contact an Admissions Advisor if interested or have questions (Admissions Advisors)
---
If you're interested in diesel equipment and enjoy working with technology, consider the Diesel Equipment Technician program. Diesel technician skills can get you a career in a variety of positions such as diesel equipment technician, fleet maintenance technician, equipment mechanic and equipment technician, to name a few. 
Program Overview
This program prepares students to service and repair diesel trucks and diesel-powered agricultural and industrial equipment. This hands-on program covers diesel engines, power trains, electrical/electronic systems, chassis systems, brakes and hydraulics of these types of equipment. Students learn the latest technology used in the industry. Using an interdisciplinary approach, the curriculum draws from welding and general studies skills providing a solid background for entry into the field through applied, general, specific industry skills training. 
Program Outcomes
Diesel Equipment Technician graduates will be able to:
Diagnose major systems in diesel industry
Repair major systems in diesel industry
Service major systems in diesel equipment industry
Practice personal and professional work habits
Document complaint, cause and correction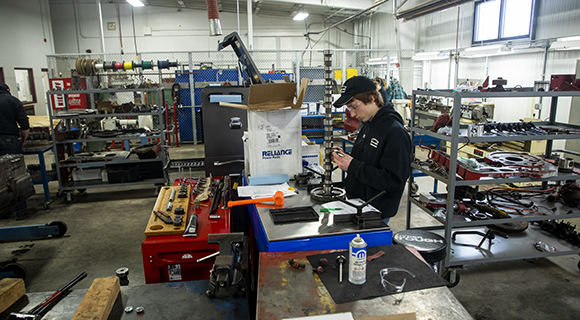 The majority of your classes will be conducted in the shop where you'll gain hands-on experience with diagnosing, repairing and analyzing diesel equipment.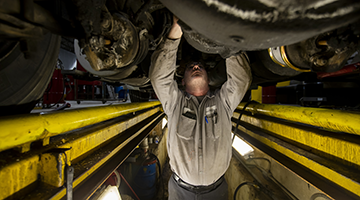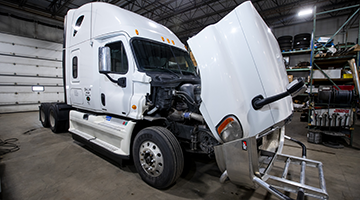 Exposure to current technology.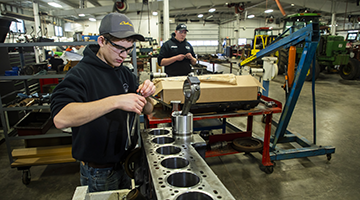 Develop lifelong relationships.
Academics
The Diesel Equipment Technician program is available at the Northwood Tech-New Richmond campus for the first year and a local trucking company for the second year. Within this program, you will gain a wealth of knowledge through classroom learning and in the shop. This program prepares you for the job market by exposing you to a real shop environment and hands-on learning. 
Students will spend their second year of the program getting hands-on training at Hammond Truck and Trailer Repair, a division of Russ Davis Wholesale.
This program will provide you the opportunity to train directly for the skills employers are looking for within the diesel field. 
The majority of your classes will be conducted in the shop where you'll gain hands-on experience with diagnosing, repairing and analyzing diesel equipment.
Curriculum
Areas of study include diesel engines, hydraulics, powertrains, mobile HVAC and more. 
This course is a practical study in performing diagnosis and repair of heavy truck braking systems.
This course will provide the learner with a basic understanding of the diesel engine. The design and operating principles of the engine, cooling, fuel, intake, exhaust systems, and lubrication systems will be examined. COREQUISITE: 32070326 Basic Engines.
Instruction in safe setup and operation of plasma cutting (PAC), oxy-fuel cutting (OFC), SMAW (Stick), GMAW (Mig), FCAW, and/or GTAW (Tig) welding in applications related to general industry practices. Selection of appropriate welding processes with a specific emphasis on typical repair situations including metal identification will be stressed.
Northwood Tech has a simple admission process that can be completed in one visit. To start the process, simply fill out an application form along with a $30 application fee. After you've successfully submitted your application, your next step is to schedule an admissions meeting with a Northwood Tech counselor to discuss your goals and expectations. That's it! 
Tuition and Fees
Northwood Tech breaks down the cost of education, so you'll have a good idea of how much your education will cost. 
Financial Aid
Financial aid is available to help you pay for your education. It can come in the form of grants, loans, federal work study, military and veterans benefits, division of vocational rehabilitation benefits and scholarships. 
Estimated Total Program Costs 2021-22*
Diesel Equipment Technician
58 Credits | 2 Years
$10,081
$5,450 for tools, supplies and uniforms
---
*Tuition is an estimate and does not include any miscellaneous fees for various courses, tools, books, supplies or uniforms. Program book costs are in addition to tuition and fees and vary depending on course selection and where the books are purchased or rented. 
After the Northwood Tech Diesel Equipment Technician Program
Upon completion of the program, you will obtain a Diesel Equipment Technician technical diploma.
Career Outlooks
Northwood Tech's graduates experience success. Learn more about the types of careers you can get after graduation.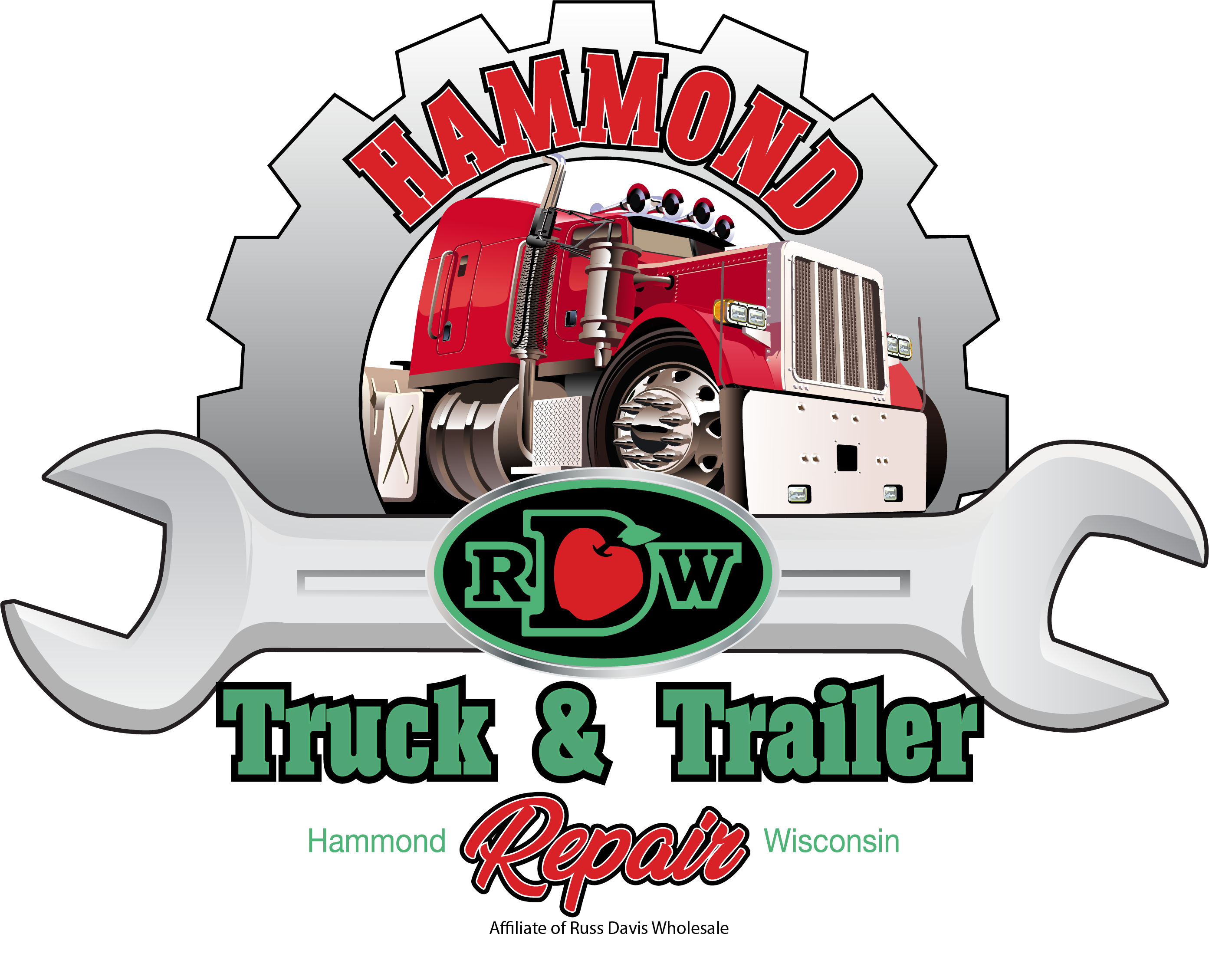 Northwood Tech's Diesel Equipment Technician program is partnered with Hammond Truck and Trailer Repair, where students will spend their 2nd year of the program working. This experience will provide students with hands-on training in the shop. 
Hammond Truck and Trailer Repair is a locally owned and operated company. It is a division of Russ Davis Wholesale.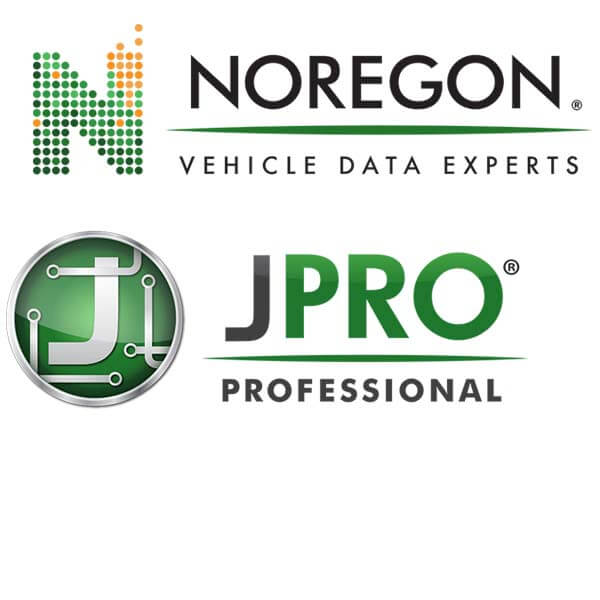 Northwood Tech's Diesel Equipment Technician program is sponsored by Noregon Systems, allowing technicians to practice real-time diagnostic repair and become certified in using the J-Pro Aftermarket computer interface.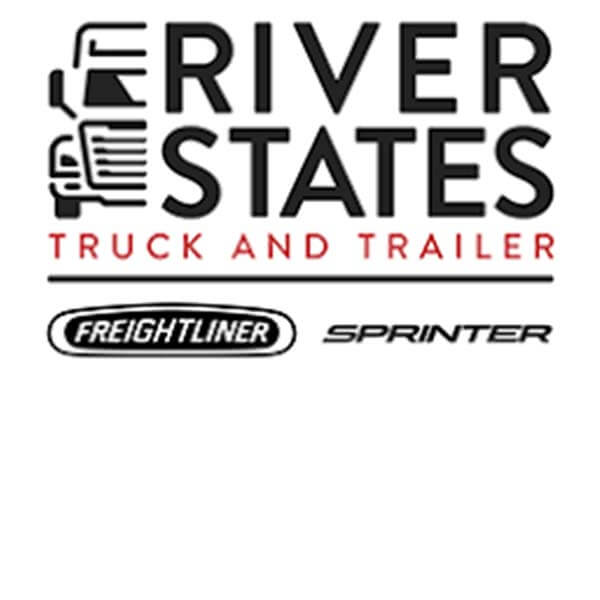 Northwood Tech's Diesel Equipment Technician program is sponsored by River States Freightliner, providing students the opportunity to receive recognitions through Daimler for Freightliner and Western Star trucks using OEM software diagnostics.