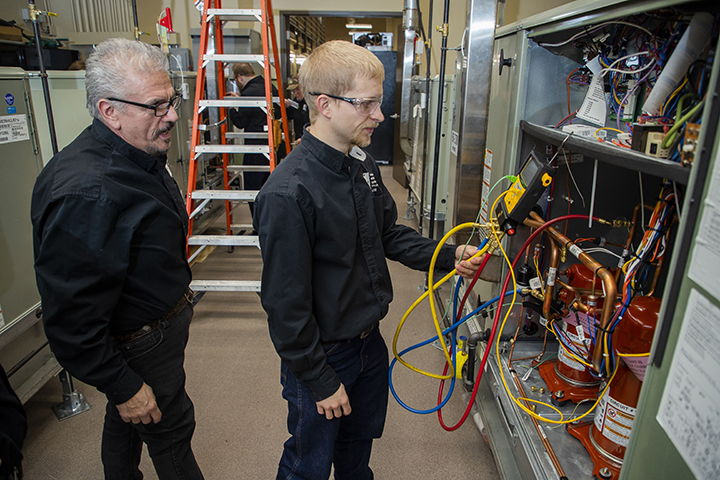 HVAC Installation Technician
Technical Diploma
27 Credits | 1 Year
Career Pathways | Financial Aid-Eligible
Superior
Day and Evening Program Options Available
Career Cluster: Architecture and Construction
The Northwood Tech HVAC Installation Technician program and pathway programs operate out of a state-of-the-art facility on the Superior campus. Through partnerships with Trane USA, Snap-On Tools and the National Coalition of Certification Centers (NC3), this program will train you on the various installation techniques of electricity, heating equipment, residential air conditioning equipment and sheet metal fabrication. As a student, you can leave with industry credentialing in the areas of safe refrigerant handling, tool usage and control systems. Foundational skills and principles learned in this program prepare you to work in the commercial and residential HVAC/R installation marketplace. 
Program Overview
The HVAC Installation Technician program will give students the skills to install new heating, cooling, and ventilation systems, inspect current HVAC systems for effectiveness and safety, perform preventative maintenance on HVAC systems to increase longevity, and conduct performance tests with specialized tools. Students will be prepared to test for the EPA Section 608 Certification and multiple NC3 Certifications. 
Program Outcomes
HVAC Installation Technician graduates will be able to:
Install residential heating, ventilation and air conditioning equipment
Commission (start up) and service residential heating, ventilation and air conditioning equipment
Install commercial heating, ventilation and air conditioning equipment
Commission (start up) and service heating, ventilation and air conditioning equipment
Install commercial refrigeration equipment
Commission (start up) and service commercial refrigeration equipment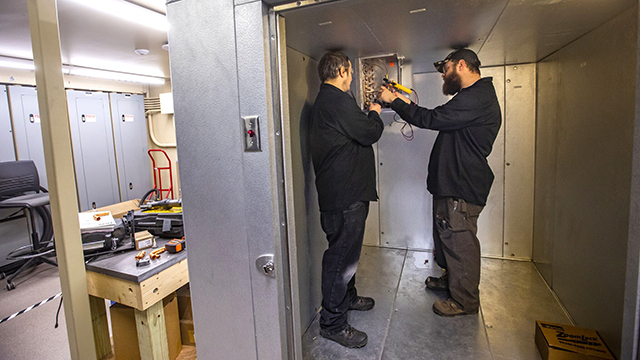 The HVAC department has industry-driven curriculum from some of the leading manufacturers of HVAC/R equipment. This allows Northwood Tech to perform hands-on training and provides you with a great perspective on equipment that is in use across the country today.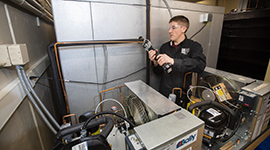 State-of-the-art facilities.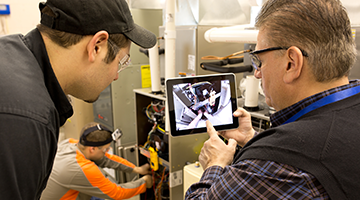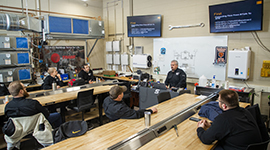 Industry-leading core instructors.
Academics
HVAC Installation Technician is available at the Superior campus. Foundational skills and principles learned in this program prepare you to work in small-scale commercial systems and residential HVAC industry.
As a student, you can build upon your skills and continue in the two-year HVAC/R technical diploma program. 
This program will prepare you to earn an EPA Section 608 Technical Certification (Refrigerant Storage/Handling); Building Automation Systems; HVAC certifications in Residential Variable Speed Motors, Refrigeration Diagnostics, Air-to-Air Heat Pumps and Airflow, Multimeter certification and multiple Building Performance Instrument certifications. 
Core instructors for this program come with a diverse background in the HVAC/R trade with a combined experience of over 65 years. 
Curriculum
You will learn the fundamentals of air conditioning, basic mechanics, refrigeration and AC/DC. Other core courses include Heating Systems, Electrical Controls & Systems and Sheet Metal Fabrication. 
Topics include introduction to heat principles, temperature measurement, fuels and other sources of heat, combustion, basic heating systems, basic furnace design, gas furnace design and operation, venting of furnaces, chimney or exhaust gases, and system controls. PREREQUISITE: Admission to HVAC/R Plan or HVAC Installation Technician Plan.
Topics in this course include basic electricity review, control circuits, symbols, diagrams, protection devices, transformers, relays, thermostats, single-phase motors, capacitors, control components, and troubleshooting ACR system wiring diagrams. Electrical experience equivalent to 32601303 Principles of AC/DC is recommended.
Topics include refrigeration principles and terms, thermodynamic processes, refrigerants, vapor compression cycles, mechanical refrigeration system components, use of electrical controls, refrigeration applications, and refrigeration tools and materials. PREREQUISITE: Admission to HVAC/R Plan, Refrigeration Essentials Plan, or HVAC Installation Technician Plan
HVAC Installation Technician is Part of a Career Pathway
As an HVAC Installation Technician student at Northwood Tech, you can earn credentials each step of the way! 
You could take this first and get a credential.
14 Credits/Less Than 1 Year
Potential Careers
Service Technician, Refrigeration Technician
Potential Careers
HVAC Installer, HVAC Mechanic, Service Technician, Systems Mechanic
Continue your education to obtain a two-year technical diploma. 
Potential Careers
Residential, Commercial, Industrial, Mechanical Contractor, Facilities and HVAC/R Technician, Wholesale Service Representative
Range of Yearly Salary
$39,517 - $51,996 annually
Obtain a bachelor's degree through Northwood Tech's transfer opportunities. 
Northwood Tech has a simple admission process that can be completed in one visit. To start the process, simply fill out an application form along with a $30 application fee. After you've successfully submitted your application, your next step is to schedule an admissions meeting with a Northwood Tech counselor to discuss your goals and expectations. That's it! 
Tuition and Fees
Northwood Tech breaks down the cost of education, so you'll have a good idea of how much your education will cost. 
Financial Aid
Financial aid is available to help you pay for your education. It can come in the form of grants, loans, federal work study, military and veterans benefits, division of vocational rehabilitation benefits and scholarships. 
Estimated Total Program Costs 2021-22*
HVAC Installation Technician
27 Credits | 1 Year
$4,505
Additional tools and supplies may also be required.
---
*Tuition is an estimate and does not include any miscellaneous fees for various courses, tools, books, supplies or uniforms. Program book costs are in addition to tuition and fees and vary depending on course selection and where the books are purchased or rented. 
After the Northwood Tech HVAC Installation Technician Program
Upon completion of the program, you will obtain a Refrigeration Essentials technical diploma and an HVAC Installation Technician technical diploma.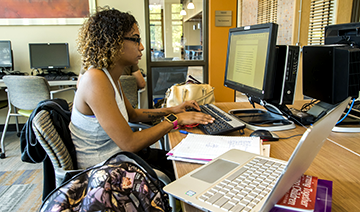 Transfer Options
Transfer your Northwood Tech credits to a four-year college in Wisconsin to obtain your bachelor's degree and beyond.
Career Outlooks
Northwood Tech's graduates experience success. Learn more about the types of careers you can get after graduation.
National Coalition of Certification Center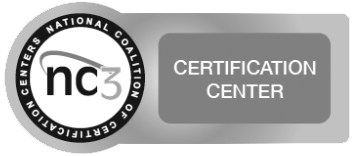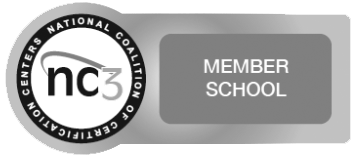 The National Coalition of Certification Centers is a value-driven organization and the future model for Career and Technical Education, creating highly-skilled, job-ready professionals through a growing network of educational partners and global industry leaders.