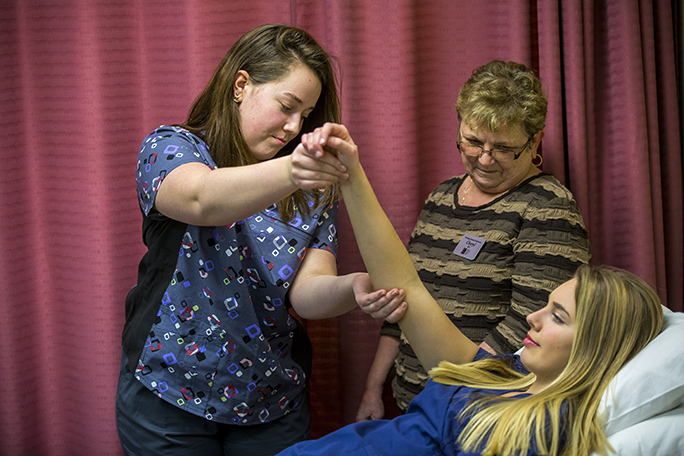 From submitting your application to admission to registration, Northwood Tech is available to help guide you through the admissions process. To help you successfully complete this program, Northwood Tech has developed a set of program requirements and functional ability criteria. For students with a disability, reasonable accommodations are available to help you be successful in the program of your choice. 
Admission Requirements
The first step to get admitted is to fill out a Northwood Tech application, and Northwood Tech will guide you from there. If you're not quite ready to become a student, visit a campus to get the full Northwood Tech experience. A campus tour will give you the opportunity to meet staff, instructors and students, tour the campus and get a real feel for the campus culture. 
Be at least 16 years old

Complete application process

Review and sign Background Check Disclosure

Submit Background Check fee

Have an acceptable Wisconsin Caregiver Background Check

Attend a mandatory orientation session scheduled prior to start of class

Review and sign Functional Abilities Disclosure
Please refer to the Nursing Assistant - Limited Term Requirements and Application page for 2021-22 Additional Program Information documents.
Program-Specific Requirements
How to Apply
The Nursing Assistant program offers the opportunity to work in a healthcare setting as a certified nursing assistant (CNA) and is also a prerequisite to the Northwood Tech Associate Degree Nursing program. Because the Nursing Assistant program is approved by the State of Wisconsin's Department of Health Services, the application process has very specific requirements for entry into our program.
Please contact your local Student Services office to apply or for a detailed information packet. 
Technology Requirements
If using Macintosh or Linux based computers, coursework must be submitted using your Office365 tools provided with your Northwood Tech email account. It is important to verify with your Program Faculty if non-Windows based computers are acceptable in the program.