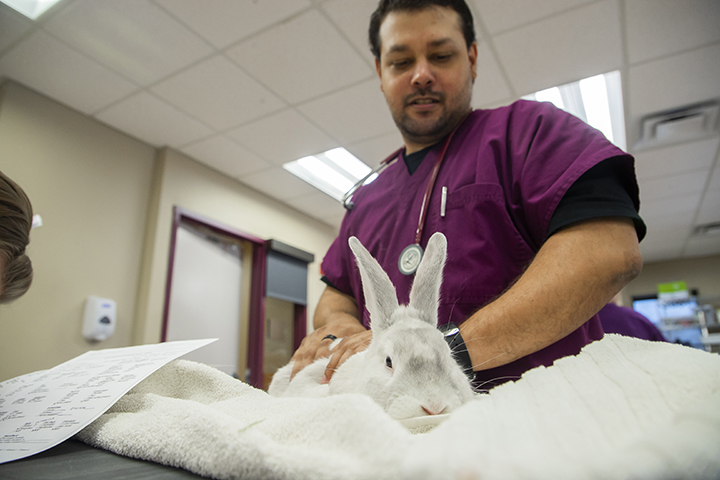 Veterinary Technician
Associate Degree
65 Credits | 2 Years
Financial Aid-Eligible
New Richmond
Career Cluster: Agriculture, Food and Natural Resources
Combine your love for animals and your passion for science with your career by becoming a veterinary technician. Veterinary technicians, under the supervision of a veterinarian, provide a variety of services that supports the veterinarian. Veterinary technicians are an integral part of the veterinary team, and each day at work provides new and exciting challenges. 
Program Overview
Veterinary Technician graduates will be prepared to obtain patient history and perform the initial physical exam, place intravenous catheters and give injectable medications, anesthetize and monitor patients, and assist in surgery. Graduates will also be trained to do dental cleanings on dogs and cats and can handle care for lab animals. Additionally, graduates will be qualified to  apply bandages and splints, as well as evaluate lab samples under the microscope.
Program Outcomes
Veterinary Technician graduates will be able to:
Manage veterinary business functions
Integrate all aspects of patient management for anesthetic, surgical, and medical nursing procedures
Produce diagnostic radiographic images
Perform laboratory procedures
Administer prescribed drugs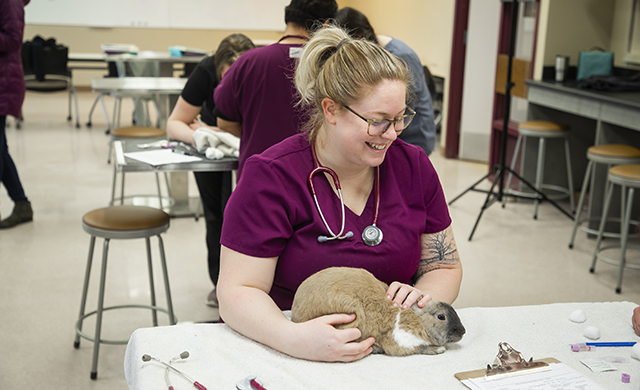 Veterinary Technicians work in a variety of settings including clinics and hospitals, humane societies, zoos and wildlife parks and more.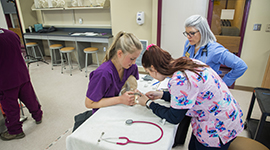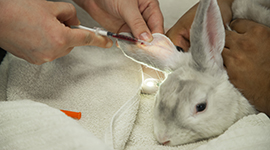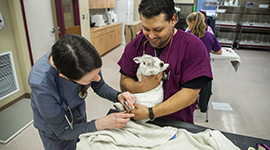 Academics
Veterinary Technician is a two-year associate degree program offered at the New Richmond campus. 
There is a strong demand for veterinary technicians in traditional clinical settings, veterinary sales and research. 
You'll get hands-on experience applying your knowledge in a clinical setting. You'll work alongside veterinarians and other veterinary technicians in the field to get real-world exposure to the challenges faced day-to-day. 
As a Veterinary Technician student at Northwood Tech, you all have access to instructors who have many years of experience in the field.
Curriculum
Program specific subjects covered include Veterinary Pharmacology, Surgical Procedures for Vet Sciences, Anesthesia for Veterinary Sciences and more. 
In this course, students explore basic nutrition, housing needs, and behavior of common domestic animals to develop skills that enable them to assess animal condition. Upon completion of this course, students will be able to obtain a thorough history, perform a physical exam, administer medications, collect samples, and use proper restraint techniques. PREREQUISITE: Admission to Veterinary Technician plan and COREQUISITE: 10806105 Principles of Animal Biology.
In this course, students develop practical workplace techniques for veterinary office procedures to develop customer service and veterinary team support skills. Upon completion of this course, students will be able to use veterinary software to manage records and financial applications, maximize client interactions, and participate in day-to-day operations of a veterinary facility. PREREQUISITE: Admission to Veterinary Technician plan and COREQUISITE: 10091100 Animal Care and Management.
In this course, students explore the construction, meaning, and pronunciation of veterinary medical terms to establish understanding and facilitate communication among veterinary team members. Upon completion of this course, students will be able to correctly formulate veterinary medical terms to describe specific concepts. PREREQUISITE: Admission to Veterinary Technician plan.
Veterinary Technician is Part of a Career Pathway
As a Veterinary Technician student at Northwood Tech, you can earn credentials each step of the way! 
This technical diploma is embedded in the Veterinary Technician program.
32 Credits / 1 Year Full Time
Potential Careers
Veterinary Assistant
This is the program you're looking at.
65 Credits / 2 Years Full Time
Potential Careers
Veterinary Technician, Laboratory Animal Technician
Continue your education to obtain a bachelor's degree.
UW-River Falls | UW-Stout | UW-Whitewater | Bellevue University | Concordia University Wisconsin | Franklin University | Lakeland University | Milwaukee School of Engineering (MSOE)
Northwood Tech has a simple admission process that can be completed in one visit. Please see the details under the "Requirements and Application" section to get you started.
Tuition and Fees
Northwood Tech breaks down the cost of education, so you'll have a good idea of how much your education will cost. 
Financial Aid
Financial aid is available to help you pay for your education. It can come in the form of grants, loans, federal work study, military and veterans benefits, division of vocational rehabilitation benefits and scholarships. 
Estimated Total Program Costs 2022-23*
Veterinary Technician
65 Credits | 2 Years
$11,176
---
*Tuition is an estimate and does not include any miscellaneous fees for various courses, tools, books, supplies or uniforms. Program book costs are in addition to tuition and fees and vary depending on course selection and where the books are purchased or rented. 
After the Northwood Tech Veterinary Technician Program
Upon completion of the program, you will obtain a Veterinary Technician associate degree.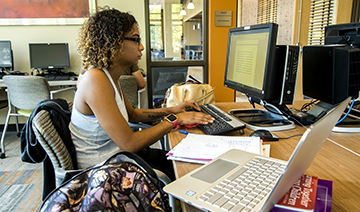 Transfer Options
Transfer your Northwood Tech credits to a four-year college in Wisconsin to obtain your bachelor's degree and beyond.
Career Outlooks
Northwood Tech's graduates experience success. Learn more about the types of careers you can get after graduation.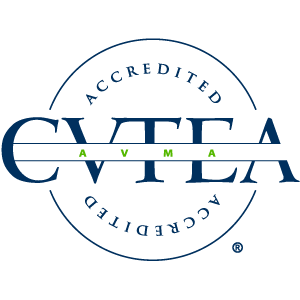 Accreditation
Veterinary Technician programs are accredited by the American Veterinary Medical Association - Committee on Veterinary Technician Education and Activities (AVMA-CVTEA) at 1931 North Meacham Road, Suite 100, Schaumburg, IL 60173-4360, phone: 800.248.2862. Graduates of AVMA-CVTEA accredited programs are eligible to take the Veterinary Technical National Exam (VTNE) and the Wisconsin state exam directly with the American Associate of Veterinary State Boards (AAVSB) at AAVSB.org upon graduation. The Committee on Veterinary Technical Education and Activities (CVTEA) of the American Veterinary Medical Association (AVMA) has granted Initial Accreditation to Northwood Tech's Veterinary Technology Program, effective February 4, 2021.  All students will be eligible to take the VTNE and Wisconsin state exam upon graduation. After successful completion of the exams, the individual will be a Certified Veterinary Technician (CVT).
Professional Licensure and/or Certification Information
Northwood Tech's Veterinary Technician Associate Degree is designed to meet the State of Wisconsin's licensing criteria. However, Northwood Tech has not made a determination whether this program meets licensure requirements in states other than Wisconsin. Students who may be seeking professional licensure or certification in states other than Wisconsin should contact the appropriate licensing board in that state to verify that the Northwood Tech program meets licensure or certification requirements.