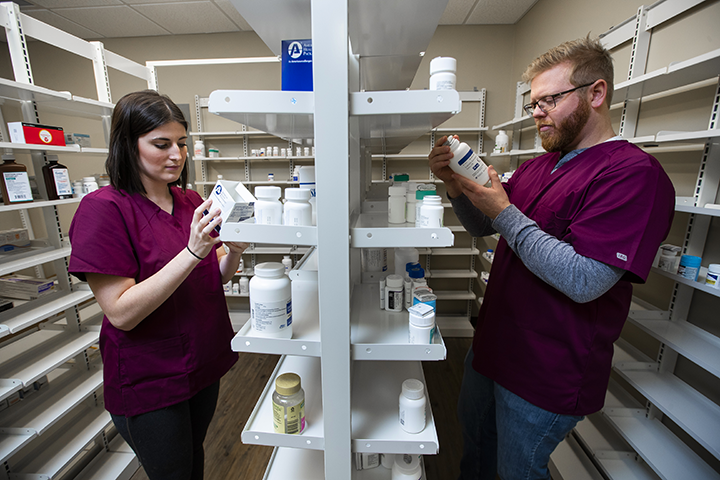 Pharmacy Technician
Technical Diploma
33 Credits | 1 Year
Financial Aid-Eligible
New Richmond*, Superior*
*via Hybrid instruction
Career Cluster: Health Sciences
This program will be modified for the 2023-2024 academic year pending WTCS approval. Please contact an Admissions Advisor if interested or have questions (Admissions Advisors).
As the need for clinical pharmacists increases to meet today's healthcare demands, so does the need for well-trained pharmacy technicians. Area employers are seeking highly-skilled graduates to fill their pharmacy technician positions. 
The Pharmacy Technician program will prepare you for a rewarding, demanding and ever-evolving career. With the patient's health and medication safety in mind, successful pharmacy technicians must be accurate, precise and detailed while treating patients with compassion and empathy. Upon completion of this program, you can find a career working under the supervision of a licensed pharmacist in a variety of settings including retail, hospital, infusion centers, long-term care facilities and insurance companies. 
Program Overview
In this one-year technical diploma program, you will perform a variety of duties including preparation of prescriptions, record keeping, inventory control, handling monetary transactions and filing third-party claims. You will also be responsible for preparing IV solutions and compounding medications. 
Program Outcomes
Pharmacy Technician graduates will be able to:
Demonstrate personal/interpersonal knowledge and skills in the practice of pharmacy
Demonstrate foundational professional knowledge and skills for the practice of pharmacy
Prepare prescriptions/medication orders and pharmaceutical products for dispensing, distribution and disposal
Compound sterile and non-sterile medications
Follow established policies and procedures for procurement, billing, reimbursement and inventory management
Utilize pharmacy technology informatics
Adhere to state and federal regulations governing the practice of pharmacy
Apply the principles of quality assurance to the practice of pharmacy
To accommodate your schedule, the Pharmacy Technician program is available via Hybrid instruction.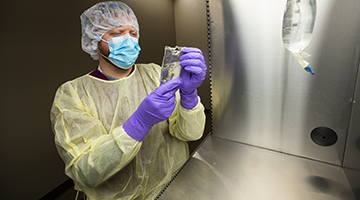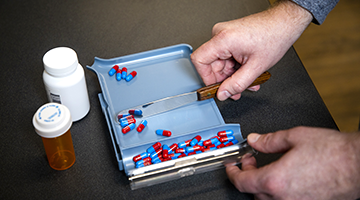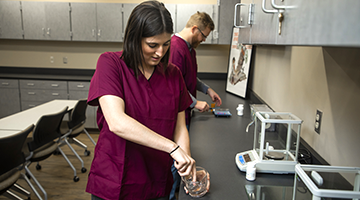 High-demand for skilled pharmacy technicians. 
Academics
Pharmacy Technician courses are offered at the New Richmond and Superior campuses available via Hybrid instruction.  
This nine-month program gives you everything you need to pass the national Pharmacy Technician Certification Board (PTCB) exam. Northwood Tech has state-of-the-art equipment, giving you the experience that you will see in the real world. 
You have the option to choose a one year or two year path that works for your schedule. 
As a Pharmacy Technician student at Northwood Tech, you will have access to instructors with years of experience in a variety of pharmacy settings. 
Gain Hospital and Retail Clinical Experience
You will complete eight weeks in both retail and hospital clinical sites where you will apply your skills while gaining customer service experience and the opportunity to network with potential employers. 
Curriculum
Through the Pharmacy Technician core courses, you will learn about medications, how they are used and how to understand and fill prescriptions. You will learn hands-on skills such as how to mix sterile and non-sterile medications. You will also learn aspects of pharmacy business. You will have the opportunity to intern at both a hospital and retail pharmacy. 
The purpose of this course is to provide a comprehensive overview of the principles of pharmacology and pharmacokinetics including the understanding of body system disease states and the effects of medications in treating disease conditions. Students will learn the cautions involved in adverse drug effects, food and drug interactions, and drug-disease contradictions. Students will learn the therapeutic classifications, indications, and common strengths for the most common drugs. PREREQUISITES: Admission to the Pharmacy Technician program and 31536301 Fundamentals of Reading Prescriptions.
This course prepares the learner to enlarge and reduce formulas and solve proportions, dilutions, alligations, and other calculations pertinent to the preparation of pharmaceuticals using metric, apothecary, avoirdupois, and household measuring systems. PREREQUISITE: Admission to the Pharmacy Technician program and COREQUISITES: 31536301 Fundamentals of Reading Prescriptions and 31536304 Pharmacy Benefits Management.
This course prepares the learner to apply policies and procedures in the pharmacy, complete the ordering process to meet inventory goals, bill third parties for patient prescriptions, process prescriptions, identify medical and surgical supplies for customers, process controlled substance prescriptions, compound extemporaneous products, maintain patient medical histories and fulfill duties in unique service areas. PREREQUISITES: Admission to the Pharmacy Technician program, 31536301 Fundamentals of Reading Prescriptions, 31536302 Pharmacy Business Applications, 31536303 Pharmaceutical Calculations, and 31536304 Pharmacy Benefits Management.
Northwood Tech has a simple admission process that can be completed in one visit. Please see the details under the "Requirements and Application" section to get you started.
Tuition and Fees
Northwood Tech breaks down the cost of education, so you'll have a good idea of how much your education will cost. 
Financial Aid
Financial aid is available to help you pay for your education. It can come in the form of grants, loans, federal work study, military and veterans benefits, division of vocational rehabilitation benefits and scholarships. 
Students in the Pharmacy Technician program may not be eligible to receive full financial aid, due to Department of Education regulations on how credits are recognized. For more information contact your campus Financial Aid Advisor. Please note, this will not impact students who start fall 2023 or later due as the program will undergo minor curriculum changes.
Estimated Total Program Costs 2022-23*
Pharmacy Technician
33 Credits | 1 Year
$5,326
---
*Tuition is an estimate and does not include any miscellaneous fees for various courses, tools, books, supplies or uniforms. Program book costs are in addition to tuition and fees and vary depending on course selection and where the books are purchased or rented. 
After the Northwood Tech Pharmacy Technician Program
Upon completion of the program, you will obtain a Pharmacy Technician technical diploma.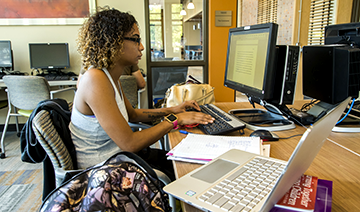 Transfer Options
Transfer your Northwood Tech credits to a four-year college in Wisconsin to obtain your bachelor's degree and beyond.
Career Outlooks
Northwood Tech's graduates experience success. Learn more about the types of careers you can get after graduation.

The Northwood Tech Pharmacy Technician program partners with Pioneer Rx to enhance the curriculum with a hands-on approach to learning that simulates the functions and workflow of today's most innovative pharmacies. For more information about Pioneer Rx, visit www.pioneerrx.com. 
Pharmacy Technician Certification Board (PTCB) Recognized Education/Training Program
PTCB sets the standard for certification of pharmacy technicians that improves medication safety and patient care.