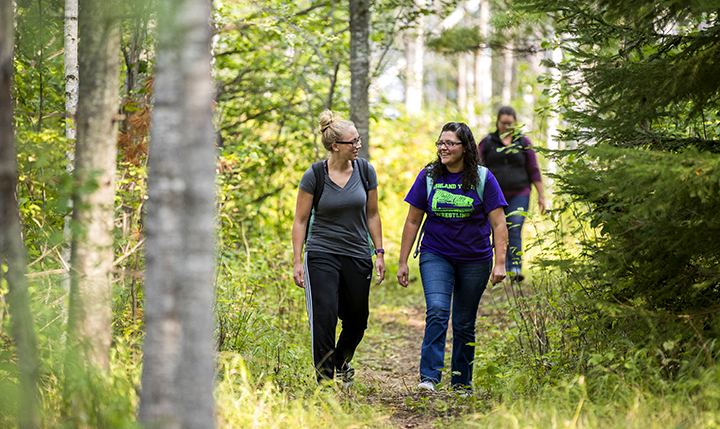 Make the most of your educational experience by getting involved in campus life. Getting involved in campus life and student organizations provides an experience that you can't get from the classroom. You'll have additional opportunities to develop professional connections, make lifelong friendships and participate in experiences that will better prepare you for your future career. 
Ashland Student Life
A part of the college experience.
Why get involved? 
Student life at Northwood Tech gives you all of the benefits of the college experience. Organizations like Student Senate and various program-related clubs can get you connected to your classmates, plus you'll learn more about yourself as you explore new experiences, take risks and expand your horizons.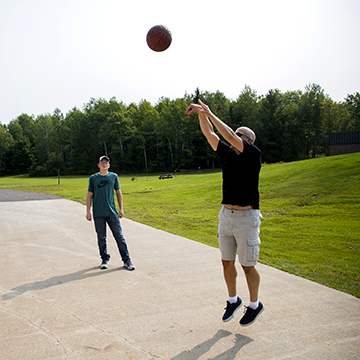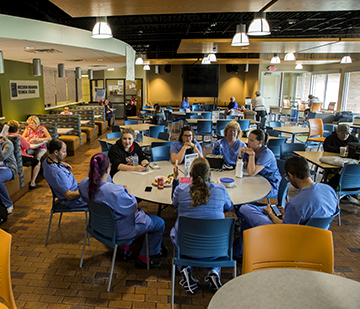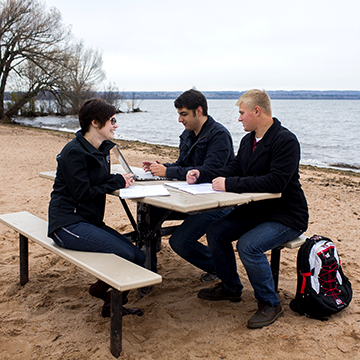 Student Organizations
Run by students for the students. Northwood Tech offers a range of organizations and program-related clubs so you can connect with your classmates, network with industry professionals and advance your education to the next level. 
Alumni Association

The Alumni Association welcomes and encourages anyone who completed a Northwood Tech degree or diploma program, or any of Northwood Tech's courses, seminars or workshops to become a member of the Alumni Association. The Alumni Association meets periodically during the academic year, and there are no membership dues. 

Campus Activities Board (CAB)

CAB is a subsidiary organization of the Student Senate
Membership is open to any student currently enrolled in credit courses at Northwood Tech
CAB plans and hosts a variety of entertainment and events for all students to take part in, typically scheduled during Activity Hours on Tuesdays and Thursdays, 11:30am-12:30pm 
CAB members receive certain extra rewards, such as attending leadership conferences
CAB members also gain valuable experience in selecting, contracting, planning and promoting events
This is a great way to share your ideas, build your resume and get to know your fellow students and staff
CAB meetings are held during activity hour, so you don't have to miss class to attend
If you are interested in joining CAB, simply stop into the Student Life Office or just come to a meeting

Criminal Justice Studies

The purpose of the Criminal Justice Club is to provide an opportunity for professional growth in the field of corrections, giving participants experience in teamwork, organizational skills, leadership development, fun and excellence
Students assist with correction field workshops, educational fairs, and a variety of learning experiences

IT Projects Club

The IT Projects Club provides students with the opportunity to grow in project initiative and community involvement through technology. The purpose of this organization is to:

Provide computer equipment, configuration or repair, or other IT related services to an underdeveloped remote location
Enhance leadership skills in the students as they find a project, develop a plan for gathering needed supplies and equipment and work out all the logistics for the project
Build students' awareness of the diverse, as well as global, technology needs of other communities
Develop and explore community partnership opportunities among participants
Allow students to experience service learning directly related to their program

Machine Tool Club

The Machine Tool Club offers opportunities for students to grow in trade experience and leadership. The purpose and reasons for this club are as follows:

To expose the students to a factory-like production run that they will experience in their trades
To encourage students to work together on a common project and goal
To let the students experience the advantages of running more than one part and the increased accuracy of the following parts after adjustments have been made
The students can make additional items to sell, and this money can be used for tooling that the students will use throughout their careers
The items that are sold will give the course recognition from the public, therefore giving the public a sample of what we can do or what someone they know can learn to do by selecting our course
To heighten student teamwork, involvement and engagement

Marine Repair Technician (MRT) Club

The Marine Repair Technician Club provides students with the opportunity to grow and prepare for careers in the marine repair field. As a club member you will:

Develop a better understanding of the profession
Participate in fundraising activities to attend conferences and/or workshops
Obtain insight regarding lifetime careers and advancement opportunities in the marine repair profession
Be given opportunities to interact with faculty and professionals in the marine field
Serve as an advocate for the MRT program to the Ashland community through civic outreach and interaction

Nursing Club

The purpose of the Nursing Club at is to promote leadership in nursing, camaraderie within the club and encourage community involvement. You will be allowed an opportunity to appreciate and implement the unenforceable obligations of citizenship, while providing for mental and physical health through satisfactory social and recreational activities. As a member, you will:

Develop leadership skills in the field of nursing
Develop a sense of individual responsibility
Obtain opportunities for intelligent career choices
Respect the use of ethical practices in nursing and life experiences
Engender a healthy respect for education
Create and nurture an understanding of our community involvement in the nursing role and help in establishing volunteer experiences
Develop an appreciation of civic and social obligations of those engaged in nursing

Student Occupational Therapy Association (SOTA)

SOTA is open to all students enrolled (full- or part-time) in the Occupational Therapy Assistant program at Northwood Tech. As a SOTA member, you will:

Develop leadership skills through participation in club activities, or as a club officer
Meet, work and enjoy social activities with students from other campuses in the Occupational Therapy Assistant program at Northwood Tech
Enhance your job placement opportunities through insights from speakers, workshops and field trips
Work with local health care providers in the area to plan and coordinate special events

Student Senate

All students have the opportunity to participate in student government and the planning of student activities on the Northwood Tech campus through Student Senate
Ashland's Student Senate provides educational, cultural and fun events throughout the academic year
The Student Senate also helps fund trips and activities of other campus organizations
The Student Senate is composed of representatives from each program and organization on campus, as well as interested students-at-large
Officers are elected into office by the student body shortly after classes begin 
This is a great opportunity to build organizational skills, practice budgeting, grow in leadership and meet new people

University Transfer Club

The purpose of the University Transfer Club is to provide opportunities for students in the University Transfer Program to explore their transfer options by visiting and learning about various 4-year universities, in preparation for transferring upon degree completion at Northwood Tech. As a member you will:

 

Build relationships with other students in the program
Develop a sense of leadership
Obtain opportunities to visit various 4-year universities to explore transfer options.
Play an active role in our community and campus events.
Have fun!

Welding Club

The welding club provides more opportunity for students to fabricate, complete projects for the community, while increasing community awareness of welding occupations.
Living
The Ashland campus is near some of Wisconsin's most breathtaking scenery. Pine forests give way to rocky cliffs that descend to the clean beaches of the largest Great Lake. The campus is centrally located to many area recreational attractions.
Housing
Area housing for Northwood Tech students is available through Northland College. For more information regarding area housing contact Ashland's Student Services or Northland College call:
Ashland's Student Services
Northland College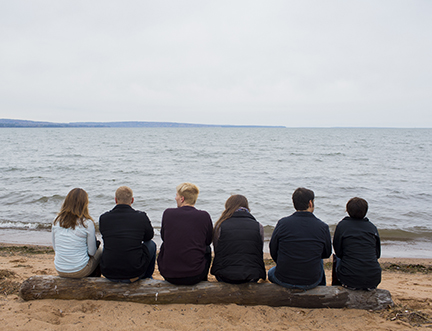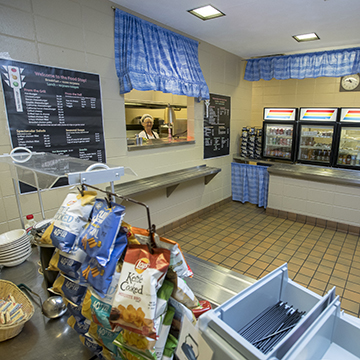 Food service is available in the form of a college a la carte cafeteria located in the student lounge. 
Food Stop
The college cafeteria, Food Stop, offers daily specials. 
Monday–Thursday: 10 a.m.–1 p.m.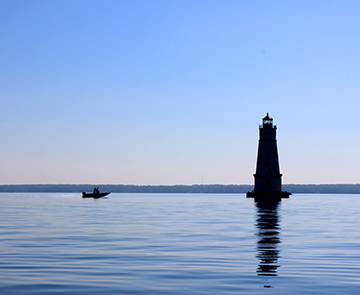 Arts and Culture
Known as the "Historic Mural Capital of Wisconsin," Ashland's pride in its rich history is evident in its 18 vibrant murals highlighting a particular aspect of the city's soulful past, depicting subjects ranging from the city's lumberjacks and military veterans to its railroads, storefronts and former massive ore dock. After checking out the "mural walk" on Main Street, you can take a walk on the Waterfront Trail, check out Prentice Park, visit one of the many beaches in town, or participate in one of the many festivals or events held throughout the year. 
Ashland is a recreational playground for hunters, anglers, boaters, skiers, snowmobilers, hikers, bikers, kayakers, campers and anyone who enjoys the outdoors. The campus is centrally located to many area recreational attractions including the Apostle Islands National Lakeshore, thousands of acres of the Chequamegon-Nicolet National Forest, countless pristine inland lakes, ice caves, beaches, lighthouses, waterfalls and miles of rivers and streams. 
Childcare
Northwood Tech does not provide childcare services. Please visit the Wisconsin Department of Children and Families to search services in your area. You may also check your local county Human Services or Social Services department for a list of licensed childcare providers. 
Get the Northwood Tech experience
Attend an event or schedule a campus tour/program shadow.
Ashland Campus Services
Northwood Tech offers a variety of Campus Services to help ensure your success.