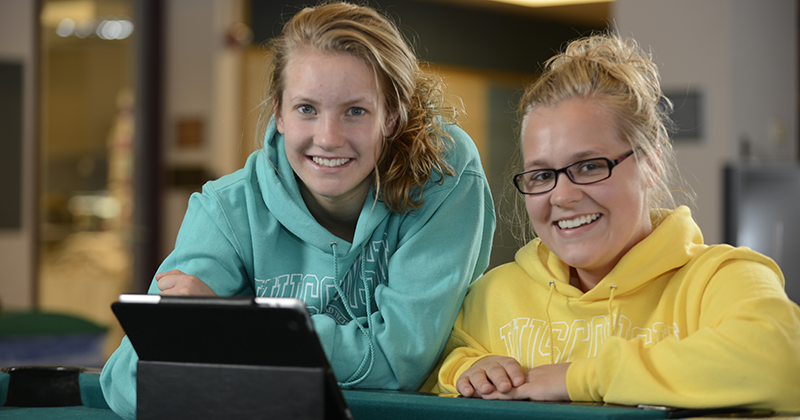 Get Involved with Federal Work-Study
Federal Work-Study is a great way to earn extra funds while going to college. To get the job you want, you'll have to move fast. Jobs are granted on a first-come, first-serve basis. 
What is the Federal Work-Study Program? 
Federal Work-Study (FWS) is a federally funded aid program designed to provide part-time employment for eligible students. You must demonstrate financial need to be awarded FWS funds on a first-come, first-serve basis until funds are exhausted. If financial aid is filed too late in the year, you may not receive a FWS award due to lack of funding regardless of whether you had a FWS award in the past. You may, however, contact Northwood Tech to be placed on the FWS waiting list.
How to Accept or Decline your Federal Work-Study
If you have been offered Federal Work-Study, you must accept, reduce, or decline your awards. This applies to new and returning students. You may access your awards at click on the "Current Students" link at the top of the page and then click on your MyNorthwoodTech account. Enter your Northwood Tech user ID. Enter your current MyNorthwoodTech password, and sign in.
Next, click on the Student Center link in the left-hand column. Then scroll down and click on the Accept/Decline Awards link. Click on current aid year. First click on Accept All. To accept all work study, click Submit. To reduce work-study, enter reduced amount, click Accept All and click Submit. To decline work-study, click Decline All and click Submit.
How to Find a Job
Northwood Tech will mail all FWS students a list of all available positions. If one of the positions is of interest to you, you should contact the appropriate supervisor. You should contact someone on the list as soon as possible, as jobs fill very quickly. You can expect to discuss the details of the position, the hours you are available to work, job expectations, etc. Although a formal hiring process is not used, FWS supervisors may visit with several students before deciding which person is best suited for the position. If you have trouble finding a specific supervisor, the administrative assistant located at the campus you attend will be happy to assist you.
Figuring Out Your Hours and Your Work Schedule
To figure out how many hours you can work, divide the amount of FWS you were awarded on your award letter by the $9.00 per hour rate you will be paid. This figure is the number of total hours you can work. You and the supervisor who hires you will determine your actual weekly work schedule. Northwood Tech currently has two, 16-week semesters. It is important that you work an average number of hours per week throughout the semesters you are enrolled. If additional hours are worked in excess of your average and you withdraw from school or do not attend second semester, you may be overpaid in federal work-study funds.
Payroll Information
Northwood Tech requires the completion of employment forms before you can begin work. These forms can be obtained from the Administrative Assistant. After these forms have been completed, you will be given access to online timesheets to record your time. Timesheets must be submitted every two weeks. You will be paid by direct deposit either into a checking or savings account.
What If I Want Work-Study, But It's Not On My Award Letter
If you were not awarded FWS on your award letter and would like more information, contact the campus financial aid advisor and your file will be reviewed to determine eligibility. If you are eligible, your name will be placed on a waiting list and you will be contacted when/if a position becomes available.
What If You Don't Want Work-Study?
If you decide not to work, please contact the Financial Aid Office as soon as possible.  Your name will be removed from the list of eligible students and the position and money will be awarded to someone on the FWS waiting list.