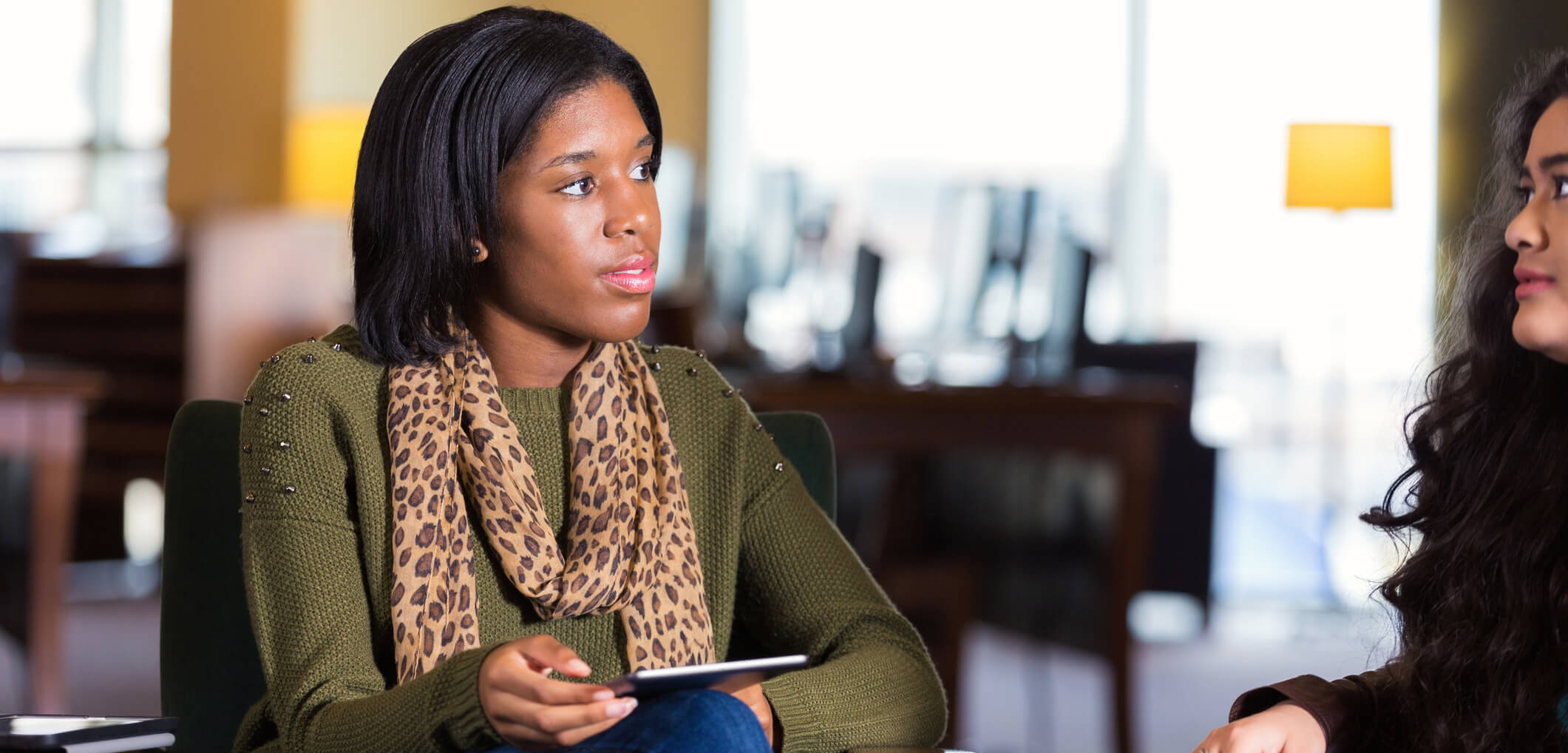 Counseling services at Northwood Tech encompass personal, career and academic counseling to help you meet your goals.
Northwood Tech counselors provide professional services to empower you and to maximize your potential for educational and occupational success.  They are available to assist you throughout your college experience. Counseling services include career counseling, interest and personality assessment, and educational guidance. Counselors utilize the Myers Briggs Type Indicator and Strong Interest inventory when providing career counseling. 
Counselors also assist students in overcoming personal barriers that stand in the way of their educational success. Counselors often refer students to internal College resources and to community agencies for the assistance they need to enjoy a positive educational experience. Northwood Tech provides a list of community resources such as alcohol & other drug abuse counseling services, childcare services, food pantries and more. 
Discover Community Resources Available Near You
Ashland Area Community Resources
Sexual Assault/Violence and Domestic Violence Resources

Alcohol and Drug Abuse Counseling Services

Childcare and other services

County Human Services

Employment Assistance

Food Shelf/Pantry

BRICK

Food Shelf and Coordinates temporary housing, crisis intervention, and emergency resources.

Health Clinics

Legal Assistance

Mental Health/Behavioral Health/Counseling Services

Housing/Shelters

Student Financial Assistance

Veterans Services

Military One Source

1.800.342.9647
Military One Source is provided by the Department of Defense at no cost to active duty, Guard and Reserve (regardless of activation status) and their families.  It is a virtual extension of installation services.

Minneapolis VA Health Care System

Contact: Bradley A. Foss (OEF/OIF/OND Rural Care Coordinator)
One Veterans Dr.
Minneapolis, MN 55417
612.250.9627

The Center for Women Veterans was established in 1994 to monitor and coordinate VA's administration of health care and benefit services and programs for women Veterans.
TRICARE is the healthcare program serving uniformed service members, retirees, and their families.
United Way

Visa and Immigration Assistance 

Wisconsin Home Energy Assistance Program (WHEAP)
New Richmond Area Community Resources
Sexual Assault/Violence and Domestic Violence Resources

Alcohol and Drug Abuse Counseling Services

Childcare and other services

County Human Services

Employment Assistance

Food Shelf/Pantry

Baldwin Community Pantry

920 6th Ave.
Baldwin, WI 54002
715.688.3844 (by appointment only)

Ezekiel Lutheran Church

202 2nd St.
River Falls, WI 54022
715.425.8294

Five Loaves

421 S. Green Ave. Door #9
New Richmond, WI 54017
715.243.7491
Mon.& Thurs.: 6:00pm-7:30pm
Tues: 10:00am-Noon
Wed: 2:00pm-4:00pm

Lakeside Canning

660 N. 2nd St.
New Richmond, WI 54017
715.243.7367
1st Wednesday of the month 1:00pm-3:00pm
Case of Veggies is $6.50

Roberts United Church of Christ

1001 Birch Dr.
Roberts, WI 54016
715.749.3478
Tues. & Thurs.: 9:00am-11:30am
Wed.: 6:00pm-8:00pm

St. Patrick's Church

1500 Vine St.
Hudson, WI 54016
715.338.0332 (by appointment only)

Salvation Army at Grace Place 

505 W. 8th Street
New Richmond, WI 54017
Office: 715.246.1222
fax: 715.246.7470
hours: open 24 hours a day, 7 days a week

Valley Outreach

1911 Curve Crest St. W
Stillwater, MN
651.430.2739

West CAP - Glenwood City

525 2nd St. Glenwood City, WI 54013
715.265.4271 or 1.800.606.9227 ext. 329
M-F: 8:00am-4:30pm
Monday: 4:30pm-9:30pm (through summer)

Zion Lutheran Church - Woodville

21 N. Lockwood St.
P.O. Box 125
Woodville, WI 54028
715.698.2707

United Way

1-800-543-7709
(651) 291-0211 (local)

Health Clinics

Legal Assistance

Mental Health/Behavioral Health/Counseling Services

Housing/Shelters

Student Financial Assistance

Veterans Services

Military One Source

1.800.342.9647
Military One Source is provided by the Department of Defense at no cost to active duty, Guard and Reserve (regardless of activation status) and their families.  It is a virtual extension of installation services.

Minneapolis VA Health Care System

Contact: Bradley A. Foss (OEF/OIF/OND Rural Care Coordinator)
One Veterans Dr.
Minneapolis, MN 55417
612.250.9627

The Center for Women Veterans was established in 1994 to monitor and coordinate VA's administration of health care and benefit services and programs for women Veterans.
TRICARE is the healthcare program serving uniformed service members, retirees, and their families.
United Way

1-800-543-7709
(651) 291-0211 (local)

Visa and Immigration Assistance 

Wisconsin Home Energy Assistance Program (WHEAP)
Rice Lake Area Community Resources
Sexual Assault/Violence and Domestic Violence Resources

Alcohol and Drug Abuse Counseling Services

Childcare and other services

ACCESS

Your connection for programs for health, nutrition & child care services for State of Wisconsin residents Child Care Services in Wisconsin

Northwest Connection Family Resources

(Serves 14 Northwest Wisconsin Counties)
15896 W. 3rd St.
Hayward, WI 54843
715.634.2299 or 1.800.733.KIDS (5437)
email: nwchild@cheqnet.net

United Way

1-800-543-7709
(651) 291-0211 (local)

Wisconsin Department of Children and Families

Search for licensed and certified child care services in your community.

County Human Services

Employment Assistance

Food Shelf/Pantry

Connections Store & More Pantry

500 W. 9th St.
North Ladysmith, WI 54848
715.532.7542

Hayward Community Food Shelf

16216W Hwy. 63

Hayward, WI 54843
715.634.4237

Paul's Pantry

40 S. Main St.
Rice Lake, WI 54868

Ruby's Pantry

​​​​​​​222 Birch Ave (Living Waters Church)
Cameron, WI 54822
715.458.0121

St. Vincent de Paul Food Pantry & Soup Kitchen

40 S. Main St.
Rice Lake, WI 54868
715.234.2372

United Way

1-800-543-7709
(651) 291-0211 (local)

Health Clinics

Legal Assistance

Mental Health/Behavioral Health/Counseling Services

Housing/Shelters

Student Financial Assistance

Veterans Services

The Center for Women Veterans was established in 1994 to monitor and coordinate VA's administration of health care and benefit services and programs for women Veterans.
Military One Source

1.800.342.9647
Military One Source is provided by the Department of Defense at no cost to active duty, Guard and Reserve (regardless of activation status) and their families.  It is a virtual extension of installation services.

Minneapolis VA Health Care System

Contact: Bradley A. Foss (OEF/OIF/OND Rural Care Coordinator)
One Veterans Dr.
Minneapolis, MN 55417
612.250.9627

Rice Lake VA Clinic

​​​​​​​2700 College Dr.
Rice Lake, WI 54868
715.236.3355

TRICARE is the healthcare program serving uniformed service members, retirees, and their families.
Wisconsin Department of Veterans Affairs
Benefits and services for Wisconsin Veterans and their families: WI GI Bill, Wisconsin National Guard Tuition Grant, Health Care Aid Grant, Home Loans, VetEd Reimbursement Grant, and much more.County Veterans Services Offices
United Way

1-800-543-7709
(651) 291-0211 (local)

Visa and Immigration Assistance 

Wisconsin Home Energy Assistance Program (WHEAP)
Superior Area Community Resources
Sexual Assault/Violence and Domestic Violence Resources

Alcohol and Drug Abuse Counseling Services

Childcare and other service

ACCESS

Your connection for programs for health, nutrition & child care services for State of Wisconsin residents Child Care Services in Wisconsin

Northwest Connection Family Resources

(Serves 14 Northwest Wisconsin Counties)

15896 W. 3rd St.

Hayward, WI 54843

715.634.2299 or 1.800.733.KIDS (5437)

email: nwchild@cheqnet.net

Wisconsin Department of Children and Families

Search for licensed and certified child care services in your community.

United Way

1-800-543-7709

(651) 291-0211 (local)

County Human Services

Employment Assistance

Food Shelf/Pantry/Free Meals

3000 Hammond Ave. 

Superior, WI 

715.394.5567

Distribution: Thursdays, 1 p.m.–3 p.m.

Eligibility: one bag per household per month

120 N 1st Avenue West

Duluth, MN

218.727.2391

Distribution: Wednesday 10am-1:45pm & 3:30-6:30pm

4831 Grand Avenue

Duluth, MN 55807

218.624.0333

Distribution: Tuesday & Thursday 11am-2pm

Christian Ministry Alliance

1824 North 16th St. 

Superior, WI 

715.394.9475

Distribution: call for more information 

215 S 27th Avenue West

Duluth, MN

218.722.7934

Distribution: Monday & Thursday 1:30-4pm

First Evangelical Covenant Church

3311 Hammond Ave.

Superior, WI 

715.392.4051

Meal: 4 p.m., 4th Sunday every month

Faith United Methodist Church

1531 Hughitt Avenue 

Superior, WI

715.394.9608

Distribution: Tuesday 4-6:30 PM

Eligibility: once per month, photo ID, plus proof of legal mailing address if not on ID

Freshwater Vineyard

603 Faxon Street

Superior, WI

715.718.2600

Distribution: 2nd Saturday, 10-11:30 AM

1533 Arrowhead Road

Duluth, MN

218.525.3462

Tuesday 6-8 & Saturday 9:30-11:30am

Gordon Area Food Shelf

Gordon, WI

715.376.4798

Distribution: Wednesdays, 9 a.m.–noon

Eligibility: Residents of Gordon, Solon Springs, Wascott; bring proof of residence

New Beginnings Ministry

1326 Pine Ave.

Superior, WI 

Meal: Sundays after service

Northwest WI Community Service Agency

1118 Tower Ave.

Superior WI 54880

715.392.5127

Fax: 715.394.4651

E-mail: wic@northwest-csa.org

Distribution: Monday & Thursday, 9 a.m.–11:30 a.m., back door drive-thru

Peace Lutheran Church

9523 East US Highway 2

Poplar, WI

615.364.2593

Distribution: once per month, 3rd Saturday, 9 a.m.–11 a.m.; produce & fruit truck following Thursday, 9 a.m.

Eligibility: Bring ID and proof of address

916 Hughitt Avenue

Superior, WI

715.394.7001 ext. 104

Distribution: Monday, Wednesday, Thursday, Friday, 1 p.m.–3 p.m. 

Produce truck: 2nd Tuesday of every month, 1 p.m.–2:30 p.m.

Eligibility: Service may be accessed once a month. Photo ID, proof of legal mailing address. 

Assistance with rent, utility, furniture, HH, by appointment

Senior Connections

1805 N. 16th St.

715.394.3611

Senior Farmer Market Voucher provider

Solid Rock Safe Haven

1004 North 6th St.

Superior, WI

715.392.6264

Meal: Monday–Friday, 5 p.m.–5:30; Saturday, 4 p.m.–5 p.m.

Superior Middle & High School

3025 Tower Ave.

Superior, WI

During the school year, anyone under 18 years of age can receive 1 free after school dinner; dinner times vary, check school for times. Additional items available for charge. $3.50/adult. Meals provided by the school district

Superior Senior Center

1527 Tower Ave.

Superior, WI

715.392.5127

Senior Commodities: 3rd Tuesday of each month, pre-registration

Union Gospel Mission

219 East 1st Street

Duluth, MN

218.722.1196

Monday-Thursday 1:30-3:00 pm

Friday 1:30-6:00pm

United Presbyterian Church

229 N. 28th St. 

Superior, WI 54880

715.392.4751

Meal: 3rd Sunday every month at 4 p.m.

United Way

1-800-543-7709

(651) 291-0211 (local)

Vineyard Church

603 Faxon St.

Superior, WI

715.718.2601

Distribution: Call to get the day of month, 10 a.m.–11:30 a.m.

Eligibility: Must bring ID with every time, SS or birth certificate for children

Food, produce (when available) toiletries, clothing

Food Resources

Douglas County FoodShare Program (SNAP Ed)

1316 N. 14th St. Suite 400

Superior WI

715-395-1304

Formerly known as the Food Stamp program

WIC - Douglas County

1805 Nth 14th Street, Suite 4,

Superior WI

715-394-2750

WIC provides supplemental foods to eligible pregnant, post-partum women, infants and children up to age 5.

Farmers Market Vouchers and "Babies Need Boxes" provider

UW-Extension FoodWise

Health Clinics

Legal Assistance

Mental Health/Behavioral Health/Counseling Services

Housing/Shelters

Student Financial Assistance

Veterans Services

Visa and Immigration Assistance 

Wisconsin Home Energy Assistance Program (WHEAP)