Ashland

New Richmond

Rice Lake

Superior

Balsam Lake Outreach Center

Hayward Outreach Center

Ladysmith Outreach Center
News
New Teams Help Bring Success to WITC Medical Programs
The nursing and EMS programs at WITC are doing their part to get as many newly trained professionals out the door to join the ranks.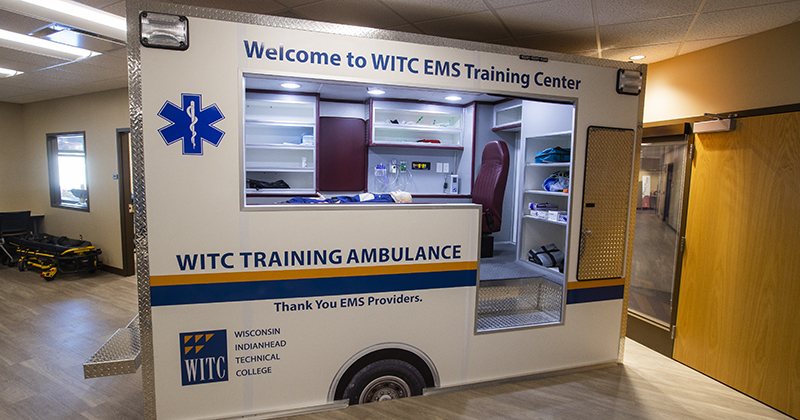 ---
The COVID-19 pandemic continues to impact the daily lives of people in our country and around the world, and the uncertainty of the future has taken a toll. Nurses, emergency medical services (EMS) and other healthcare staff arrive at work every day and gear up to defend against the virus and care for our loved ones. The nursing and EMS programs at WITC are doing their part to get as many newly trained professionals out the door to join the ranks.
In the northland, nursing and EMS careers continue to be in high demand and classes continue to fill at WITC.
"The job demand is high in the acute and long-term care settings," said Program Director and Instructor of the Associate Degree in Nursing, Kirsten Dieckman, MSN, RN. "Our nursing degree offers a variety of opportunities in different areas and the flexibility allows RN's to live and work anywhere."
"All positions across the EMS spectrum from EMT to Paramedic are very much in demand. It all depends on if you want to move or not," said EMS Director, Tim Salo, CCP/TEMS. "Currently, there is a high demand in our district for both full-time and volunteer EMS personnel."
Before COVID-19 hit, both programs were going through a bit of a transitional change, both in staffing and in the way the programs are being delivered, adding a fresh new take on the ever-changing landscape of healthcare. These changes have also led to a high percentage of pass rates and job placements.
The nursing programs at WITC offer the students a dynamic profession that encompasses compassion and caring with a scientific approach to provide optimal health for those who seek medical help.
The Nursing-Associate Degree (two-year degree) and the Nursing Assistant technical diploma (three credits/180 hours) puts the students through rigorous training on campus and at local healthcare organizations for clinicals. 
Prior to COVID-19, the nursing program incorporated "RN Success" coaches to support the learning needs of the students. Courses with higher attrition rates have been reviewed and updated with integrated learning activities.
---

"Our faculty is fully invested in our student success. They are compassionate about teaching and mentoring the nursing students to obtain their goal of becoming registered nurses," said Dieckman.

---

 
The National Council Licensure Examination (NCLEX) pass rate for the WITC first-time test takers for 2018 was 96%. Also, 96% of the WITC graduates have jobs within six months of graduation and most have positions within three months.
"We have a quality nursing program. Our instructors are well prepared to provide excellent education to create our future nurses. We are proud to be a part of this community in supporting positive healthcare education and exceptional nurses," said Dieckman.
The EMS programs at WITC provide students the opportunity to further their professional careers by pursuing either the Paramedic Technician (two-year associate degree), Emergency Medical Technician – Paramedic (16-month technical diploma), or the Emergency Medical Technician (five credits, 180 hour technical diploma). EMS programs consist of classroom lectures, practice skill labs, laboratory simulations and hospital and pre-hospital clinical experiences. Graduates of these programs can find a career in a variety of settings including ambulance services and first responder units.
Prior to COVID-19, WITC's EMS programs had been in the process of developing the department by putting people in the correct positions and building internal structure to provide support for the students and staff.
"We as a department have been making strides to better communicate with students and services in our district," said EMS Director, Tim Salo, CCP/TEMS. "They are why we are here. We have also added state-of-the-art simulation equipment and are working with our instructors to be able to provide the best training that we can by making them better instructors."
The EMS program has also gone through a change in personnel in recent years and that has added to the success of the program.
"We are a very young department with a lot of energy to create a great foundation for success with amazing instructors that provide top-notch training for our students," said Salo.
According to Salo, the course pass rate is exceptional. To work in the field, students must complete a cognitive and psychomotor exam through the National Registry of EMT's. The cognitive part is an online adaptive test that tests the student about everything they learned. That pass rate is around 80% on average. The psychomotor exam tests students on all the skills they learned throughout the class.
"There is a big market for EMS jobs depending on what you would like to do," said Salo. "I know that every volunteer service in our district is low on numbers, so there's plenty of opportunity to head out and find a very rewarding job"
To learn more about how you can apply for classes for any of the EMS and nursing programs head over to witc.edu/programs.
WITC is grateful to all its community partnerships. Your support of the WITC Foundation is essential to student success. For information on how to contribute, visit witc.edu/donate.  
A nationally top-ranked college and a designated 2020-21 Military Friendly® School, WITC serves the educational and career needs of more than 18,000 residents of Northwestern Wisconsin each year. With multiple campuses, WITC offers career-focused associate degree programs, technical diplomas, short-term certificates, customized business training, and a wide array of courses for personal or career enrichment. WITC is a member of the Wisconsin Technical College System and is accredited by the Higher Learning Commission (www.hlcommission.org). For more information, call 800.243.WITC or visit witc.edu. WITC is an Equal Opportunity/Access/Affirmative Action/Veterans/Disability Employer and Educator.
###