Northwood Technical College received donations from Cenovus Energy and Enbridge to power mobile welding lab
Northwood Technical College received donations totaling $90,000 from Cenovus Superior Refinery and Enbridge Energy to assist in buying a generator for its new mobile welding lab.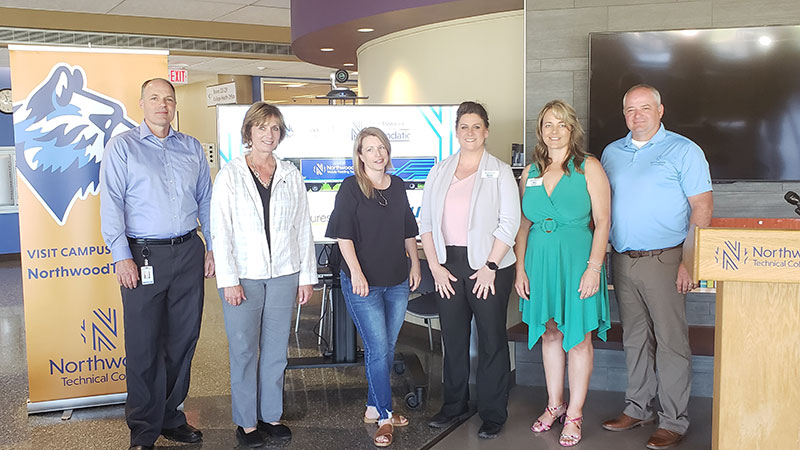 (6/27/2022) Northwood Technical College received donations totaling $90,000 from Cenovus Superior Refinery and Enbridge Energy to assist in buying a generator for its new mobile welding lab. The purchase will allow welding students to gain hands-on skills from anywhere. General Manager Chris Fortenberry of Cenovus presented Northwood Tech Foundation with a $50,000 check, while Community Engagement Strategist Michelle Johnson of Enbridge presented Northwood Tech Foundation with a $40,000 check at the Superior Campus Thursday, June 23. Dean of Academic Programming and Associate Dean of the Ashland Region Karen Hoglund and Executive Director Kimberly Pearson of the Northwood Technical College Foundation received the checks on behalf of the project.
"We very much appreciate the support of Enbridge and Cenovus to make this innovative, mobile training opportunity a reality for the communities of Northwest Wisconsin," said Northwood Tech President John Will.
The initial funds for the mobile welding trailer were secured through a $750,000 consortium grant with Chippewa Valley Technical College (CVTC), however power for the trailer was not included. Enbridge Energy and Cenovus Superior Refinery stepped in to power the project by funding the generator for the lab.
Fortenberry and Johnson remarked about the importance of working together to bring educational opportunities to more people in Northwest Wisconsin.
"At Cenovus, one of our core values is 'Do It Together,' which aligns well with the Northwood Technical College's creation of the mobile welding lab," said Fortenberry. "Cenovus Superior Refinery supports this initiative so that everyone, regardless of their location or barriers, can access training and careers of their choice. We can't wait to see the number of students that will thrive because of this program, and the gaps in the welding workforce that this will fill."
"Enbridge is committed to fueling futures by supporting education and developing the potential of people," said Johnson. "We're excited to support our longtime partner Northwood Technical College by helping power this innovative welding program that will provide access to training across northern Wisconsin. Increasing opportunities for people to learn close to home is like a rising tide that lifts all boats, benefiting our rural communities, trade groups, projects, and local employers, as individuals gain in-demand skills and expertise."
For more information on upcoming programs, certificates, and training, please visit NorthwoodTech.edu or contact the main office via phone 800.243.9482. There is also a chat function available on the homepage of Northwood Tech's website as well.
Northwood Tech is grateful for all its community partnerships. Your support of the Northwood Tech Foundation is essential to student success. For information on how to contribute, visit www.northwoodtech.edu/donate.
A nationally top-ranked college and a designated 2021-22 Military Friendly® School, Northwood Tech serves the educational and career needs of more than 15,000 residents of Northwestern Wisconsin each year. With multiple campuses, Northwood Tech offers career-focused associate degree programs, technical diplomas, short-term certificates, customized business training, and a wide array of courses for personal or career enrichment. Northwood Tech is a member of the Wisconsin Technical College System and is accredited by the Higher Learning Commission (www.hlcommission.org). For more information, call 800.243.9482 or visit northwoodtech.edu. Northwood Technical College is an Equal Opportunity/Access/Affirmative Action/Veterans/Disability Employer and Educator.