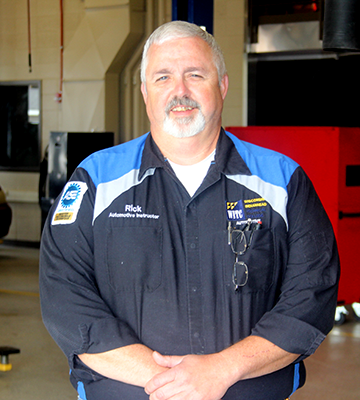 Contact
---
800.243.9482 ext. 5214
1900 College Drive Rice Lake, WI 54868
"Graduates are finding jobs in many different automotive fields, from parts to repair facilities. This program covers eight basic categories of ASE Certification. When students graduate this program, they have received instruction in all ASE categories to better expose them to an area that best suits their interests." 
---
Biography
Rick spent 3 years working at an independent transmission repair facility, which prepared him for the next step in his career as a dealership technician for 17 years. In this position, he focused on transmissions and all aspects of vehicle repair. The years of experience and training that he received in the automotive field prepared him for training students in the repair of today's automobiles with real experience and the know-how to make the repair and the ability to explain to students how to do it. 
In his free time, Rick enjoys spending time with his family, hunting, fishing and enjoying Northern Wisconsin's great outdoors.