|

Ashland

Superior

Hayward Outreach Center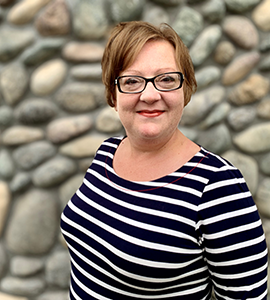 Contact
---
800.243.9482 ext. 6346
600 N. 21st St. Superior, WI 54880
"My passion for teaching stems from being surrounded by educators personally and professionally, whether it was people working in education or seeking it for themselves. I am a person who likes to be educated; I'm always curious about obtaining more information to be a better clinician and educator. Working with students feeds that desire. Seeing the world through their eyes, empowering them to make a difference in the community and working as a team to better educate ourselves so we can help others in need." 

---
Degrees
M.S., Chestnut Hill College
B.A., The College of St. Scholastica
A.A., Waldorf University
Cert., Montgomery County Community College
Biography
As a clinician in rural, urban and suburban settings, I have experienced first-hand the varied needs of the growing population of older adults. With over 20 years of experience in long-term care, home health and hospice, I have the knowledge and experience for demonstrating the skills-based learning that is necessary in the field of gerontology.
I believe that working with older adults is considered a calling that is often motivated by personal and/or professional experiences with the aging population. As an instructor at Northwood Tech, my goal is to harness the passion students have in their chosen field of study. I strive to harness this motivation by tapping into student's experiences and using course work that is supported by what is happening in the real world. With courses in specialized areas of gerontology including dementia/Alzheimer's disease and death and dying courses, specifically created at Northwood Tech, the gerontology program trains practitioners to address the needs of those in our community.
In my spare time, I enjoy cooking, baking, reading and traveling. A native of the Upper Peninsula of Michigan, I also enjoy all the things that make life so great living on Lake Superior - bonfires, swimming, fishing and watching winter sports.