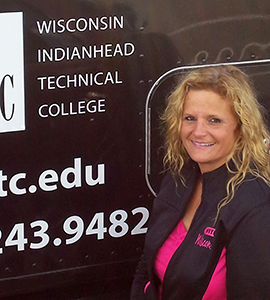 Contact
---
715.234.7082 ext. 5281
1900 College Drive, Rice Lake, WI 54868
Growing up on a dairy farm in Southeast Wisconsin, Janine Running learned the values of hard work, dedication and drive. After school each day, she was expected to help on the farm with chores, picking rocks, bailing hay, or whatever seasonal task was needed. She appreciated this upbringing because it taught her so much more than she ever expected and has carried through every aspect of my life.
At 18, Janine told her parents she wanted to go in to trucking. Although they supported that, her life took her in other directions, and she ended up in the business world. However, after many years of management, she decided to go back to what her true passion was- trucking.
Janine went through CVTC's truck driving program and then started over the road. As a woman in the trucking industry, she realized that she would have to further my trucking knowledge to be able to prove myself in a male-dominated industry. So she advanced her career with the following experience: she owned and drove her own truck, and then drove hopper bottoms, flatbeds, end dumps, dump truck/quads, roll-offs, gondolas, intermodels (sea containers), dry vans, and refrigerated (reefer) vans. And finally, driving milk tankers was the highlight of her career as it connected my roots with my passion. She became a Wisconsin state-licensed milk hauler so she was able to pump milk directly into the tanker from the farm. Overall, Janine has driven roughly 40 different tractor units, with all various shifting patterns.
In her free time, Janine enjoys being with her horses- whether it's riding or driving carts. She looks forward to teaching and sharing her passion with you. Janine hopes to enhance the professionalism in the trucking industry and that wherever your road takes you, you will have not only have the knowledge and resources to be successful, but you will know that you have received the best training and experience possible.