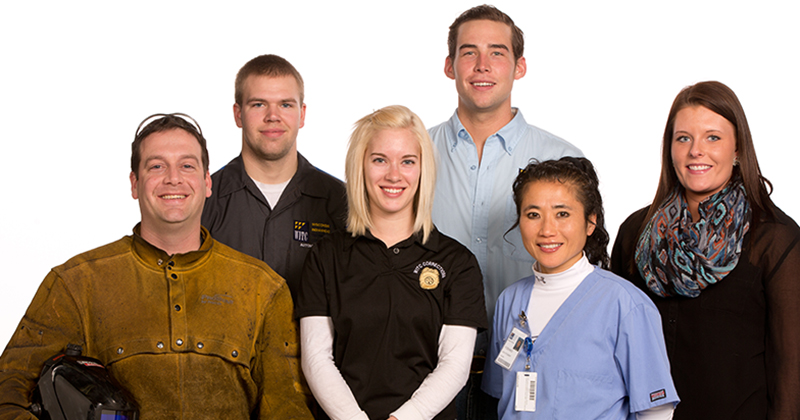 The Office of Academic Affairs provides leadership that supports and enhances the mission of the college. Its focus is on strengthening student learning, curriculum, accreditation, program review, online learning, partnerships and assessment.  The office is committed to the values of the college: Empowerment, Excellence, Innovation, Integrity and Collaboration.
Academic Program Review and Assessment
All Northwood Tech academic programs undergo a formal review on a regular basis as part of our continuous improvement efforts. In addition, the Wisconsin Technical College System (WTCS) requires each of the 16 technical colleges to conduct a regular review process of all academic programs.  
The purpose of the academic program review is to determine the strengths and challenges of the existing program and to set strategies and plans of continuous improvement in order to provide future learners with more competitive skills, viable knowledge, and a quality education. This will ensure we are meeting business and industry needs by supplying a trained workforce.  
Academic program review is part of the College's overall planning process. It is designed to assist the College in identifying the strengths and challenges in existing programs. The process connects data with strategies to create meaningful improvement activities affecting student learning.
Download Academic Program Review Guide
The Academic Program Review Process includes the following steps:  
Step 1: Plan - Data Analysis and Review

Teams will include faculty, program directors, academic and program deans. Program teams will meet with the Institutional Effectiveness staff to assist with analyzing the data. The data from the Program Dashboard, Technical Skills Attainment, Employability Essentials, and other resources create opportunities to ask questions, consider trends, explore best practices, conduct root cause analysis, and fully examine program strengths and opportunities. A review of the current improvement plan provides valuable insight and allows objectives and action items to be modified or carried forward.

Step 2: Do - Develop the plan for next year 

Program teams will develop a plan, including objectives/goals, action items, and timelines. All objectives relate to student learning and program effectiveness.

Step 3: Implement the Plan 

Improvement plans begin in June and continue for one year. 

Step 4: Monitor and Update 

Monitoring of the plan occurs throughout the year and includes check-in meetings in August, November and January. A documented update is required at the 6-month mark in January.  

Step 5: Review, Report, and Repeat 

Program teams examine the results of the improvement plan to determine if action items should be modified or carried forward to the next year.
Academic Program Review completed program portfolios 
Review teams will complete the first four steps throughout the review year. Drafts of each section will be submitted for feedback. Each program will develop and submit a final review portfolio that will document the activities of the review as well as the planned improvements. 
2021 Listing of Programs Reviewed 

2019 Listing of Programs Reviewed 

2018 Listing of Programs Reviewed  
Program Outcomes
Program outcomes communicate performance expectations to students by describing major occupational or discipline-specific skills expected of all program graduates. Assessment of program outcomes ensures that continuous improvement is taking place and will demonstrate accountability to constituents (students, employers, accrediting bodies, etc.)
Find each program's outcomes on their individual program page. 
General Studies Competencies And Course Assessment
Course Competencies describe the major skills/knowledge students must master to pass a course. Assessment of course competencies reflect whether or not students are able to adequately master the content of the course.
General Studies offers courses in communication, mathematics, science, social science, and behavioral science that provide the foundation for degree, certificate, and diploma programs at Northwood Tech. General Studies courses will be assessed each year according to an identified schedule with results being posted on a yearly basis.
Prepared Learner courses equip students with the skills necessary to master college-level curricula. Accuplacer test scores, academic history, self-awareness, and/or length of time away from formal education steer students to these courses. Prepared Learner courses carry college credits and are eligible for financial aid. They cannot be counted for degree credit. Students whose placement scores require Prepared Learner enrollment must complete each required class with a grade of C or higher before registering for the subsequent General Studies course.
General Studies courses will be assessed each year according to an identified schedule with results being posted on a yearly basis.
Click on the course title below to view the course's course outcome summary, which includes the course competencies and recent assessments:
Communication
Mathematics
Science
Social Science
Behavioral Science
Interdisciplinary
Prepared Learner