95%
Employed
Northwood Tech 2021-2022 Graduate Follow-Up Survey 
Employed in Related Field
95%
Employed in a Related Field
Northwood Tech 2021-2022 Graduate Follow-Up Survey 
Percent of Graduates Furthering Their Education
2%
Graduates Reported Furthering Their Education
Northwood Tech 2021-2022 Graduate Follow-Up Survey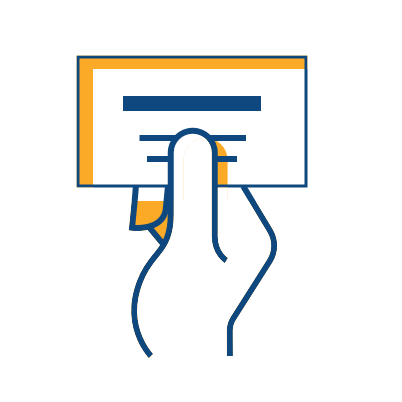 $57,853 - $102,952
Range of Yearly Salary
Northwood Tech 2021-2022 Graduate Follow-Up Survey 
Careers
Typical positions available after graduation include: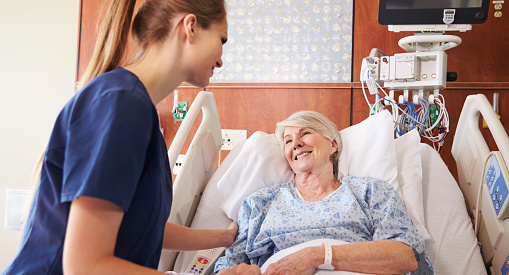 Registered Nurse
Registered nurses (RNs) provide and coordinate patient care, educate patients and the public about various health conditions, and provide advice and emotional support to patients and their family members.
Transfer Opportunities
After you complete your Nursing - Associate Degree at Northwood Tech, you can transfer to another college to continue your education and earn your bachelor's degree and beyond. 
"In healthcare, you need a good educational foundation. We had wonderful instructors at Northwood Tech, and they made you work hard. It lit a fire and showed me what was possible. I thought, 'If I can do this, I can do everything.' It was a solid basis for nursing."
ADN Graduates
Northwood Tech's process of conferring student degrees may take up to 15 business days after grades are due (January 5, 2024). The WI #259 Statements of Graduation will be uploaded to LicensE portals, and MN Confirmation of Program Completion forms will be submitted to the MN Board of Nursing as soon as possible. Please check back after January 26, 2024, for further updates. If you have questions or concerns, please email Hilary Peterson at hilary.peterson@northwoodtech.edu.
Information for RN Graduates & LPN-Eligible Students

Student Responsibilities

Login to MyNorthwoodTech to access the email from the Registrar about the graduation ceremony.  Complete the Graduation information form and submit to Student Services. You will need to complete this form whether or not you plan to attend the graduation ceremony.
Ensure your high school transcript is on file with Northwood Tech in Student Services.
Ensure all required courses have been completed with a "C" or better, and/or credit for prior learning has been processed.

The following courses must be completed in order for a student to be PN-NCLEX eligible:

543-101 through 543-108 courses
English Composition 1 (or Written Communication, depending on when you started the program)
Developmental Psychology
Oral/Interpersonal Communication or Speech
General Anatomy & Physiology
Advanced Anatomy & Physiology

Complete appropriate state and NCLEX application

Please make sure you are completing the application for the state in which you want to be licensed
Each state requires its own form, and one state's form cannot be substituted for another

Check your email for information/problems with your Northwood Tech record and/or WI Statement of Graduation or MN Confirmation of Program Completion form
Transcripts are not required when applying for Licensure by Exam.
If you have questions or concerns about the process, please don't hesitate to contact your instructor.

Timeline and Authorization to Test (ATT)

The process of auditing and conferring degrees takes time. 
Timeline:

Northwood Tech classes end:  December 22, 2023
Northwood Tech grades are due:  January 5, 2024
Northwood Tech requires 15 business days to audit/confer degrees and submit graduation information to Boards of Nursing: January 26, 2024
Boards of Nursing (BON) require a minimum of 3 weeks to process applications after receiving graduation confirmation: February 16, 2024. Per BON:  The process and approval timeline will vary based on the application type and peak application submission timeframes. Your status will be continuously updated with changes; refer to your status. 
If you haven't received your ATT by February 19, 2024, please contact Hilary Peterson at hilary.peterson@NorthwoodTech.edu and include your Student ID, campus, exam application type (RN or PN), and the state you applied to. You will also need to contact the BON directly.

In order to give Northwood Tech and the Boards of Nursing time to process all the paperwork, Northwood Tech will not respond to any inquiries regarding the status of the process until after February 19, 2024.
After January 26, 2024, please check this webpage for updated information on when graduation forms were approved/submitted to the boards of nursing.
This web page and your student email will be the only notifications you will receive.
PN-Eligible Milestones will be added to student records in February 2024. The milestone is not required to be on the transcript to sit for the exam.

NCLEX application (Pearson VUE)

NCSBN provides additional information about the exam. This is a really good place to start if you have questions about the exam!  NCLEX Info Fact Sheet
When you're ready, complete the online NCLEX application, which is administered by Pearson VUE.
To get started, type in NCLEX after "Ready, set, test" and then choose NCLEX Examinations-NCSBN. This will take you to a new window where you should click on "Registration Process". Choose Register Now (for a new account with Pearson VUE) or Sign In (if you have an existing account with Pearson VUE). 
Program Information:

Program Code:  PN-US50100300; RN-US50407200

City & State of School of Nursing:  RICE LAKE WI

Pay using a credit, debit, or prepaid card (VISA, MasterCard, or American Express only)
NCLEX is a national exam. View testing sites
If this is your first time registering with Pearson VUE, please write down your User ID and/or User Name, Password, Email address used, and/or security question(s) as you will need this information to access the site later.
Before you can take the NCLEX, you'll need an Authorization to Test (ATT). To get this, you'll need to apply to the state board of nursing (also known as NRB-nursing regulatory body) where you want to be licensed. You should complete the state application as soon as you complete the NCLEX application. 

Wisconsin Licensure Application for December 2023 Graduates (RN and PN Licensure)

The Department of Safety and Professional Services (DSPS) requires all applicants to apply via LicensE. Paper applications submitted to DSPS will be returned to the student.  

The following LicensE items are on the DSPS LicensE Customer Information page: User FAQs, Customer Portal (register, create an account, and apply for licensure), User Guides, and Videos.  

Questions, concerns, error messages, etc., about the process or Customer Portal should be directed to DSPS. DSPS Contact Us by Email (wi.gov) Nursing questions should be emailed to DSPSCREDNursing@wisconsin.gov

Program Information:

Students should apply for a single-state WI license (not a multi-state license).  Applying for a multi-state license takes longer, requires fingerprinting and additional requirements, and still will not allow you to work in MN, as MN does not currently participate in the NLC program (see Nurse Licensure Compact information below).

Nursing School Name: Northwood Technical College (may still be listed as Wisconsin Indianhead Technical College)

School Address: Rice Lake, WI USA (may still be listed as Shell Lake, WI USA)

Program Code: PN-US50100300; RN-US50407200

Completion/Graduation/Confer Date: December 22, 2023 (If graduated other than December 2023, see Other Northwood Tech Graduate Licensure Applicants link below.)

Type of Degree/Program: RN (ADN) or Other (LPN) - completed the portion of the RN program needed to obtain a certificate of completion in practical nursing

Pay appropriate fees
Since this will be your first time creating an account in LicensE, please write down your User ID and/or User Name, Password, Email address used, and/or security question(s) as you will need this information to access the site later.
All Wisconsin licensure applicants MUST complete the APPLICANT section of the applicable WI #259 Board Approved Statement of Graduation or Completion (link below) and email it as a PDF attachment to Hilary Peterson at hilary.peterson@NorthwoodTech.edu. Do NOT submit this form as a picture taken from your phone, as this cannot be submitted to DSPS. It must be scanned and emailed as a PDF.
The WI #259 Board Approved Statement of Graduation MUST INCLUDE YOUR APPLICATION NUMBER. Do not add any information to the WI BOARD-APPROVED SCHOOL section. Hilary will add the school information to this section.
The application number is in the format of PAR-XXXXXXXXXX. Please contact DSPS if you have any questions about the application number.
You will not receive an Authorization to Test (ATT) until this form has been emailed to Hilary. She will verify graduation, add the school information to the form, and upload to your application via the Third-Party Document Upload section in LicensE - this is why the Application Number is critical!
Northwood Tech will upload WI #259 Board Approved Statements of Graduation weekly as needed.

Minnesota Licensure Application for December 2023 Graduates (RN and LPN Licensure)

1. Apply online for the applicable license using the Licensure by Examination Application link
2. Name of School of Nursing:  Northwood Technical College (may still be listed as Wisconsin Indianhead Technical College)
3. Program Code:  PN-US50100300; RN-US50407200
4. City & State of School of Nursing:  Rice Lake, WI (may still be listed as Shell Lake, WI)
5. Authorize the release of exam results to the school of nursing
6. Graduation/Completion/Confer Date:  December 22, 2023
7. Pay appropriate fees
All Minnesota licensure applicants MUST complete the APPLICANT section of the applicable Confirmation of Program Completion for Licensure by Examination (link below) and email it as a PDF attachment to Hilary Peterson at hilary.peterson@NorthwoodTech.edu. Do NOT submit this form as a picture taken from your phone, as this cannot be submitted to the Board of Nursing  It must be scanned and emailed as a PDF.  
RN - MN Confirmation of Program Completion for Licensure by Examination-December 2023  You will not receive an Authorization to Test (ATT) until this form has been emailed to Hilary and she submits to MN Board of Nursing.
LPN - MN Confirmation of Program Completion for Licensure by Examination-December 2023  You will not receive an Authorization to Test (ATT) until this form has been emailed to Hilary and she submits to MN Board of Nursing.
If this is your first time creating an account with MN Board of Nursing, please write down your User ID and/or User Name, Password, Email address used, and/or security question(s) as you will need this information to access the site later.
Forms are submitted weekly to the MN Board of Nursing.

 Other Northwood Tech Graduate Licensure Applicants (non-December 2023 graduates)

If you are a Northwood Tech graduate who previously sat for NCLEX, received licensure in another state, and now want to be licensed in Wisconsin, Minnesota, or another state, you should Apply for Licensure via Endorsement (not Exam).
WISCONSIN:  apply via LicensE, complete the APPLICANT section of WI #259 Board Approved Statement of Graduation, with the appropriate Type of Degree (RN or LPN) checked, and email as a PDF attachment to Hilary Peterson at hilary.peterson@NorthwoodTech.edu.
MINNESOTA:  complete the online application. The APPLICANT section of the Minnesota Confirmation of Program Completion (page 7 of the paper application) should be completed, along with the appropriate Program Type (Registered Nurse or Practical/Vocational Nurse) checked, and emailed as a PDF attachment to Hilary Peterson at hilary.peterson@NorthwoodTech.edu.
Do NOT submit either the WI or MN form as a picture taken from your phone, as these cannot be submitted to the Boards of Nursing.  
Your RN confer date or PN Milestone date can be found by running an unofficial transcript through MyNorthwoodTech.
If you have questions or concerns, please do not hesitate to contact your Instructor or Hilary Peterson at hilary.peterson@NorthwoodTech.edu. 

Testing Accommodations

Testing accommodations for otherwise qualified candidates can be provided only with the authorization of your nursing regulatory body (NRB) also known as State Board of Nursing. Send your request to your NRB as early as possible so that, if approved, the testing accommodations can be made in a timely manner. Do not schedule an appointment to take the NCLEX until you have received written confirmation of your accommodations and your ATT email listing the granted accommodations.
Pearson VUE (click on Download Publication-under 2023 NCLEX Candidate Bulletin-and scroll to Testing Accommodations)

Nurse Licensure Compact (multi-state licensure)