Agricultural Power and Equipment Technician
Technical Diploma
57 Credits | 2 Year
Financial Aid-Eligible
New Richmond
Career Cluster: Agriculture, Food and Natural Resources
If you're interested in agricultural equipment and enjoy working with technology, consider the Agricultural Power and Equipment program. Agriculture Mechanics skills can get you a career in a variety of positions such as agriculture service technician, farm maintenance technician, diesel technician and agriculture engineer (with additional education), to name a few.
Program Overview
This program prepares students to service and repair diesel-powered agricultural and industrial equipment. This hands-on program covers power trains, electrical/electronic systems, brakes, hydraulics, and diesel emissions of these types of equipment. Students will also learn the theory, operation, and repair of tillage, planting, and harvesting equipment.
Program Outcomes
Agricultural Power and Equipment Technician graduates will be able to:
Repair electrical systems
Analyze an electronic system
Repair hydraulic systems
Repair internal combustion engines
Repair power trains/transmissions
Follow industry safety standards
A hands-on program where you'll spend approximately 75 percent of your time working in the shop implementing what you learned in the classroom.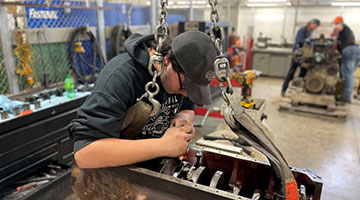 Exposure to current technology.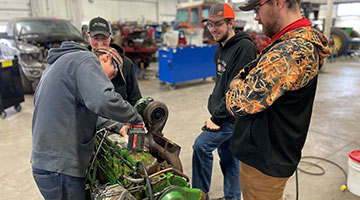 Develop lifelong relationships.
Academics
Agriculture Power and Equipment Technician program is available at the Northwood Tech-New Richmond campus. Within this program you will gain a wealth of knowledge through classroom learning and in the Ag shop. This program prepares you for the job market with real, relevant projects. 
Within the program curriculum, you will have the opportunity to earn OSHA forklift certification and Mobile Air Conditioning EPA 609 certification.
The Ag Power Club participates in many activities on campus. From helping out student life with various activities like highway clean up to serving the community at festivals and events, the Ag Power club will get you involved on campus. The Ag Power club has taken a multiple-day field trip to various locations and states to check out where agriculture equipment is made.
Industry Tours and Field Trips
Faculty often take students on field trips to local implement dealers and other relevant businesses.
Required Courses
Areas of study include diesel engines, D.C. electrical systems, hydraulics, powertrains and air conditioning.   
This course will provide the learner with a basic understanding of the diesel engine. The design and operating principles of the engine, cooling, fuel, intake, exhaust systems, and lubrication systems will be examined. COREQUISITE: 32070326 Basic Engines.
This course is designed for the learner to understand (12-volt) DC electricity. Classroom trainers along with lab exercises will be used to learn electrical theory. Students will also be introduced to electrical wiring schematic reading, wire harness construction and repair. PREERQUISITE: 32412301 Diesel Safety and Industry Practices.
Instruction in safe setup and operation of plasma cutting (PAC), oxy-fuel cutting (OFC), SMAW (Stick), GMAW (Mig), FCAW, and/or GTAW (Tig) welding in applications related to general industry practices. Selection of appropriate welding processes with a specific emphasis on typical repair situations including metal identification will be stressed.
Northwood Tech has an easy admission process that can be completed in one visit. Please see the details under the "Requirements and Application" section to get started.
Tuition and Fees
Northwood Tech breaks down the cost of education, so you'll have a good idea of how much your education will cost. 
Financial Aid
Financial aid is available to help you pay for your education. It can come in the form of grants, loans, federal work-study, military and veterans benefits, division of vocational rehabilitation benefits, and scholarships. 
Estimated Total Program Costs 2023-24*
Agricultural Power and Equipment Technician
57 Credits | 2 Years
$10,341
$5,450 for tools, supplies and uniforms
---
*Tuition is an estimate and does not include any miscellaneous fees for various courses, tools, books, supplies or uniforms. Program book costs are in addition to tuition and fees and vary depending on course selection and where the books are purchased or rented. 
After the Northwood Tech Agricultural Power and Equipment Technician Program
Upon completion of the program, you will earn a technical diploma in Agricultural Power and Equipment Technician.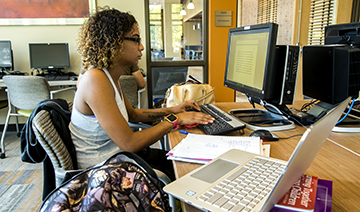 Transfer Center
Transfer your Northwood Tech credits to a four-year college to earn your bachelor's degree and beyond. 
Career Outlooks
Northwood Tech's graduates experience success. Learn more about the types of careers you can get after graduation.