Industrial Maintenance Technician
Technical Diploma
55 Credits | 2 Years
Financial Aid-Eligible
Superior

Fall and Spring Start
Career Cluster: Manufacturing
Industrial Maintenance is one profession that can lead to multiple career options. Manufacturers of all types and sizes need Industrial Maintenance Technicians. As a graduate of this field, you will have the opportunity to work in a career that is both challenging and rewarding.   
Program Overview
The Industrial Maintenance Technician program will give you practical "hands-on" experience in welding, hydraulics, machining, plumbing, electricity and mechanical maintenance. Opportunities for advancement increase with further education. 
Program Outcomes
Industrial Maintenance Technician graduates will be able to:
Demonstrate safe work procedures
Install industrial equipment and systems
Maintain industrial equipment and systems
Troubleshoot industrial equipment and systems
Repair industrial equipment and systems
Communicate technical information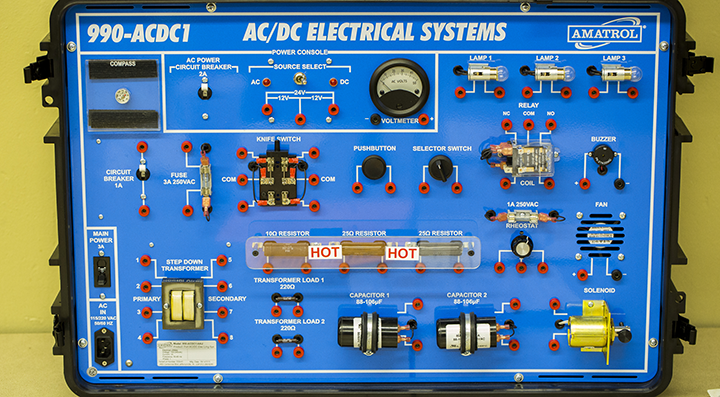 All theory is reinforced by hands-on applications allowing you to explore the processes that will be the foundation for your career. In this program, you'll experience working with a laboratory partner and in teams of four to allow you to experience the work place setting of teamwork that is so often used in this career.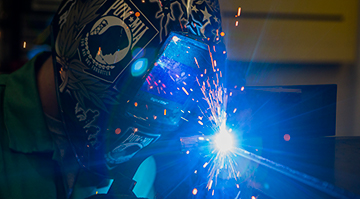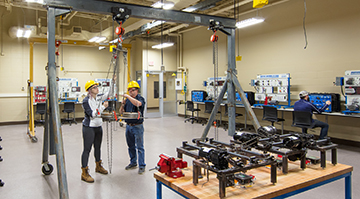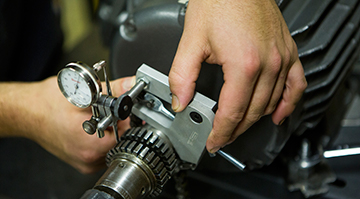 Start in the spring or fall. 
Academics
Industrial Maintenance Technician classes in-person classes are taught at the Superior campus. 
In this program, you will learn a different industry emphasis each semester. In semester one, you will learn machining and fabrication, semester two focuses on electrical motor control, semester three is mechanical drives and semester four is fluid power. 
There are several employers locally and out of town willing to hire you and provide you with an internship experience to enhance your learning experience.   
Your instructor has many years of experience working in Maintenance as a technician.
Required Courses
Program-specific subjects include four different welding courses, three different electrical courses, three different fluid power-related courses, two mechanical drives courses, a machine leveling and alignment course, a print reading course, a safety course, a conveyor course and two supportive laboratory courses.  
This course is designed to introduce the student to bulk handling belt conveyor systems common to many industries. While examining the different systems used that make up an effective belt conveyor, the student will design a system of their own. Standard applications, preventive maintenance, repair, and installation of conveyors will be the focus of this course. The screw, flat belt, and roller conveyors will also be examined. A strong background in mechanical drive and fabrication is recommended.
This course is designed to introduce the student to the theory of fluid power. The common gas laws will be analyzed. The basic system of a hydraulic unit and pneumatic unit will be the focus of this laboratory-based course. Common applications of different circuits will be explored and constructed.
This course introduces the student to the basics of GMAW welding operations. It includes the study of the type of metals and equipment utilized in welding. The instruction emphasizes accepted applications in butting and joining metals utilizing standard industry techniques.
Northwood Tech has an easy admission process that can be completed in one visit. Please see the details under the "Requirements and Application" section to get started.
Tuition and Fees
Northwood Tech breaks down the cost of education, so you'll have a good idea of how much your education will cost.
Financial Aid
Financial aid is available to help you pay for your education. It can come in the form of grants, loans, federal work-study, military and veterans benefits, division of vocational rehabilitation benefits, and scholarships. 
Estimated Total Program Costs 2023-24*
Industrial Maintenance Technician
55 Credits | 2 Years
$10,297
$725 for tools, supplies and uniforms
---
*Tuition is an estimate and does not include any miscellaneous fees for various courses, tools, books, supplies or uniforms. Program book costs are in addition to tuition and fees and vary depending on course selection and where the books are purchased or rented. 
After the Northwood Tech Industrial Maintenance Technician Program
Upon completion of the program, you will earn an Industrial Maintenance Technician technical diploma.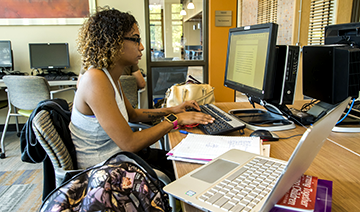 Transfer Center
Transfer your Northwood Tech credits to a four-year college to earn your bachelor's degree and beyond. 
Career Outlooks
Northwood Tech's graduates experience success. Learn more about the types of careers you can get after graduation.