Utility Construction Technician
Unique in the state
Technical Diploma
28 Credits | 1 Year
Financial Aid-Eligible
Rice Lake
Career Cluster: Architecture and Construction
If you enjoy working outdoors, like using heavy equipment and want to earn high wages, UCT is the program for you! As a graduate, you'll be part of the nationwide drive to provide 5G broadband service to homes and businesses. Northwood Tech's UCT program is one of only five colleges in the country affiliated with the Power Communications Contractors Association (PCCA).
Program Overview
Utility Construction Technician students learn how to run cable overhead and underground using heavy equipment like horizontal directional drills, mini-excavators, vibrational plows, and bucket trucks. Students will learn pole climbing techniques in our 10 acre outside lab area. Additionally, students will take the required truck driving courses that prepare them to take their CDL A license.
Program Outcomes
Employers will expect Utility Construction Technician graduates to be able to:
Demonstrate safe practices and techniques
Demonstrate heavy equipment operation
Perform site location and preparation
Perform construction practices
Complete CDL-A licensure
Utilize construction plans
Apply basic electrical principles
Demonstrate customer service
Analyze broadband principles
Perform preventative maintenance practices
Directional drilling is an economical and environment-friendly method for the installation of pipelines underneath rivers, roads, railway tracks, buildings and other obstacles. With this method, you can install: sewer, freshwater, gas, oil, and telecommunication pipelines without trenching. In the first step, a pilot bore is made from the entry to the exit point.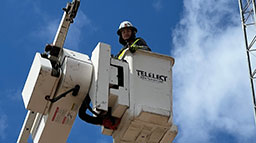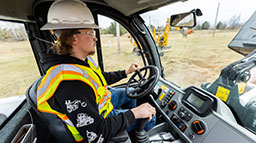 High wages and advancement opportunities.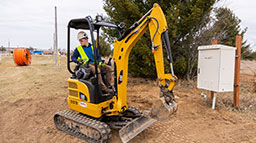 Operate equipment to build higher internet speeds to rural areas.
Academics
Utility Construction Technician classes are held at the Rice Lake campus. Students of the program will obtain the hands-on training that employers in the industry are looking for in an applicant. 
One-Year Technical Diploma
After just two semesters, successful graduates of this program will be prepared with the entry-level skills needed to enter the utility workforce.
Industry Certifications awarded to students include: OSHA 10, WIS DOT Flagger Certification, and First Aid, CPR, AED. Industry Certifications that students may have the ability to obtain include: CDL Class A and ETA Fiber Optic Installer Certification.
Students have the opportunity to utilize simulation training, including: Truck Driving, Excavator and Backhoe.
Required Courses
This program will introduce outside plant cabling practices, installed as aerial cable between poles in an underground conduit system or by direct burial. Students will understand the basic electricity, blue print reading and facility locating. Students will have the ability to obtain a CDL class A permit. They will practice basic construction practices techniques for outside plant services. Students will analyze work zone safety practices and receive an OSHA 10 permit. 
This course introduces the student to buried construction practices used in the utility service industry. Students will safely use hardware components and the equipment used in industry for rigging and installation procedures. Students will be safely introduced to a variety of construction machinery and operate in a controlled construction site environment setting. Students will load and unload machinery to safety specifications and secure loads to meet DOT regulations.
This course introduces the student to the basics of the HFC (Hybrid Fiber Coaxial) portion of the broadband industry. It will focus on four (4) primary areas: cable and wire - the design of the cables physically and electrically and how to splice them; print reading - construction drawings and system maps/circuit diagrams; station installation - installation of customer materials and equipment and teaching the customers how to properly use the equipment; basic trouble shooting - finding and repairing trouble in materials and equipment.
This is the first of three courses in the 10-week Truck Driving technical diploma. Become prepared for entry-level positions as a commercial driver and understand basic information about trucks and their operation. You will need to present your DOT physical (Fed-Med) card and CDL Permit (CLP) prior to enrolling in the course. A scheduled drug screen is required prior to behind-the-wheel training. If you need assistance with passing the CLP, refer to the CDL Theory course designed to help you prepare for the test. NOTE: It is required that the Truck Driving program students enroll in all three levels of truck driving (30458304, 30458305, 30458303) at the same time to secure space. PREREQUISITE: Admission to the Truck Driving, Utility Construction Technician or Diesel Equipment Technician Plan.
Utility Construction Technician is Part of a Career Pathway
As a Utility Construction Technician student at Northwood Tech, you can earn credentials each step of the way! 
You could take this first and get a credential.
10 Credits / Less than 1 Year
Potential Careers
Company Driver/Owner Operator, Driver Manager. Driver Mentor, Local/Regional/Long Distance Driver, Recruiting Specialist, Dispatch Driver, Over-the-Road Truck Driver, Straight Truck Driver (Dump, Cement, Delivery)
This is the program you're looking at.
Potential Careers
Utility Service Operator, Vibratory Plow Operator, Horizontal Directional Drill Operator, Excavator Operator, Truck Driver Equipment Hauler, Fiber Optic and Copper Splicer, Utility Service Flagger, Underground Facilities Locator, Utility Service Laborer
Continue your education to earn a bachelor's degree.
Northwood Tech has an easy admission process that can be completed in one visit. Please see the details under the "Requirements and Application" section to get started.
Tuition and Fees
Northwood Tech breaks down the cost of education, so you'll have a good idea of how much your education will cost.
Financial Aid
Financial aid is available to help you pay for your education. It can come in the form of grants, loans, federal work-study, military and veterans benefits, division of vocational rehabilitation benefits, and scholarships. 
Estimated Total Program Costs 2023-24*
Utility Construction Technician
28 Credits | 1 Year
$4,937
---
*Tuition is an estimate and does not include any miscellaneous fees for various courses, tools, books, supplies or uniforms. Program book costs are in addition to tuition and fees and vary depending on course selection and where the books are purchased or rented. 
After the Northwood Tech Utility Construction Technician Program
Upon completion of the program, you will earn a Utility Construction Technician technical diploma.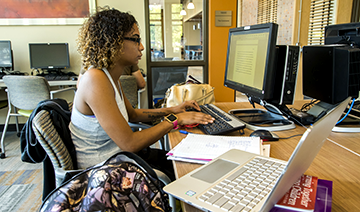 Transfer Center
Transfer your Northwood Tech credits to a four-year college to earn your bachelor's degree and beyond. 
Career Outlooks
Northwood Tech's graduates experience success. Learn more about the types of careers you can get after graduation. 

Professional Licensure and/or Certification Information
Northwood Tech's Utility Construction Technician program is designed to prepare students to obtain the required licensure to be employed/practice in the state of Wisconsin. However, Northwood Tech has not made a determination whether this program meets the requirements for preparation, examination, or licensure for states other than Wisconsin. Students who may be seeking professional licensure or certification in states other than Wisconsin should contact the appropriate licensing board in the state to verify that the Northwood Tech program meets licensure or certification requirements.
For more information, visit: