Pharmacy Technician
Technical Certificate
11 Credits | 1 Semester
New Richmond*, Superior*
*Available through Online and On-Site instruction
Career Cluster: Health Sciences
Students in selected health sciences programs will travel to the Shell Lake Health Education Center. Travel requirements are customized to meet individual program course competencies.
As the need for clinical pharmacists increases to meet today's healthcare demands, so does the need for well-trained pharmacy technicians. Area employers are seeking highly-skilled graduates to fill their pharmacy technician positions.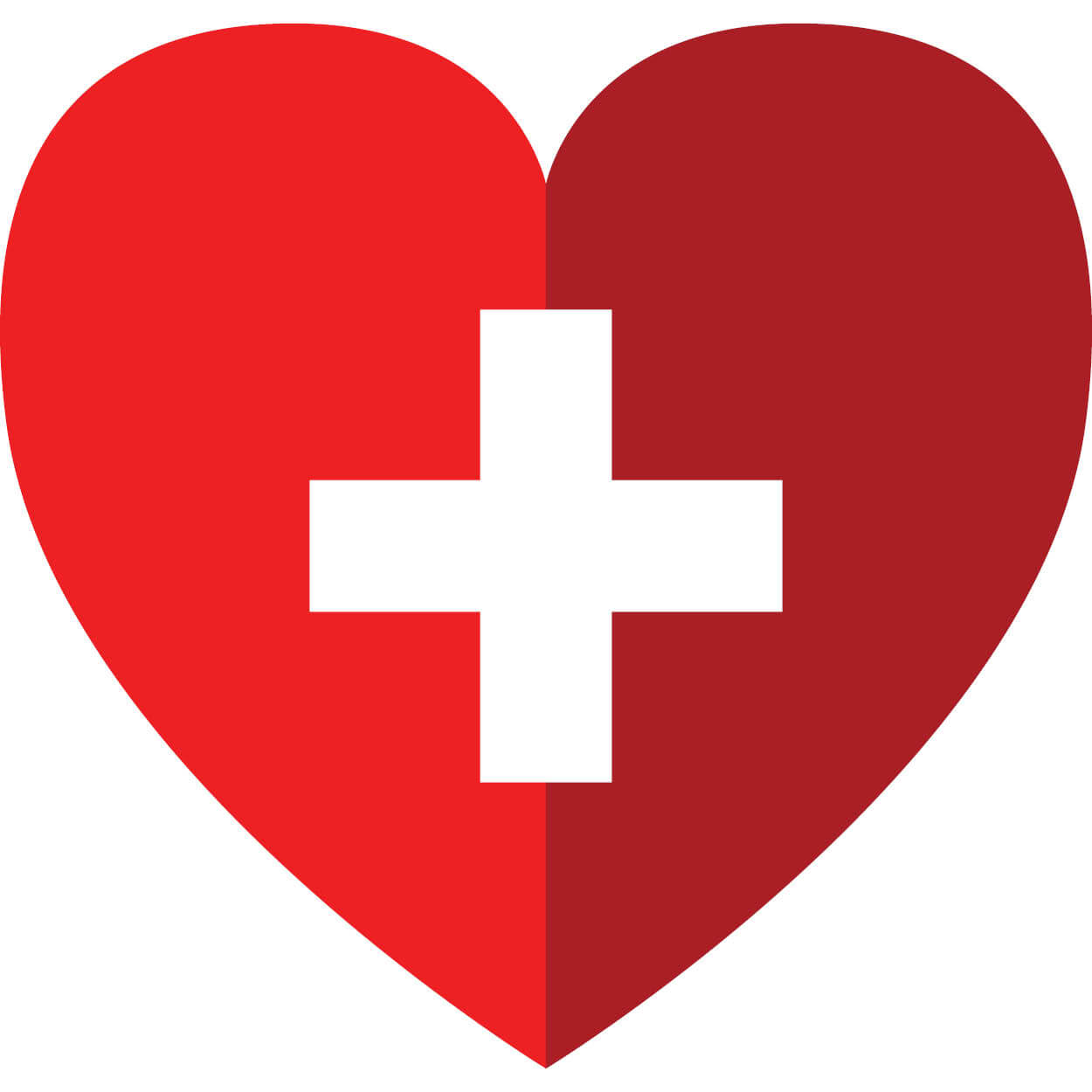 Financial assistance may be available as part of the West Cap Skills Enhancement Program. Learn more about this opportunity here.
Program Overview
The Pharmacy Technician program will prepare students for a rewarding, demanding and ever-evolving career as a pharmacy technician. Pharmacy technicians perform a variety of duties and responsibilities including preparation of prescriptions, record-keeping, inventory control, handling monetary transactions, filing third-party claims, preparing IV admixtures and unit dose medications and compounding.
Program Outcomes
Pharmacy Technician graduates will be able to:
Communicate clearly to customers/patients and healthcare providers
Demonstrate professional behaviors and knowledge in the practice of pharmacy
Compound sterile and nonsterile medications
Apply policies and procedures when processing orders and ensuring inventory accuracy
Adhere to state and federal regulations governing the practice of pharmacy
Demonstrate safe and inclusive practice with all customers/patients
To accommodate your schedule, the Pharmacy Technician program is available via Online and On-Site instruction.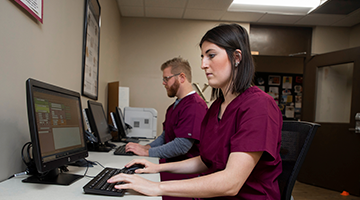 Flexible, online learning.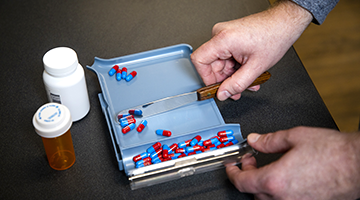 Hands-on classes one evening a week.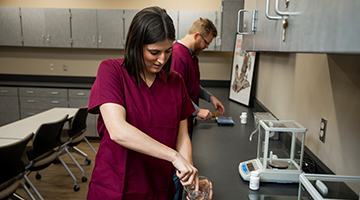 High-demand for skilled pharmacy technicians. 
Academics
The Pharmacy Technician certificate is offered at the Superior campus for the fall semester and the New Richmond Campus for the spring semester via Online and On-Site instruction 
This one-semester program prepares you for the national Pharmacy Technician Certification Board (PTCB) exam. Northwood Tech has state-of-the-art equipment, giving you the experience that you will see in the real world.
Students are able to complete this program in the evening and Online over one semester.
As a Pharmacy Technician student at Northwood Tech, you will have access to instructors with years of experience in a variety of pharmacy settings. 
You will complete a 64-hour clinical, including retail and hospital sites (when available), where you will apply your skills while gaining customer service experience and the opportunity to network with potential employers.
Required Courses
Through the Pharmacy Technician required courses, you will learn about medications, how they are used and how to understand and fill prescriptions. You will learn hands-on skills such as how to mix sterile and non-sterile medications. You will also learn aspects of pharmacy business. You will have the opportunity to intern at both a hospital and retail pharmacy. 
In this course, students will develop the skills and knowledge required to complete the prescription-filling process, as well as extemporaneous compounds. This course also provides the learner with the skills to utilize aseptic technique in horizontal laminar flow hoods for preparation of solutions and medications. Students will utilize critical-thinking, problem-solving and communication skills to collect, assess, plan, implement and follow-up on patients. PREREQUISITE: Admission to the Pharmacy Technician program
The purpose of this course is to provide a comprehensive overview of the principles of pharmacology and pharmacokinetics including the understanding of body system disease states and the effects of medications in treating disease conditions. Students will learn the cautions involved in adverse drug effects, food and drug interactions, and drug-disease contradictions. Students will learn the therapeutic classifications, indications, and common strengths for the most common drugs. PREREQUISITE: Admission to the Pharmacy Technician Plan
In this course, students will have the opportunity to experience the daily activities of a pharmacy technician in a pharmacy setting. Students will learn how medication orders are prepared, processed, and delivered along with maintaining medication inventory in several areas, interacting with other medical staff and following policies and procedures This course prepares the learner to apply policies and procedures in the pharmacy, process prescriptions, and maintain patient medical histories. PREREQUISITE: Admission to the Pharmacy Technician program and COREQUISITES: 10536141 Introduction to Pharmacy and 10536143 Pharmacy Lab Skills
Northwood Tech has an easy admission process that can be completed in one visit. Please see the details under the "Requirements and Application" section to get started.
Tuition and Fees
Northwood Tech breaks down the cost of education, so you'll have a good idea of how much your education will cost. 
Estimated Total Program Costs 2023-24*
Pharmacy Technician
11 Credits | 1 Semester
$1,952
---
*Tuition is an estimate and does not include any miscellaneous fees for various courses, tools, books, supplies or uniforms. Program book costs are in addition to tuition and fees and vary depending on course selection and where the books are purchased or rented. 
After the Northwood Tech Pharmacy Technician Program
Upon completion of the program, you will earn a Pharmacy Technician technical certificate.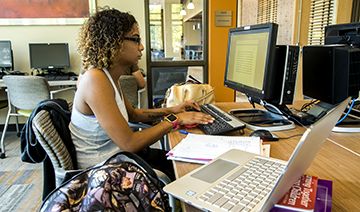 Transfer Center
Transfer your Northwood Tech credits to a four-year college to earn your bachelor's degree and beyond. 
Career Outlooks
Northwood Tech's graduates experience success. Learn more about the types of careers you can get after graduation.

The Northwood Tech Pharmacy Technician program partners with Pioneer Rx to enhance the curriculum with a hands-on approach to learning that simulates the functions and workflow of today's most innovative pharmacies. For more information about Pioneer Rx, visit www.pioneerrx.com. 
Pharmacy Technician Certification Board (PTCB) Recognized Education/Training Program
PTCB sets the standard for certification of pharmacy technicians that improves medication safety and patient care.