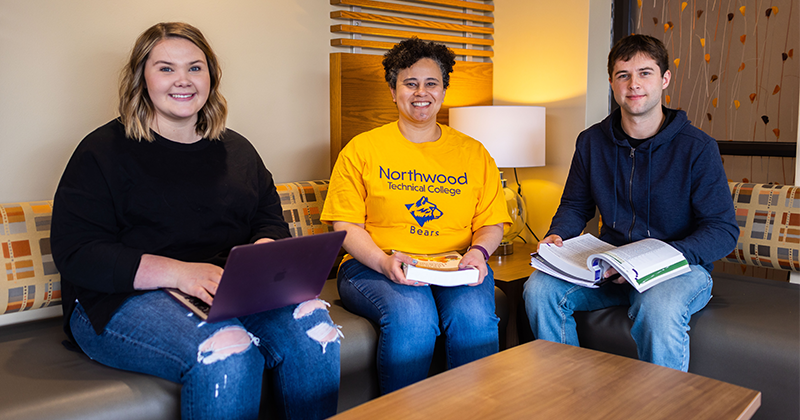 International Students
An international student is any student who is not a citizen or permanent resident of the United States. 
Steps to Become an International Student at Northwood Tech:
1. Choose your degree/technical diploma/certificate. Check out the degree program options available at Northwood Tech. Graduate studies and four-year degree programs are not offered as part of the Northwood Tech curriculum. 
---
2. Complete and submit the International Student Application form. 
---
3. If English is not your native language, you must provide your TOEFL (Test of English as a Foreign Language) or IELTS (International English Language Testing System) scores for proof of English language proficiency. Either test's scores must be sent directly to Northwood Tech through the TOEFL (Northwood Tech's school code of 1580) or IELTS website. 
Minimum acceptable scores (valid up to three years from date of exam) are: 
TOEFL IBT - 61 (with a minimum speaking and writing score of 17)

IELTS - 5.5
While Northwood Tech does offer English language training, it is not considered intensive. Therefore, Northwood Tech is unable to admit you if you do not meet the minimum English language proficiency score. 
The TOEFL is not required for applicants whose native language is English. 
Students from the following areas are exempt from the English proficiency exam requirement: 
| | |
| --- | --- |
| Antigua and Barbuda | Ireland |
| Australia | Jamaica |
| Bahamas | New Zealand |
| Barbados | St. Kitts and Nevis |
| Belize | St. Vincent and the Grenadines |
| Canada | Trinidad and Tobago |
| Dominica | United Kingdom |
| Grenada |   |
| Guyana |   |
---
4. Provide written proof of adequate financial resources for period of study to pay for tuition, books, room and board, and any other financial responsibilities that may incur. Please submit the Confidential Financial Statement form with the International Student Application. As an international student, you are not eligible for financial assistance or federal work-study while pursuing education at Northwood Tech. 
---
5. Submit an official high school transcript and any post-high school transcripts (if applicable). English translations by a formal Foreign Credential Translation and Evaluation Service provider must be included if transcripts are written in another language. 
Foreign Credential Evaluations 
If you have credits from educational institutions outside the United States, a detailed course by course evaluation is required to determine if credits transfer. Northwood Tech accepts foreign credential evaluations from any current member of the National Association of Credential Evaluation Services (NACES). For additional NACES-affiliated credential evaluation options, please visit the NACES website. Contact Allison Carroll, Registrar, to learn how college coursework completed outside the U.S. will transfer to Northwood Tech. 
Download List of Recommended Foreign Credential Evaluators
---
6. Complete the Accuplacer placement assessment after arrival to determine your course placement and/or eligibility for program admissions. 
---
7. Complete any additional admissions requirements as needed. Please note: All required documents should be postmarked by May 1 for fall term start and October 1 for spring term start. 
---
After You're Admitted
Complete the U.S. Immigration and Customs Enforcement (USCIS) form and pay the $350 (U.S. dollars) SEVIS fee. 
Schedule an interview with the U.S. Embassy. You will be required to pay a non-refundable visa application fee. There is an online visa application available, which allows you to complete and print the Form DS-160 to take to your M-1 or F-1 visa interview. Applying for the M-1 or F-1 student visa may vary depending on the U.S. Embassy or Consulate you are dealing with. Present the I-20 and original letters of support during the embassy visit. Financial support documents much be attached to the Certificate of Eligibility when applying for the student visa at the United States Embassy or Consular Office. 
Once you have been granted the student visa, contact Allison Carroll, with your estimated date of arrival. Once in the area, please call 715.319.7337 to schedule an appointment to take the Accuplacer assessment and to register for classes. You must be enrolled in a minimum of 12 credits per semester to maintain your student visa status. The program of study indicated in the Certificate of Eligibility is tentative since final placement into college programs and courses is dependent upon Accuplacer placement test scores, student interest, and advisement/counseling requirements. 
The following documents are required for your visa interview:
A valid passport; must be valid for at least six months after you plan to enter the USA
Non-immigrant visa application, Form DS-160 (you can print the confirmation page online)
Receipt of your application payment
Two passport photos (see photo requirements)
A Certificate of Eligibility for non-immigrant (M-1 or F-1) Student Status Form I-20 (issued by Northwood Tech)
Receipt of your I-901 SEVIS fee payment
Contact Information
Northwood Tech is excited that you have taken the time to learn more about what the college has to offer for international students. To receive an electronic International Student Information packet, please contact Allison Carroll. You will need access to an e-mail address and printer to receive and complete the forms. Information will be sent via e-mail in Microsoft Word documents.