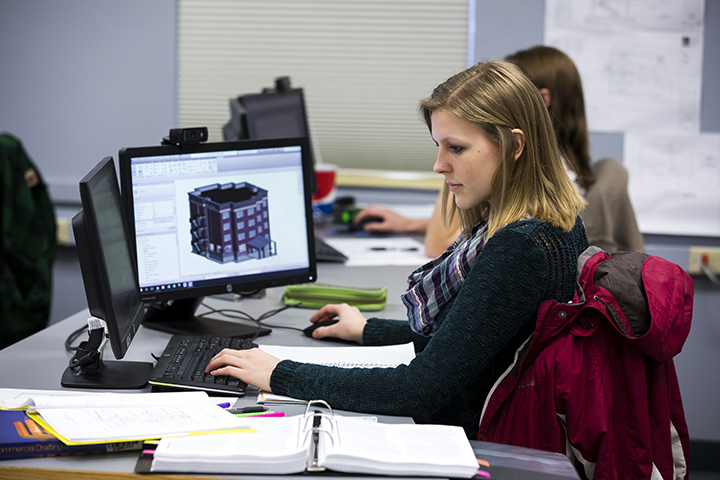 Architectural Commercial Design
Unique in the State
Associate Degree
63 Credits | 2 Years
Financial Aid-Eligible
Ashland, New Richmond, Rice Lake, Superior
Join your classes through the internet live from anywhere (through Online Live). Connect with your instructor and classmates during live classes via the web.
Career Cluster: Architecture & Construction
Architectural drafters work in a variety of places: architectural and engineering offices, design/build companies, manufacturing firms, as well as lumber yards. Understanding building construction and how to create sets of drawings, or blueprints, is at the heart of a successful career in any of these industries. The Architectural Commercial Design program will help you get started. 
Program Overview
Architecture is a combination of art, science and communication. The Architectural Commercial Design program emphasizes the science of construction knowledge and communicating that knowledge in drawings through an efficient use of building information modeling (BIM) and computer-aided design (CAD) programs. 
Employers are impressed with Northwood Tech graduates' understanding of the entire building process, building connection details and programs like Revit and AutoCAD. 
Program Outcomes
Architectural Commercial Design graduates will be able to:
Develop construction documents
Evaluate building materials
Develop building designs
Integrate building systems
Use computer-aided drafting, building information modeling and architecture-related software
Utilize office practices and standards 
Utilize the Enrolled Wisconsin Commercial Building Code incorporating the International Building Code (IBC)
Get a practical, hands-on approach to architecture that will prepare you with the skills that employers are seeking.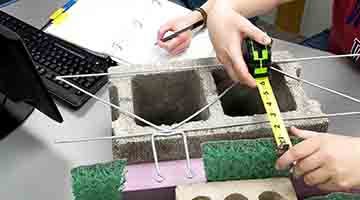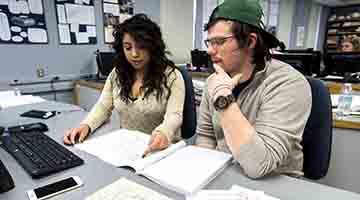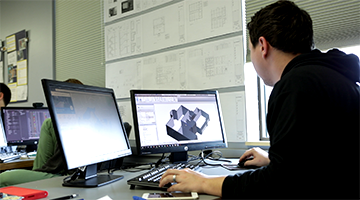 Academics
The Architectural Commercial Design program is unique in Wisconsin, meaning there is no other program like it in the state. The classes prepare you to translate ideas, rough sketches, building code requirements, specifications and calculations of engineers, architects, and designers into commercial and residential working drawings.
With just five years of work experience and successful completion of the Architect Registration Examination®, you could become a licensed architect in Wisconsin. 
Flexible Learning Options
Connect with your instructor and classmates during live classes via the web.
The Architecture Club provides you with the opportunity to network with industry leaders, through virtual lunch and learn, field trips, and more.
Required Courses
The courses in the Architectural Commercial Design program are designed to incrementally increase students' knowledge in construction, CAD/BIM and building systems.
The first year of the program includes classes that introduce wood-frame construction, CAD/BIM programs and drafting, as well as plumbing, electrical and HVAC. The second year of the program, classes cover commercial construction, estimating, structures, as well as more advanced drafting. By the last semester, students are working in teams for non-profit clients and creating and presenting design solutions.
The course focuses on the fundamental design issues of the building site with an introduction to land surveying and topography, land planning and zoning, and environmental regulations. The lab portion of the course provides an opportunity to develop site analysis and design skills through the development of an architectural commercial site design project. PREREQUISITE: 10614176 Architectural Technology 1.
This course introduces the student to the materials and methods used in wood frame construction. It familiarizes students with components of modern construction for the purpose of selecting the materials best suited to various construction jobs.
This course introduces graphic representation in construction. It covers the fundamentals of drafting including line work, lettering, measuring, sketching, projections, and pictorial drawings. Students will use the aforementioned fundamentals to complete a set of drawings for a residence. COREQUISITES: 10614170 Architectural Materials and Methods 1 and 10614176 Architectural Technology 1.
Architectural Commercial Design is Part of a Career Pathway
As an Architectural Commercial Design student at Northwood Tech, you can earn credentials each step of the way! 
You could take this first and get a credential. 
26 Credits / 1 Year Full Time; 2 Years Part Time
Potential Careers
Designer, CAD Technician, CAD Designer
Continue your education to earn an associate degree. 
63 Credits / 2 Years Full Time; 3 Years Part Time
Potential Careers
CAD Technician, Store Planner, Project Manager, Technical Coordinator, Design Technician, CAD Technician, Architectural Technician, BIM Technician
Earn a bachelor's degree through Northwood Tech's transfer opportunities.  
Northwood Tech has an easy admission process that can be completed in one visit. Please see the details under the "Requirements and Application" section to get started.
Tuition and Fees
Northwood Tech breaks down the cost of education, so you'll have a good idea of how much your education will cost. 
Financial Aid
Financial aid is available to help you pay for your education. It can come in the form of grants, loans, federal work-study, military and veterans benefits, division of vocational rehabilitation benefits, and scholarships. 
Estimated Total Program Costs 2023-24*
Architectural Commercial Design 
63 Credits | 2 Years
$10,225
---
*Tuition is an estimate and does not include any miscellaneous fees for various courses, tools, books, supplies or uniforms. Program book costs are in addition to tuition and fees and vary depending on course selection and where the books are purchased or rented. 
After the Northwood Tech Architectural Commercial Design program
Architectural drafters are in high demand. Northwood Tech's graduates have no problems finding employment; in fact, they are often faced with the difficult decision of choosing between several job offers. 
The first job a graduate takes is usually as a CAD technician, BIM technician or Architectural technician. Graduates work in many different areas such as architectural and engineering offices, design/build companies, manufacturing firms, as well as lumber yards. 
Though there are many career options, in an architectural office, graduates start their careers by working closely with a team of architects and engineers to design buildings by creating construction documents, or blueprints. After working for a few years, graduates can become project managers where they are able to design projects more independently. In some cases, this happens much earlier. About five percent of Northwood Tech's graduates go on to become licensed architects via a four-year university or documented experience through NCARB.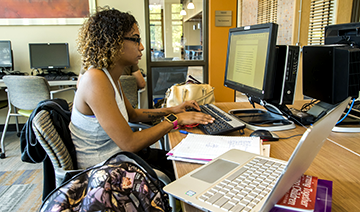 Transfer Center
Transfer your Northwood Tech credits to a four-year college to earn your bachelor's degree and beyond. 
Career Outlooks
Northwood Tech's graduates experience success. Learn more about the types of careers you can get after graduation.