Automation for Industrial Systems
Unique in the State
Associate Degree
64 Credits | 2 Years
Financial Aid-Eligible
New Richmond
Career Cluster: Manufacturing
Automation uses a wide range of technologies to control systems. After just two years, a career awaits in this fast-growing and high-paying industry! In this career, you will install, troubleshoot, program and repair automated machines or processes. According to Northwood Tech's recent survey results, 100% of grads in the Automation for Industrial Systems program were employed within six months of graduating. You could also continue your education with one of Northwood Tech's university transfer options. 
Program Overview
Process and manufacturing plants employ technicians to keep their machines and processing running, and install and maintain equipment. In this two-year associate degree program, you will be prepared to be employed at the technician level or higher on computers, industrial computer networks, programmable logic controllers (PLCs), and process instruments. You will have both classroom and hands-on laboratory instruction with several systems to gain an understanding of computer and PLC interfacing, control systems, network installation and network administration.
Program integrates advanced manufacturing (Industry 4.0) competencies to meet the regional need for skilled employees.
Program Outcomes
Employers will expect Automation for Industrial Systems graduates to be able to:
Support basic computer networks
Support client systems
Utilize network operating systems
Apply basic IT security principles
Demonstrate safe practices and techniques
Perform installations of controls hardware/software/cabling
Perform installations and supportive functions for LAN/communication busses
Perform programming and configuration of Programmable Logic Controllers (PLCs) and Distributed Control Systems (DCSs)
Integrate control systems
Troubleshoot hardware/software of PLCs, instrumentation, and control systems
Develop system documentation
Automation for Industrial Systems is unique in the state. You will obtain a unique set of skills that no other school in the state can provide.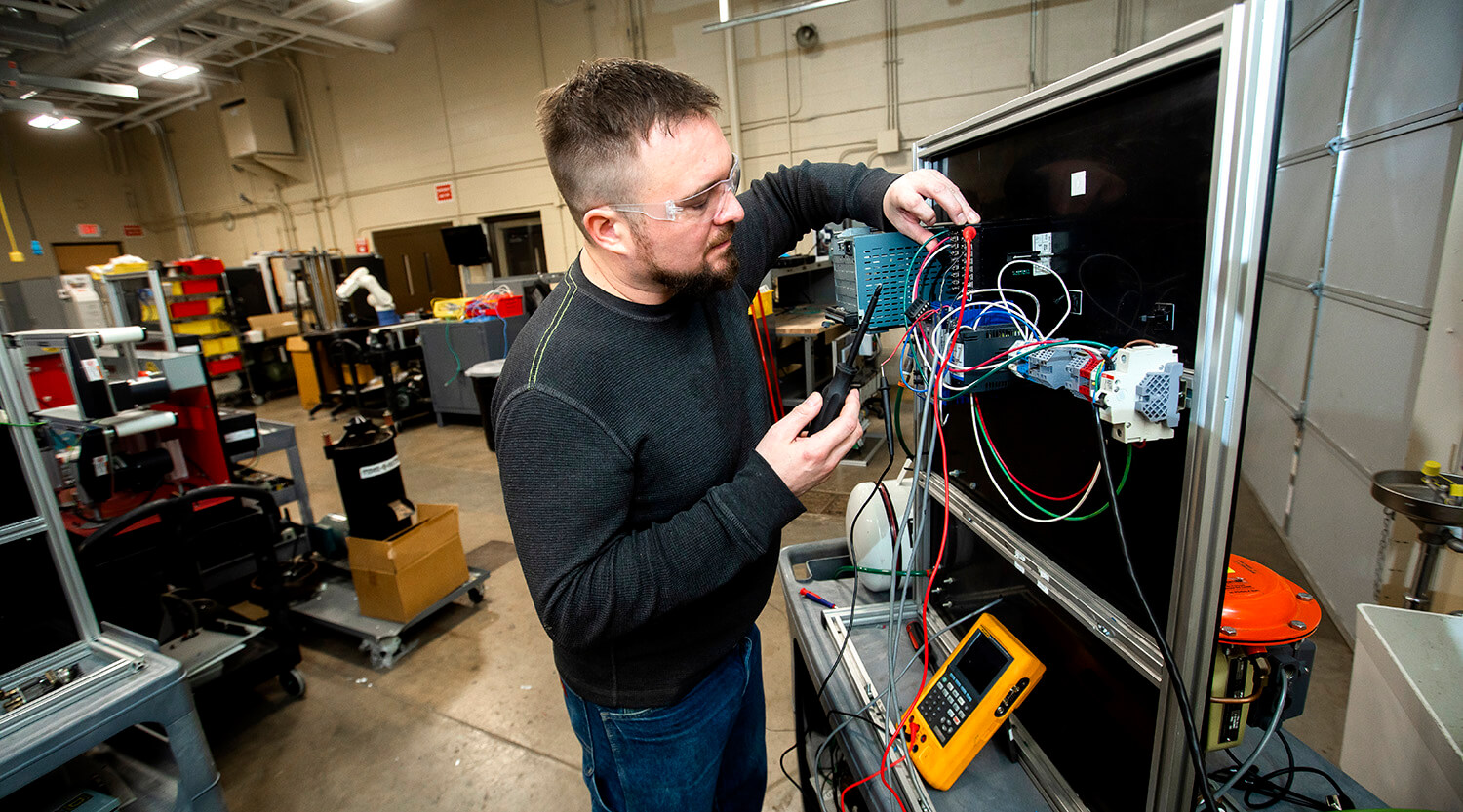 Work with state-of-the-art equipment that is used in the industry.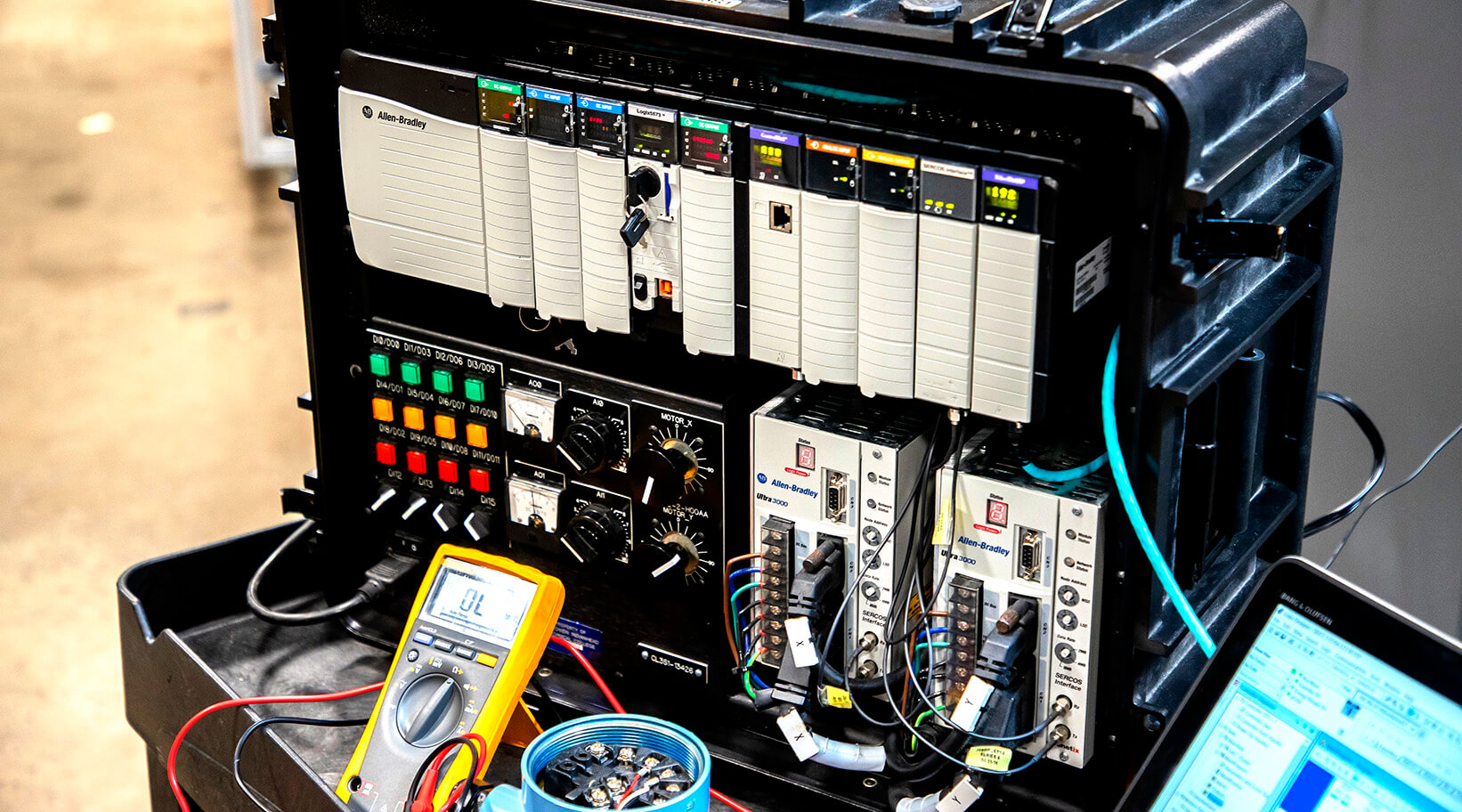 A high-paying career in a growing industry. 
You will spend much of your first year learning IT skills.
Academics
Automation for Industrial Systems program classes are offered at the New Richmond campus in a traditional classroom and lab format. 
As an Automation for Industrial Systems student at Northwood Tech, you can earn credentials every step of the way! Graduates of the program earn an IT Network Technician technical diploma, an Industrial Systems Specialist technical diploma and an associate degree in Automation for Industrial Systems.
You can join the International Society of Automation Club and participate in fieldtrips and regional competitions. Other clubs include Veteran's Club and Student Senate.
100% of Automation for Industrial Systems students were employed prior to graduation in this high demand, high paying field.
-2018-2019 Northwood Tech Graduate Follow-Up Survey
Required Courses
Program-specific subjects covered include process control, instrumentation, PLC programming, and supervisory control. Other topics include industrial networking, power electronics, and supervisory and distributed control concepts.  
Cisco CCNA 2 Routing and Switching Essentials (RSE) covers the architecture, components, and operations of routers and switches in a small network. Students learn how to configure, device management, switch ports, security, VLANs, Static and Dynamic routing, DHCP (v4 and v6), NAT and ACLs on routers and switches. At the completion of this course student may achieve a discount voucher for the CCENT certification exam. PREREQUISITE: 10150111 Cisco CCNA 1 Introduction to Networks.
PLC Programming and Interfacing offers students a hands-on approach to implementing industrial control by integrating typical plant floor electrical components with microprocessor-based controllers. Students will learn to identify and connect field inputs and outputs; communicate with, and program microprocessor-based controllers. Students will also connect, communicate with, and develop displays for computer-based operator interfaces. PREREQUISITE: 10605167 Electricity 1.
The primary focus of this course is to have the students receive exposure and experience with an industrial process control or manufacturing automation system. Students will complete a project or research dealing with an existing process in an area industry or complete an advanced project in the lab dealing with applications of industrial networks, sensors, control, and data acquisition. PREREQUISITES: 10631100 Introduction to Process Control; 10631102 Industrial Power Electronics; 10631103 Process Control and Instrumentation; 10631108 PLC Programming and Interfacing; and 10631109 Industrial AC, Motor Control, and Pilot Devices.
Automation for Industrial Systems is Part of a Career Pathway
As an Automation for Industrial Systems student at Northwood Tech, you can earn credentials each step of the way!
This technical diploma is embedded in the Automation for Industrial Systems program.
IT - Network Technician
19 Credits / Less than 1 Year Part Time
Potential Careers
Computer Technician, Network Technician
Earn a technical diploma.
28 Credits / 1 Year Full Time
Potential Careers
Field Service Technician, Instrumentation and Controls Technician (I&C), Electrical and Instrument Technician (E&I), Service Technician, Electrical Maintenance Technician
Continue your education to achieve an associate degree.
64 Credits / 2 Years Full Time; 3 Years Part Time
Potential Careers
Control Systems Technician, Instrument Technician, Programmable Logic Controller (PLC) Technician, Industrial Automation Technician, Computer Technician, Network Technician, Controls Engineer, Automation Engineer
Upon successful completion of the Automation for Industrial Systems program, you could transfer your credits and earn a bachelor's degree. 
Northwood Tech has an easy admission process that can be completed in one visit. Please see the details under the "Requirements and Application" section to get started.
Tuition and Fees
Northwood Tech breaks down the cost of education, so you'll have a good idea of how much your education will cost.
Financial Aid
Financial aid is available to help you pay for your education. It can come in the form of grants, loans, federal work-study, military and veterans benefits, division of vocational rehabilitation benefits, and scholarships. 
Estimated Total Program Costs 2023-24*
Automation for Industrial Systems
64 Credits | 2 Years
$10,430
$700 for tools, supplies and uniforms
---
*Tuition is an estimate and does not include any miscellaneous fees for various courses, tools, books, supplies or uniforms. Program book costs are in addition to tuition and fees and vary depending on course selection and where the books are purchased or rented. 
After the Northwood Tech Automation for Industrial Systems Program
Upon completion of the program, you will earn technical diplomas in IT-Network Technician and Industrial Systems Specialist and an associate degree in Automation for Industrial Systems.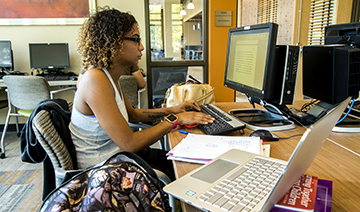 Transfer Center
Transfer your Northwood Tech credits to a four-year college to earn your bachelor's degree and beyond. 
Career Outlooks
Northwood Tech's graduates experience success. Learn more about the types of careers you can get after graduation.