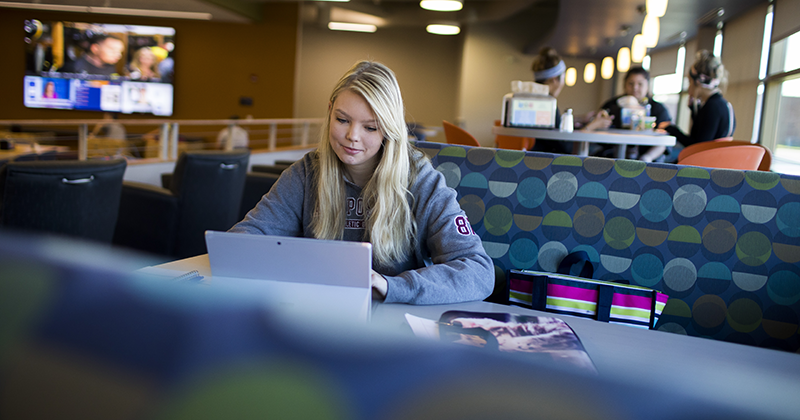 Ready for college? Prepare and take the leap with confidence.
At this point, you've researched where you want to go to college and are starting to think about the next steps. Congratulations! Half the battle is simply getting started. 
Know that Northwood Tech is here to assist you every step of the way, from helping you prepare for your initial placement assessment as part of the admissions process, to assisting you in fine-tuning your interview skills and resume for your next career move post graduation. With a growing number of careers requiring technical education, you'll walk away with in-demand skills to excel in your career and great foundation on which to work toward a four-year degree, if you choose to.
Four areas of readiness for college
Career exploration - interest inventories, career exploration and planning, goal-setting, labor market, livable wages, realistic skills and value assessments. Where are you now, and where do you want to go?
College knowledge - understanding and completing admission and financial aid processes, academic programs, types of supports available and how to access, financial literacy, course load and academic status. What do you need to know to go?
Academic readiness - academic preparation and content knowledge, strategies for handling lengthy and complex assignments, reading college texts, test taking, note taking, technology skills and essay writing. What do you need to do for admission and good grades?
Personal readiness - self-regulating behavior, time management, managing stress and reducing isolation, commitment and goal setting. How will you use your strengths to manage challenges?

Career Exploration - Find Your Program
Not sure what career you want to go into and what program you should take? Northwood Tech offers career planning services to help you narrow down your options and help you find the right program to fit your interests. 

College Knowledge - Understanding Admissions
Northwood Tech will help you navigate the process and work through any barriers you may encounter. Apply easily online. 

College Knowledge - Understanding Financial Aid 
If you'll need financial aid, you'll want to apply early. Most Northwood Tech students get some sort of financial aid, such as grants, loans, work-study and scholarships that are available to help you reduce or eliminate you college costs.

College Knowledge - Earn Credit for What You Already Know
If you have credits from another college, took dual credit courses in high school, or have military or other applicable life experience, you may be able to earn credit for what you've already accomplished. 
Explore Credit for Prior Learning

Academic Readiness - Brush Up on Your Study Skills, Prepare for Entrance Assessment
If you want to brush-up on your note-taking skills, writing, math or learn APA formatting or think you'll want a tutor, the academic support center can help you in these areas. Northwood Tech instructors will even help you prepare for your admissions assessment. Learning is Northwood Tech's mission and we want you to experience success, so never feel bad asking for support.
Explore the Academic Support Center

Personal Readiness - Make Your Time Count. Goal-Setting, Managing Time and Stress
Achieve your goals. College is a commitment of time and energy, so keeping in balance with social, family and work life may be a challenge. Think ahead. What type of schedule does your preferred program have? Northwood Tech offers in-person classes in the daytime, evening and a select few include weekend hours.
If you need more flexibility, several programs have classes online, or in other flexible formats like Northwood Tech Flex, where you can come during a set period of time to meet with your instructors as needed, otherwise your work is done online. Even as an online student, you'll have to be self-motivated.  
Think about the schedule you'll need to be successful. 
Like at any college, you'll have deadlines, assignments and projects. Learning how to manage your stress well is a skill worth building. Northwood Tech offers academic coaches to help you with goal-setting, focus, motivation, study skills and tackling stress. 
Resources on Time and Stress Management