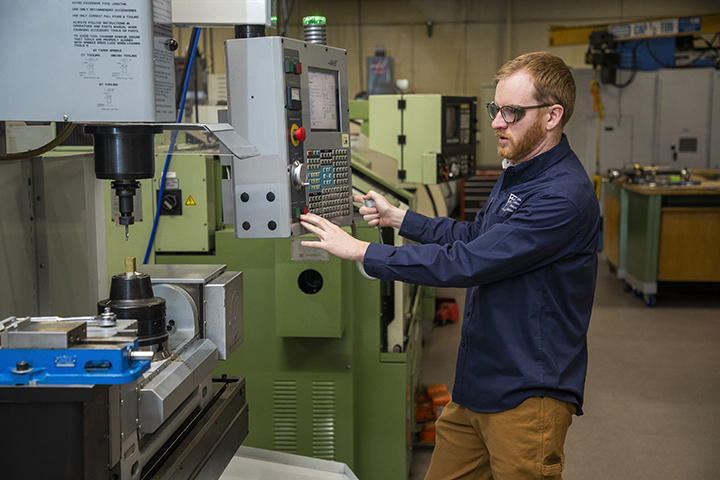 Machine Tool Technician
Technical Diploma
56 Credits | 1.5 Years
Financial Aid-Eligible
Superior
Spring Start
Career Cluster: Manufacturing
Machinists use machine tools, such as lathes, milling machines and grinders to produce precision metal parts. Although they may produce large quantities of one part, precision machinists often produce small batches or one-of-a-kind items. Machinists use their knowledge of the properties of metals and machine tools to plan and carry out the operations necessary to make precise specification machined products.
Program Overview
The two-year Machine Tool Technician program at Northwood Tech will prepare you to operate and set up machine tools for the machining industry.  You will learn general machining skills based on the skills and knowledge identified by the Metalworking Industry Skill Standards Board. You will gain skills in production planning, quality control, metallurgical processes, precision measuring, using an engineer's handbook and interpreting prints. Computer-aided machining and programming techniques are emphasized. New program start every January. 
Program Outcomes
Machine Tool Technician graduates will be able to:
Apply basic safety practices in the machine shop
Interpret industrial/engineering drawings
Apply precision measuring methods to part inspection
Perform basic machine tool equipment set up and operation
Perform programming, set up, and operation of CNC machine tools
Perform advanced CNC machining operations
Becoming a machinist is a hands-on learning experience. You will be able to create projects as you learn the trade. In becoming a machinist, you will learn a high skilled trade that requires precision and attention to detail. Being able to program CNC equipment will make you a sought after employment candidate for area employers.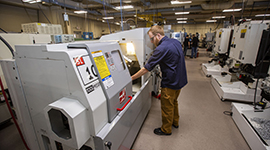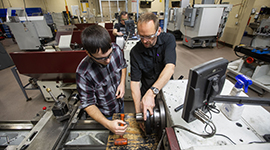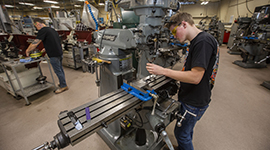 Academics
Machine Tool Technician is offered on the Superior campus. Classes are in-person. Machine Tool Technician is scheduled over 1.5 years, including the summer term.
As a Machine Tool Technician student at Northwood Tech, you will have access to instructors with years of machining experience in a variety of industries. 
Earn credentials every step of the way. The Machine Tool Technician two-year technical diploma includes an embedded Machine Tool Operation technical diploma that you will earn after just two semesters into the program. 
The majority of the laboratory projects are hands on. After learning the theory, you'll put what you learned to practice in the machine tool lab. 
Required Courses
Program-specific courses include CAD/CAM Applications, CNC Programming - Turning, Machine Tool Operation 1 and more. 
Students will learn about program structure (startup, work, shutdown), and basic G-codes including variations caused by machine type and programmer style. They will write simple programs and edit prewritten programs in order to hone their skill. The goal will be to start out simple and move to programs that are both efficient and effective. PREREQUISITE: 32420365 CNC Fundamentals or consent of instructor.
Computer-Aided Design (CAD) and Computer-Assisted Manufacturing (CAM) have become standard tools used almost wherever CNC production in metalworking takes place. Students will use the CAD/CAM software to build geometry, tool and material libraries, and define cutting paths/patterns. Post-processing of these CAD/CAM files will generate CNC programs in machine-specific G-code format. PREREQUISITE: 32420361 Introduction to CAD/CAM or 32420365 CNC Fundamentals.
Students will be assigned introductory, specifically designed projects that will be machined using the engine lathe, milling machine, drill press, and various saws. Students will be in a job-like setting. The capability and safe use of machine tools will be stressed.
Machine Tool Technician is Part of a Career Pathway
As a Machine Tool Technician student at Northwood Tech, you can earn credentials each step of the way!
You could take this first and get a credential.
28 Credits / 1 Year Full Time
Potential Careers
Machine Operator, Machinist Apprentice, Machine Setup Operator
This is the program you're looking at.
56 Credits / 2 Years Full Time
Potential Careers
Machine Tool Operator, Apprentice Machinist, Machine Setup Person, Tool Room Machinist, CNC Machinist, Maintenance Machinist, CNC Programmer
Continue your education to earn your bachelor's degree.
Northwood Tech has an easy admission process that can be completed in one visit. Please see the details under the "Requirements and Application" section to get started.
Tuition and Fees
Northwood Tech breaks down the cost of education, so you'll have a good idea of how much your education will cost.
Financial Aid
Financial aid is available to help you pay for your education. It can come in the form of grants, loans, federal work-study, military and veterans benefits, division of vocational rehabilitation benefits, and scholarships. 
Estimated Total Program Costs 2023-24*
Machine Tool Technician
56 Credits | 1.5 Years
$10,971
$1,400 for tools, supplies and uniforms
---
*Tuition is an estimate and does not include any miscellaneous fees for various courses, tools, books, supplies or uniforms. Program book costs are in addition to tuition and fees and vary depending on course selection and where the books are purchased or rented. 
After the Northwood Tech Machine Tool Technician Program
Upon completion of the program, you will earn technical diplomas in Machine Tool Operation and Machine Tool Technician.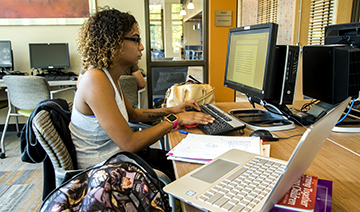 Transfer Center
Transfer your Northwood Tech credits to a four-year college to earn your bachelor's degree and beyond. 
Career Outlooks
Northwood Tech's graduates experience success. Learn more about the types of careers you can get after graduation.