Mechatronics Basics
Technical Diploma
14 Credits | 1 year part time
Custom Delivery, New Richmond, Rice Lake
Career Cluster: Manufacturing
Mechatronics is defined as the combination of mechanics, electronics, computer technologies, sensors, robots, controls, hydraulics, and pneumatics. It is used in the development, maintenance, and design of high-tech, efficient machines and products, and is also used in automated processes for manufacturing and industrial tasks.
Northwood Tech provides the Mechatronics Basics training program for those looking to get a start in the manufacturing industry or advance their careers.
 
---

Tuition reimbursement may be available to assist with your training in mechatronics as part of the Housing Opportunity & Mobile Education Solutions (HOMES) Grant. To determine if you are eligible, please contact an Admission Advisor. Learn more about this opportunity here.
Program Overview
The Mechatronics Basics program will give students the skills to repair, install, adjust, or maintain industrial production and processing machinery. Students are also trained on how to lubricate machinery, change parts, or perform other routine machinery maintenance. Northwood Tech is a partner school with PMMI, certification tests are available upon request.
Program Outcomes
Mechatronics Basics graduates will be able to:
Demonstrate safe practices and techniques
Install power transmission components, fluid power components, and automation components
Maintain power transmission components, fluid power components, and automation components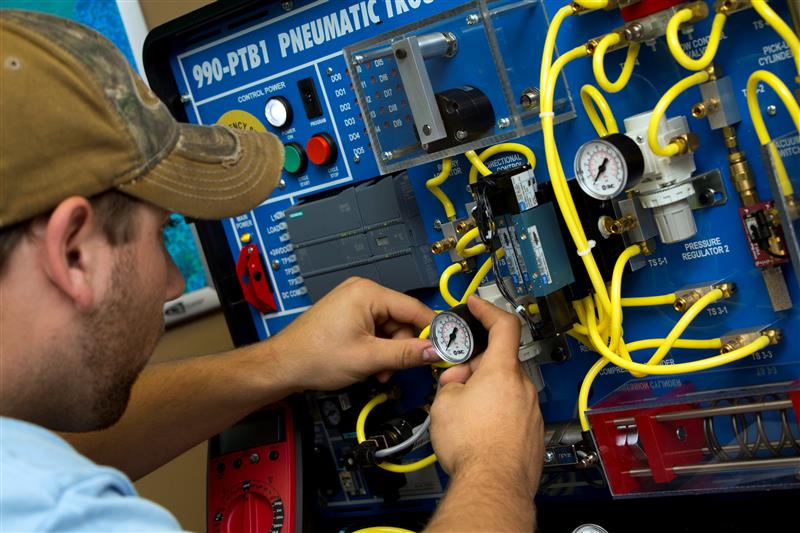 Northwood Tech focuses on the skills that are priorities for industry. Not only are students working on real equipment, but they are also gaining real skills. A major focus is on training to troubleshoot. Whether the problem is mechanical, software related, or networking, students gain valuable experience in the theory, logic and process of troubleshooting.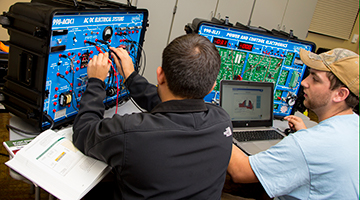 State-of-the-art equipment.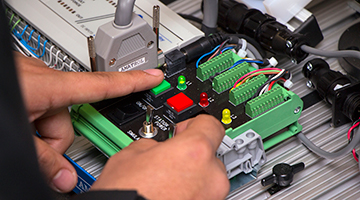 Academics
Mechatronics Basics is offered through flex and in-person classes at the Rice Lake campus. 
Northwood Tech's Mechatronics mobile lab is designed to offer coursework at off-campus sites to provide increased training opportunities for manufacturing partners and high schools. The mobile lab is equipped with state-of-the-art equipment to provide learners with hands-on training. Please contact Liz Pizzi, Associate Dean of Workforce and Community Development at 715.752.8127 or liz.pizzi@NorthwoodTech.edu if interested in mobile delivery.
Following course completion, students are eligible to take the Association of Packaging and Processing Technologies (PMMI) Mechatronics Certification, Level 1 online exams. PMMI credentials include Industrial Electricity 1, Fluid Power 1, Programmable Logic Controllers 1, and Mechanical Components 1. These certification exams are recognized by the U.S. Department of Labor and the Manufacturing Institute's Skills Certification System.
This technical diploma is just 14 credits and can be completed in less than one year. Upon completion, you'll be prepared to get a rewarding career in the exciting and innovative field of Mechatronics. 
Required Courses
The program is comprised of 14 credits that can be completed in one year while attending part time.
This course gives the students the opportunity to perform the selection, design, installation, and operation of control systems found on automated packaging machines. The student will work with many types of components to gain recognition and skill development in the correct installation of electrical control systems. The modern control system requires specialized skills that are useful for understanding high technology applications such as robotics and climate control. PREREQUISITES: 32414335 DC Electricity.
This course develops the skills required for the implementation of vacuum, air, and oil used to transmit force for performing useful functions on machines. Students will apply symbols to components and connect components to understand the assembly, operation, and maintenance of fluid power systems. The transmission of force is used in a variety of applications and can be hazardous to individuals who do not understand the related laws of physics.
This course is an introduction to electricity. The focus will be on direct current as used in industry. You will learn the basics of series, parallel and combination circuits. You will develop skills in circuit analysis, and electrical measurement using a digital multimeter.
Mechatronics Basics is Part of a Career Pathway
As a Mechatronics Basics student at Northwood Tech, you can earn credentials each step of the way!
You could take this first and get a credential.
14 Credits / 1 Year Part Time
Potential Careers
Entry Level Electro-Mechanical Assembler, Maintenance Technician, Service Technician
Industry 4.0 Smart Automation
16 Credits / 1 Year Part Time
Potential Careers
Entry Level Electro-Mechanical Assembler, Maintenance Technician
You can continue your education and advance your skills.
63 Credits / 2 Years Full Time
Potential Careers
Field Service Technician, Maintenance Technician, Electromechanical Technician/Assembler
You can continue your education to earn a bachelor's degree.
Northwood Tech has an easy admission process that can be completed in one visit. Please see the details under the "Requirements and Application" section to get started.
Tuition and Fees
Northwood Tech breaks down the cost of education, so you'll have a good idea of how much your education will cost. 
Estimated Total Program Costs 2023-24*
Mechatronics Basics
14 Credits | Less than 1 Year
$2,400
---
*Tuition is an estimate and does not include any miscellaneous fees for various courses, tools, books, supplies or uniforms. Program book costs are in addition to tuition and fees and vary depending on course selection and where the books are purchased or rented. 
After the Northwood Tech Mechatronics Basics Program
Upon completion of your Mechatronics Basics technical diploma at Northwood Tech, you can continue your education to earn the Automated Packaging Systems Technician technical diploma.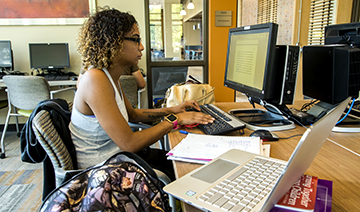 Transfer Center
Transfer your Northwood Tech credits to a four-year college to earn your bachelor's degree and beyond. 
Career Outlooks
Northwood Tech's graduates experience success. Learn more about the types of careers you can get after graduation.
Smart Automation Certification Alliance
Packaging Machinery Manufacturers Institute
The PMMI Mechatronics program helps move manufacturing forward by providing employers, schools and potential workers the tools needed to advance the workforce and close the ever expanding skills gap.
Through a series of tests based on industry-developed skill standards, the PMMI Mechatronics Certification program:
Helps employers assess workers for core skills
Guides schools in developing curriculum to prepare students for the manufacturing workforce
Provides a career pathway for students looking for rewarding careers in advanced manufacturing
PMMI certification tests are based on industry-developed standards and are recognized by the U.S. Department of Labor and the Manufacturing Institute's Skills Certification System. PMMI works with a growing number of PMMI Mechatronics Education and Industry Partners to further advance this program. 




No person may be denied admission to, participation in, employment at, the benefits of, or be discriminated against in any service, program, course or facility of Northwood Technical College because of the person's political affiliation, age, race, creed, religion, color, handicap (disability), marital status, parental status, sex, national origin, ancestry, sexual orientation, pregnancy, arrest record, conviction record, service in the armed forces, genetic testing, or use or non-use of lawful products off the College premises during non-working or non-class hours.
The 3-year, $9.8 million Housing Opportunity & Mobile Education Solutions (HOMES) project is funded by the Wisconsin Department of Workforce Development. Impact Seven will provide an additional $20 million for sustainable affordable housing options within the district. Northwood Technical College will provide an additional $1.25 million to conduct advanced manufacturing training for underemployed, unemployed, and special population individuals.
General demographic and job placement information of program participants will be used and reported to the Wisconsin Department of Workforce Development as one measurement of success for this grant-funded program.