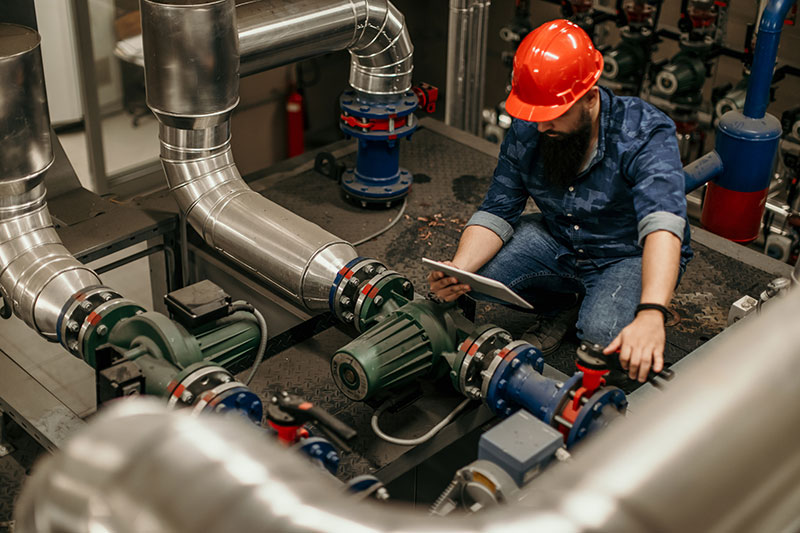 Maintenance Mechanic/Millwright Apprentice
Registered Apprenticeship
16 Credits | 4 Years
Rice Lake, New Richmond
Career Cluster: Manufacturing
What is an Apprenticeship?
A Registered Apprenticeship is a state-certified training program that combines paid related instruction and on the job training. Apprentices are trained under a written training agreement called an indenture. While indentured, the employer agrees to teach the student the skills of the trade and the apprentice agrees to learn the skills involved.
Maintenance Mechanic/Millwright Apprentice Overview
As a maintenance mechanic, machine repairer or millwright, you will install, dismantle or move machinery and heavy equipment according to layout plans, blueprints or other drawings. You will keep machines, mechanical equipment or the structure of an establishment in repair. Duties may involve pipe fitting, boiler making, insulating, welding, machining, carpentry, repairing electrical or mechanical equipment, installing, aligning and balancing new equipment and repairing buildings, floors or stairs. Essentially you will repair the buildings and everything mechanically within its contents.
Program Outcomes
Maintenance Mechanic/Millwright Apprentice graduates will be able to:
Demonstrate proper rigging techniques 
Select an appropriate power transmission system for a given application 
Identify suitable pumps for given applications 
Recommend bearings for given applications 
Plan for fabricating parts and assemblies according to specifications 
Apply operational and troubleshooting principles to fluid power systems 
Layout an equipment installation plan 
Plan maintenance schedules for a given system
On-the-job learning is 90% of apprenticeships. Apprentices are full-time, paid employees trained by the employer's skilled workers. 
Progressive wages are earned by apprentices as their skills grow. Wages are set by the employer. Apprentices are paid to attend related instruction.
Apprentices learn the theory and lab to support on-the-job learning.
Academics
The Maintenance Mechanic/Millwright Apprenticeship courses are available on site at the Rice Lake and New Richmond campuses.
Graduates are able to apply program credits towards the Technical Studies – Journeyworker associate degree program
This four-year apprenticeship includes 7,424 hours of on-the-job training and 576 hours of paid related instruction
The Transition to Trainer course is required for completion. Students will take this course the last year of the apprenticeship
Required Courses
Program required courses are state approved and designed specifically to meet employer needs. 
This course introduces apprentices to pipe sizes, materials and schedules, examines fittings, tubing and valves, and develops skills related to layout, installation, and maintenance. The course compares different pump types and their applications. Apprentices will complete a field inspection of pumps and learn how to troubleshoot, remove, overhaul, install, and perform preventative maintenance on pumps. Apprentices will examine packing, seals, and gaskets and compare materials and applications.
This course provides instruction to apprentices concerning many aspects of inspecting, servicing, and troubleshooting pneumatic, hydraulics systems and components. Apprentices will learn safety related issues and be taught proper safety procedures for working with pneumatic systems and components. This course introduces principles of vacuum systems and interpreting vacuum system schematics. Apprentices will then develop skills related to installing, repairing, replacing, and applying troubleshooting principles to vacuum systems and components.
Maintenance Mechanic/Millwright Apprentice is Part of a Career Pathway
As an Injection Mold Set-Up (Plastic) Apprentice student at Northwood Tech, you can earn credentials each step of the way! 
You could take this first.
Maintenance Mechanic/Millwright Certified Pre-Apprenticeship (CPA)
Potential Careers
Production Technician, Assembly, Maintenance 1
Continue to earn your apprenticeship.
Potential Careers
Maintenance Technician, Industrial Machinery Mechanic, Industrial Mechanic, Loom Fixer, Loom Technician, Machine Adjuster, Machine Mechanic, Mechanic, Overhauler, Maintenance Millwright, Millwright, Millwright Business Representative, Precision Millwright
Earn an Associate Degree.
Continue your education to earn a bachelor's degree.
To become an apprentice in the state of Wisconsin, one must first be indentured by the State Bureau of Apprenticeship Standards (BAS). To become indentured you must:
Contact an employer on your own. Employment is a requirement of entering an apprenticeship.
Once you have an employer / sponsor, contact the Bureau of Apprenticeship Standards to initiate the application process between you and your employer
See Requirements and Application for more details
Estimated Total Program Costs 2023-24*
Maintenance Mechanic/Millwright Apprentice
16 Credits | 4 years
$2,649
---
*Tuition is an estimate and does not include any miscellaneous fees for various courses, tools, books, supplies or uniforms. Program book costs are in addition to tuition and fees and vary depending on course selection and where the books are purchased or rented. 
After the Northwood Tech Maintenance Mechanic/Millwright Apprenticeship
Upon completion of the apprenticeship, you will receive a Completion Credential from the Department of Workforce Development Bureau of Apprenticeship Standards.