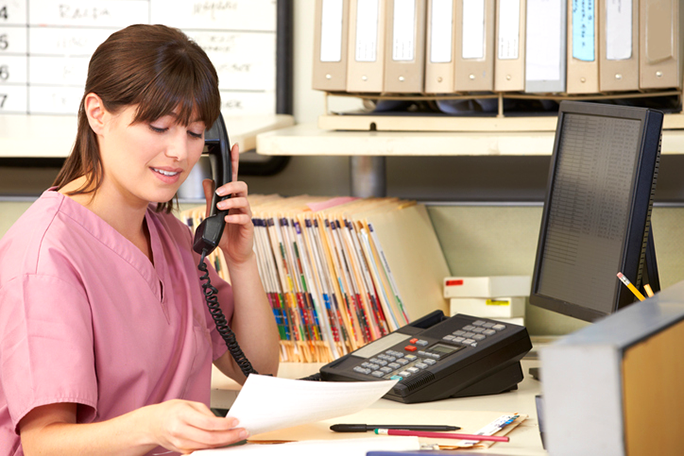 Health Information Technology
Associate Degree
62 Credits | 2 Years
Online Program | Financial Aid-Eligible
Career Cluster: Health Sciences
Healthcare meets cutting-edge technology in this two-year associate degree program. Health Information Technicians are in demand for a variety of employment opportunities. This program prepares graduates to compile, process and maintain electronic healthcare records of hospital and clinic patients in a manner consistent with requirements of the healthcare system. 
Program Overview
A degree in Health Information Technology (HIT) gives graduates the ability to work in healthcare with a focus on managing health information rather than on direct patient interaction. With this degree you will gain competency in medical coding, ensuring the integrity of health information, analyzing data, adhering to legal and regulatory standards, leading a team and quality management. You'll master this content through simulated learning activities and with the use of academic software applications (electronic health records, encoders, etc.). 
Program Outcomes
Health Information Technology graduates will be able to:
Apply data governance principles to ensure the quality of health data
Apply coding and reimbursement systems
Model professional behaviors and ethics
Apply informatics and analytics in data use
Apply organizational management techniques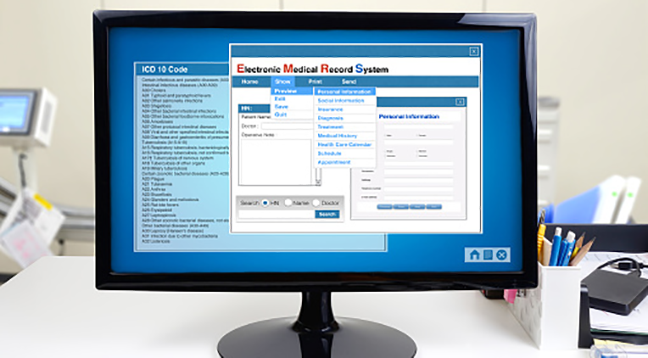 Upon graduation, students can apply to sit for the RHIT certification exam through the American Health Information Management Association (AHIMA).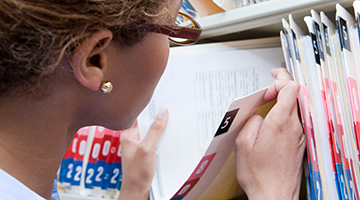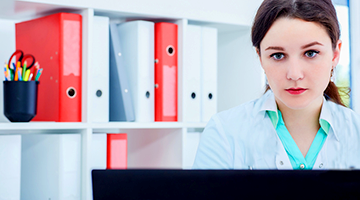 Diverse career opportunities.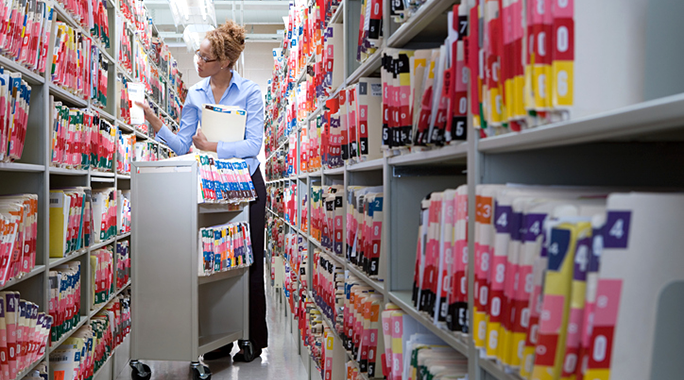 Academics
Health Information Technology is offered fully online. 
Health Information Technology Program Outcomes
Percent of Graduates Employed
Percentage of graduates responding to the Graduate Follow-Up Survey who reported they were available for employment and attained employment.
| | | |
| --- | --- | --- |
| Year | Percent of Graduates Employed | Percent of Graduated Employed in Related Field |
| 2013-2014 | 100% | 75% |
| 2014-2015 | 89% | 56% |
| 2015-2016 | 71% | 57% |
| 2016-2017 | 89% | 33% |
| 2017-2018 | 90% | 90% |
| 2018-2019 | 100% | 57% |
| 2019-2020 | 85% | 54% |
| 2020-2021 | 37.5% | 37.5% |
| 2021-2022 | 58% | 29% |
Registered Health Information Technician (RHIT) Exam Results
Exam Period

Total # of Exam Takers

Exam Pass Rate of Graduates

(on 1st Attempt)

8/1/16-7/31/17

5

100%

8/1/17-7/31/18

5

 100%

8/1/18-7/31/19

6

83%

8/1/19-7/31/20

9

100%

8/1/20-7/31/21

7

86%

8/1/21-7/31/22

5

80%
Graduation Rates
Admission Year

# Students

% Graduated in 150%

% Graduated

In 2 Yrs

% Graduated

in 3 Yrs

% Graduated

in 4 Yrs

Fall 2015

29

40%

28%

12%

8%

Fall 2016

31

38%

29%

10%

0%

Fall 2017

39

48%

24%

24%

3%

Fall 2018

36

41%

28%

14%

0%

Fall 2019

24

44%

22%

17%

TBD

Fall 2020

33

47%

40%

0%

TBD

Fall 2021

18

8%

TBD

TBD

TBD

Fall 2022

21

0%

TBD

TBD

TBD
All courses offered online with the exception of the professional practice (an on-site clinical component).
Program progression is flexible. Full time and part time sequencing is offered. Program advisors work with each individual student to develop a sequencing plan that meets the needs of demanding schedules.
During the last semester of the program, students will be placed at a clinical site for hands on experience with HIT related functions.
Required Courses
The program can be completed full time in two years/four semesters (or part time taking up to 4 years/8 semesters). Curriculum is facilitated in an online format, which is supplemented by a last semester professional practice experience, which will take place on-site at a healthcare organization.  The program is 62 credits focused on the foundations of HIM, coding and reimbursement, anatomy and physiology, human disease, general studies, healthcare statistics, computer information systems, healthcare law and ethics, management of HIM resources and health quality management. 
The focus of this course is the use of technology in healthcare. Learners use common business software applications, including word processing, presentation, spreadsheet, and databases. Communication methods using technology are addressed. Learners gain experience with using the electronic health record (EHR). Healthcare EHR security issues, social media use, and digital healthcare resources are examined. Computer skills proficiency developed as a part of this course.
Explores the programs and processes used to manage and improve healthcare quality. Addresses regulatory requirements as related to performance measurement, assessment, and improvement, required monitoring activities, risk management and patient safety, utilization management, and medical staff credentialing. Emphasizes the use of critical thinking and data analysis skills in the management and reporting of data. PREREQUISITE: 10530163 Healthcare Stats and Analytics
Prepares students to assign ICD and CPT/HCPCS codes supported by medical documentation and official coding guidance to support appropriate reimbursement. Students will participate in CDI activities, including preparation of appropriate physician queries in accordance with compliance guidelines. PREREQUISITES: 10530184 CPT Coding and 10530197 ICD Diagnosis Coding and successful completion of COREQUISITE: 10530199 ICD Procedure Coding is required prior to taking Intermediate Coding.
Health Information Technology is Part of a Career Pathway
As a Health Information Technology student at Northwood Tech, you can earn credentials each step of the way!
You could take this first and get a credential.
29 Credits / 1 Year Full Time; Part Time Option Available
Potential Careers
Medical Coding Specialist, Clinical Coding Specialist, Claims Analyst
This is the program you're looking at.
62 Credits / 2 Years Full Time; Part Time Options Available
Potential Careers
Health Information Technician, HIM Supervisor, Insurance / Business Specialist
Continue your education to earn a bachelor's degree.
Northwood Tech has an easy admission process that can be completed in one visit. Please see the details under the "Requirements and Application" section to get started.
Tuition and Fees
Northwood Tech breaks down the cost of education, so you'll have a good idea of how much your education will cost.
Financial Aid
Financial aid is available to help you pay for your education. It can come in the form of grants, loans, federal work-study, military and veterans benefits, division of vocational rehabilitation benefits, and scholarships. 
Estimated Total Program Costs 2023-24*
Health Information Technology
62 Credits | 2 Years
$9,916
---
*Tuition is an estimate and does not include any miscellaneous fees for various courses, tools, books, supplies or uniforms. Program book costs are in addition to tuition and fees and vary depending on course selection and where the books are purchased or rented. 
After the Health Information Technology Program
Upon completion of the program, you will earn a Medical Coding Specialist technical diploma and a Health Information Technology associate degree.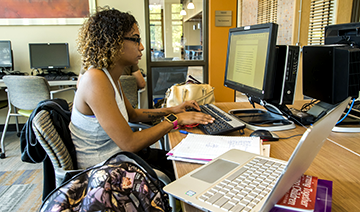 Transfer Center
Transfer your Northwood Tech credits to a four-year college to earn your bachelor's degree and beyond. 
Career Outlooks
Northwood Tech's graduates experience success. Learn more about the types of careers you can get after graduation.

The Health Information Management accreditor of Northwood Technical College is the Commission on Accreditation for Health Informatics and Information Management Education (CAHIIM).  The College's accreditation for the Health Information Technology degree in Health Information Management has been reaffirmed through 2024-2025.
All inquiries about the program's accreditation status should be directed by mail to CAHIIM, 200 East Randolph Street, Suite 5100, Chicago, IL, 60601; by phone at 312.235.3255; or by email at info@cahiim.org.