Medical Administrative Professional
Associate Degree
60 Credits | 2 Years
Ashland*, New Richmond*, Rice Lake*, Superior*, Online
*Combination of Online, Your Choice or On Site instruction
Financial Aid-Eligible
Career Cluster: Business Management
This program will be modified for the 2024-2025 academic year pending advisory committee and WTCS approval. Please contact an Admissions Advisor if interested or have questions.
With the Medical Administrative Professional degree, you can enter the high-demand field of healthcare. There are many career opportunities in hospitals, clinics (medical, vision, chiropractic, and dental), insurance companies, rehabilitation facilities and skilled nursing facilities.  
Program Overview
Are you looking for a career in the medical field that is interesting and exciting but does not require direct patient contact? Consider the Medical Administrative Professional program. This program prepares you to complete business-related tasks including scheduling appointments, registering patients, answering telephones, medical billing and completing insurance claims, preparing business correspondence, and maintaining medical records. 
Program Outcomes
Medical Administrative Professional graduates will be able to:
Perform financial practices through analysis of payer data and reimbursement methods
Demonstrate professionalism in a  healthcare setting 
Apply technology to administrative functions in a healthcare-related setting 
Apply HIPAA, federal and state law, and regulatory compliance in business health practices
Use medical terminology and knowledge of the human body systems in performing essential functions of health business environment 
Medical Administrative Professional is one of the fastest growing occupations in the healthcare industry. Today's in-demand frontline and nonclinical healthcare workers are projected to add more than 2 million job openings this decade.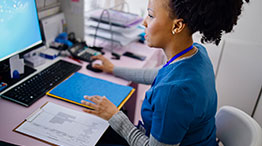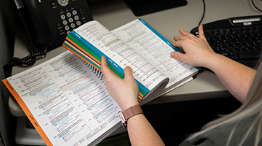 Flexible scheduling and start dates.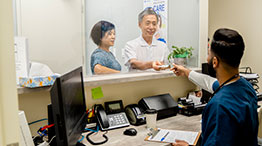 Academics
Medical Administrative Professional classes are offered on all four campuses (Ashland, New Richmond, Rice Lake, Superior) and Online. Take classes in flexible formats, including Online, Your Choice, or On-Site.  
Graduates of the Medical Administrative Professional program also earn a diploma in Healthcare Receptionist, a diploma in Health Office Professional, and a diploma in Medical Billing. 
You will gain real work experience in a 72-hour medical externship in a healthcare facility. While there, you will apply all the skills you acquired in your coursework. 
Want to complete your degree but have work and family responsibilities? Northwood Tech understands. This program allows you to work on your Medical Administrative Professional degree part-time, at a pace and format that works for you.
Required Courses
Specific classes that provide training for the Medical Administrative Professional are Medical Terminology, Introduction to Healthcare Documentation, Medical Office Procedures & Customer Service, Medical Office Administration, Medical Insurance Claims, Patient Billing & Reimbursement, and Medical Administrative Practice. 
Medical Administrative Practice is a capstone course for the Medical Administrative Professional degree, which brings together skills and knowledge learned in other classes and applies them in decision-making situations and in completing job tasks. This course provides the student with the training required to keep consistent with computer software that is used in the billing areas of the medical office. Topics covered are medical office procedures, practice management, basic billing skills and billing collection via real-life activities and simulations. Upon completion, students should be able to demonstrate the skills necessary to work in the medical office. PREREQUISITE: 10160140 Medical Office Administration COREQUISITE: 10160134 Medical Insurance Claims
This course presents common health insurance terminology and selected private and government insurance coverages. Students are introduced to basic principles of disease coding and procedural coding from the physician/provider perspective and follow the life cycle of the medical insurance claim with the aim of accurate and efficient reimbursement for services provided. This is not for experienced coders. PREREQUISITE: 10501101 Medical Terminology.
An externship is actual work experience in a medical office which provides the student with a variety of tasks. The sites are usually clinics or hospitals but can be other medical-related offices as well. The instructor and student will work together to secure an externship which will be acceptable to all parties. PREREQUISITE: Prior to enrolling in this course, students must have successfully completed or are in good standing in all program courses and have the approval of program faculty. Criminal Background checks will be required for this course.
Medical Administrative Professional is Part of a Career Pathway
As a Medical Administrative Professional student at Northwood Tech, you can earn credentials each step of the way!
You could take this first and get a credential.
15 Credits / One Semester Full Time; Part Time Options Available
Potential Careers
Patient Services Representative, Medical Scheduler, Medical Information Clerk, Appointment Coordinator, Patient Access
30 Credits / One year Full Time; Part Time Options Available
Potential Careers
Medical Office Specialist, Medical Records Specialist, Patient Services Representative, Hospital Admissions Representative, Customer Service Representative, Medical Scheduler, Health Information Clerk
26 Credits / 3 - 4 semesters Part Time
Potential Careers
Hospital Medical Biller, Physician's Office Medical Biller, Laboratory Medical Biller, Patient Account Representative, Revenue Cycle Representative
This is the program you're looking at.
60 Credits / Two Years Full Time; Part Time Options Available
Potential Careers
Medical Administrative Assistant, Medical Records Specialist, Patient Services Representative, Medical Scheduler, Hospital Admissions Representative, Medical Billing Specialist, Patient Account Representative, Clinic Coder, Health Unit Coordinator (HUC)
Continue your education to earn your bachelor's degree.
Northwood Tech has an easy admission process that can be completed in one visit. Please see the details under the "Requirements and Application" section to get started.
Tuition and Fees
Northwood Tech breaks down the cost of education, so you'll have a good idea of how much your education will cost.
Financial Aid
Financial aid is available to help you pay for your education. It can come in the form of grants, loans, federal work-study, military and veterans benefits, division of vocational rehabilitation benefits, and scholarships. 
Estimated Total Program Costs 2023-24*
Medical Administrative Professional
60 Credits | 2 Years
$9,742
---
*Tuition is an estimate and does not include any miscellaneous fees for various courses, tools, books, supplies or uniforms. Program book costs are in addition to tuition and fees and vary depending on course selection and where the books are purchased or rented. 
After the Northwood Tech Medical Administrative Professional Program
Upon completion of the program, you will earn technical diplomas in Healthcare Receptionist, Medical Billing Specialist, and Health Office Professional and an associate degree in Medical Administrative Professional.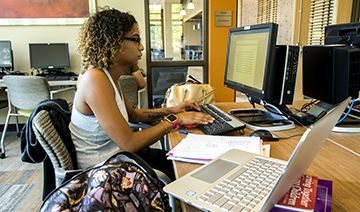 Transfer Center
Transfer your Northwood Tech credits to a four-year college to earn your bachelor's degree and beyond. 
Career Outlooks
Northwood Tech's graduates experience success. Learn more about the types of careers you can get after graduation.