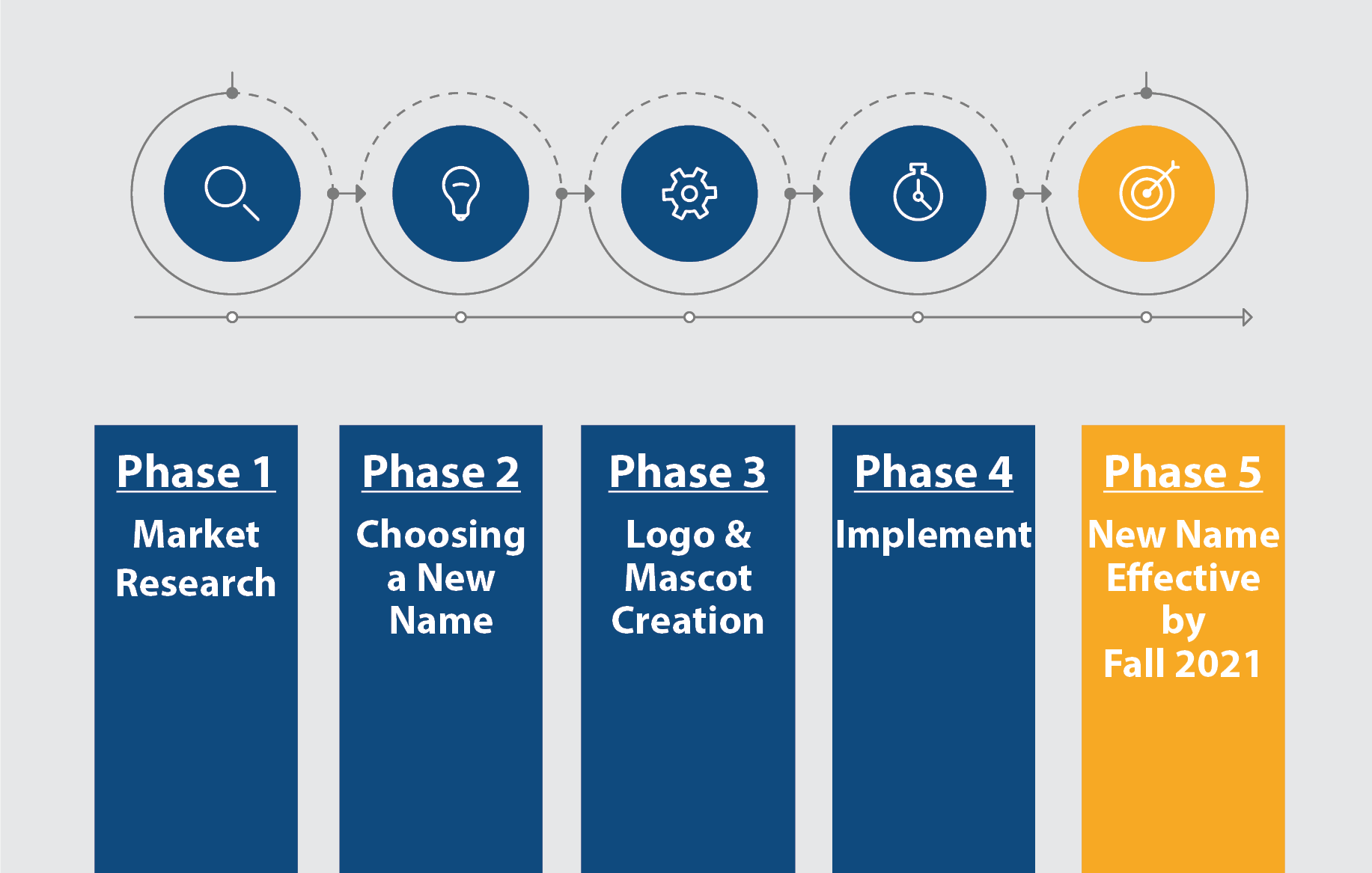 Current Phase:
New Name Effective Aug. 2
Northwood Technical College
Mascot: Bear
New Name Desired Characteristics
Easy to understand and pronounce
Potential to be branded in a "short" way (i.e. Western, Mid-State, Madison College)
Appeal to those from outside the District (not geographically bound)
Reasonable and sustainable given the mission and vision of the college
Reflect WITC's heritage in some way
Vetted for alternative meanings, acronyms, legality, globally appropriate, etc.
"Technical College" must remain in formal name
Chronology for Name Change & Rebranding
2018
July 1: The College initiated the 2018-2021 strategic plan. A key initiative involved conducting market research to determine the preferences and perceptions of prospective students.
2019
June 17: A cross-functional task force was created to identify criteria for the Request for Proposal to hire a firm to assist with the market research project (RFP).
September 16: The Board awarded a contract to conduct market research to Clarus Corporation.
November 18: The branding and perceptions research began based on initial meetings with the Board and the College Leadership Team.
2020
January–March: Market research was conducted with multiple stakeholder groups including students, staff, alumni, business and industry partners, community members, Native American leadership from the region, and high school students. Data collection consisted of a mix of focus groups, online surveys, phone surveys, and one-on-one meetings. More than 1,500 participants provided feedback.
May 18: Clarus Corporation presented preliminary results from interviews and surveys to the Board. Preliminary results focused specifically on perceptions of the college name. Other information related to more general brand perception data was presented at a later date.
June 15: An initial timeline was presented to the Board to consider a comprehensive rebranding process, including a name change.
August 17: Clarus Corporation presented the complete analysis of the research to the Board, including community and enrollment surveys.
September 21: An updated timeline, process, and survey were presented to the Board for executing the college rebranding process. It was approved unanimously.
November 6: WITC completed a public process to collect submissions for names, mascots, and mascot names resulting in 187 name submissions.
November 13: The Rebranding Leadership Task Force was created and met. This task force consisted of staff, faculty, students, alumni, and community members. The first task was to pare down the submitted names and send 6-10 finalist names to the Board. At this meeting, the task force reduced the names to 25 for further discussion and analysis.
November 16: Dr. Will updated the Board on news coverage of the announcement of the rebranding for WITC. Coverage included local, state, and national outlets. 26
December 4: The Rebranding Leadership Task Force met to further discuss pros and cons of names and take a survey to reduce names to 10 to forward through the vetting process and send to the Board.
December 21: The Board used task force comments and vetting data analysis to reduce 10 names down to 5 names to send to student focus groups in early January.
2021
January 7, 8 & 11: Eleven student focus group opportunities were conducted by Clarus Corporation on the five finalist names.
January 18: Results from the student focus groups were considered by the Board, resulting in dropping one more name and forwarding four viable finalist names to a staff and student survey. More than 750 students and staff took the survey. Results of the survey suggested a consistent preference for Northwood Technical College. It was the most popular choice and was also selected as the best fit in each of pre-selected key attributes.
February 15: Results from the staff and student survey were presented to the Board. The Board approved the name Northwood Technical College to move forward to the WTCS Board for approval.
March 17, 2021: WTCS Board approval of the name change. 
New Mascot Desired Characteristics
Easy to recognize, understand and pronounce
Elevates the image of the College
Represent positive qualities, ideals or associations around which people can rally
Appeal to those outside the District
Reasonable and sustainable given the mission and vision of th eCollege

Mission: Learning First
Vision: An Innovative Journey

Reflect WITC's heritage or history
Have the potential to translate in a visually pleasing manner
Vetted for alternative meanings, legality, globally appropriate, etc. 
2020
November: 160+ submissions collected from the public for mascots.
2021
February 15: WITC Board approved Northwood Technical College as the new name for the College. Process to choose a mascot to go with it proceeds. 
February 26: Rebranding Leadership Task Force (made up of staff, faculty, alumni, students and community members) met to narrow down the mascot options to 10 based on desired mascot attributes and themes that came out of the research and earlier student focus groups. These themes included grit/resilience, quality, technology and journey. Journey comes from the College's vision statement "An Innovative Journey".  The task force also took into consideration mascots from other colleges and high schools nearby.
March 4: Student Senate members reviewed the top 10 along with desired mascot attributes and took a survey to further help narrow the mascot options. 30 Student Senate members from across all four campuses participated.
March 8: Top finalists are vetted for appropriateness, alternate meanings, legal, etc., resulting in one finalist being eliminated.  
March 8–12: All current students are presented three top finalists options and asked to give individual rankings in a survey.
March 15: Rankings are tallied resulting in "bear" getting the most rankings as number 1.  A total of 419 students participated. Bear represents two themes: grit/resilience and quality.
March/April: KW2 (marketing agency) to create the design for the mascot to go with the new logo and other visual branding elements.
How much will this cost? 
The College has been carefully planning to absorb the costs into normal budgeted expenses on both an annual basis (such as buying paper product that is ordered regularly) and in existing planned capital projects to replace items such as external building signage. Staff will be asked to be conservative on ordering products to save on costs leading up to the transition. The College's best estimate on one-time, major costs is approximately $210,000. This includes items such as campus/wayfinding signage, premiums and vehicle decals.