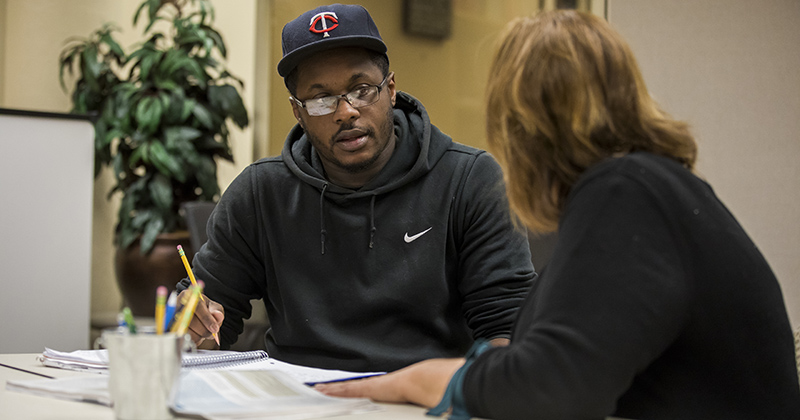 Show your experience. Gain credit. 
Your work, volunteer, education, training and/or other life learning experiences may fulfill program requirements. 
If you would like to complete a Portfolio please review the information below and then email Jami Koivisto or call 715.752.8475 to discuss the Portfolio.
Option 1: Experiential Learning Portfolio
Four Steps to Complete a Portfolio

To demonstrate how your learning may be equivalent to Northwood Tech courses, complete a portfolio following these steps: 

Step 1: Review the template(s) to determine which course(s) satisfy your program requirements, if you have met any prerequisites/corequisites, and if you have the skills and knowledge needed to earn course credit. Note: Receiving credit for courses through portfolios may change your financial aid. Please check with Student Services if you have questions.
Step 2: Check the portfolio template to see if you are required to meet with the academic dean or instructor prior to starting.  

If a meeting is required, you may meet in person or over the phone.   
If a meeting is not required, you are encouraged to meet with the dean or instructor to make sure you are proceeding correctly or you may proceed directly to step 3.  
The credit for prior learning contact at your nearest campus can help you schedule a meeting with the dean or instructor. 

Step 3: Use the Experiential Learning Portfolio Tutorial to develop your portfolio.  
Step 4: When completed, submit the portfolio to the campus credit for prior learning contact and pay the $90 review fee to begin the review process. 

Northwood Tech uses a portfolio method to document learning through prior work, military, volunteer, education, training, and/or other life experiences to assess equivalency to Northwood Tech competencies. To begin the process, students must review the templates on the Northwood Tech Credit for Prior Learning website to determine if they have the skills and knowledge covered in the course. To continue the process, contact the Dean of Academic Programs.

Students currently enrolled in the course (or intending to enroll in the course) must complete the experiential learning portfolio at least two weeks prior to the course start date.  Successful students must request a class withdrawal and will receive a 100 percent refund.
Experiential Learning Portfolio Templates: 
Business 
Family and Consumer 
General Studies 
Health Sciences
Public Safety
Trade and Technology
Option 2: Skills-Based Assessments
A Skills-Based Assessment is an in-person demonstration of course competencies evaluated by Northwood Tech faculty. Skills-based assessments may also include a written test to evaluate knowledge or theory.
Essential information

A non-refundable fee of $90 must be paid prior to taking any skills assessment.
No letter grade is assigned; CR (credit) is recorded on academic transcripts.
Credits obtained through skills-based assessments are not included in your overall grade-point average.

Determine whether you are eligible to take a skills-based assessment

You may apply for a skills-based assessment after you are admitted to a specific program. You should talk to your program instructor or the dean if you have questions as to whether the course will apply to your program.
If you are not enrolled in the course, you may take the skills assessment at any time as long as you have met any prerequisite/corequisite requirements.
If you are currently enrolled in the course, you may only take the skills assessment during the first seven calendar days from the course start date. If you are successful, you must request a withdrawal from the course and you will be given a full (100 percent) refund.
You may retake the same skills assessment after one year from the date of the first attempt.
You are ineligible to take a skills assessment for a course in which you have previously received a final grade (A through F, excluding W).

Determine if passing a skills-based assessment will affect your financial aid.

Credits earned through any credit for prior learning are not included in the active credits for the term and, therefore, cannot be used when determining financial aid eligibility or enrollment status. Contact the Student Services Office for more information.

Determine whether you are likely to pass the skills-based assessment.

Information sheets that tell you about the skills assessment and list the competencies it will test are available by clicking on the course link from the skills-based assessment course list. Your instructors can advise you as well.
A grade mastery level of 80 percent is required to pass skills-based assessments.

Schedule a date and time to take a skills-based assessment.

For more information or to find out how to schedule an appointment, contact Student Services at:

Ashland, ext. 3188
New Richmond, ext. 4145
Rice Lake, ext. 5045
Superior, ext. 6271

Report for your testing skills-based assessment appointment.

Bring any permitted materials listed on the information sheet and your test fee of $90 to the designated campus and room number.
Available Skills-Based Assessments
Accommodations
Reasonable accommodations for persons with disabilities will be made to ensure access to academic programs, activities, services and employment in accordance with Section 504 of the Rehabilitation Act of 1973 and the Americans with Disabilities Act (ADA), Amendments Act of 2008 (ADAA). Students with a documented disability must request accommodations by contacting the campus Accommodation Specialist and following required steps to obtain accommodations at the post-secondary level.