Northwood Tech's academic support services are available to guide you in achieving your educational and career goals.
Northwood Tech promises you a hands-on college experience tailored to fit your needs. The goal is to help you gain the practical skills and valuable knowledge to succeed wherever you go. Students say what sets Northwood Tech apart is the support for students that comes in a variety of forms.
Support staff are not only caring and responsive, but also down-to-earth. They care about you as the learner and want to make your academic experience at Northwood Tech one that is memorable as well as enjoyable.
The Four Areas of the Innovative Teaching and Learning Center (iTLC)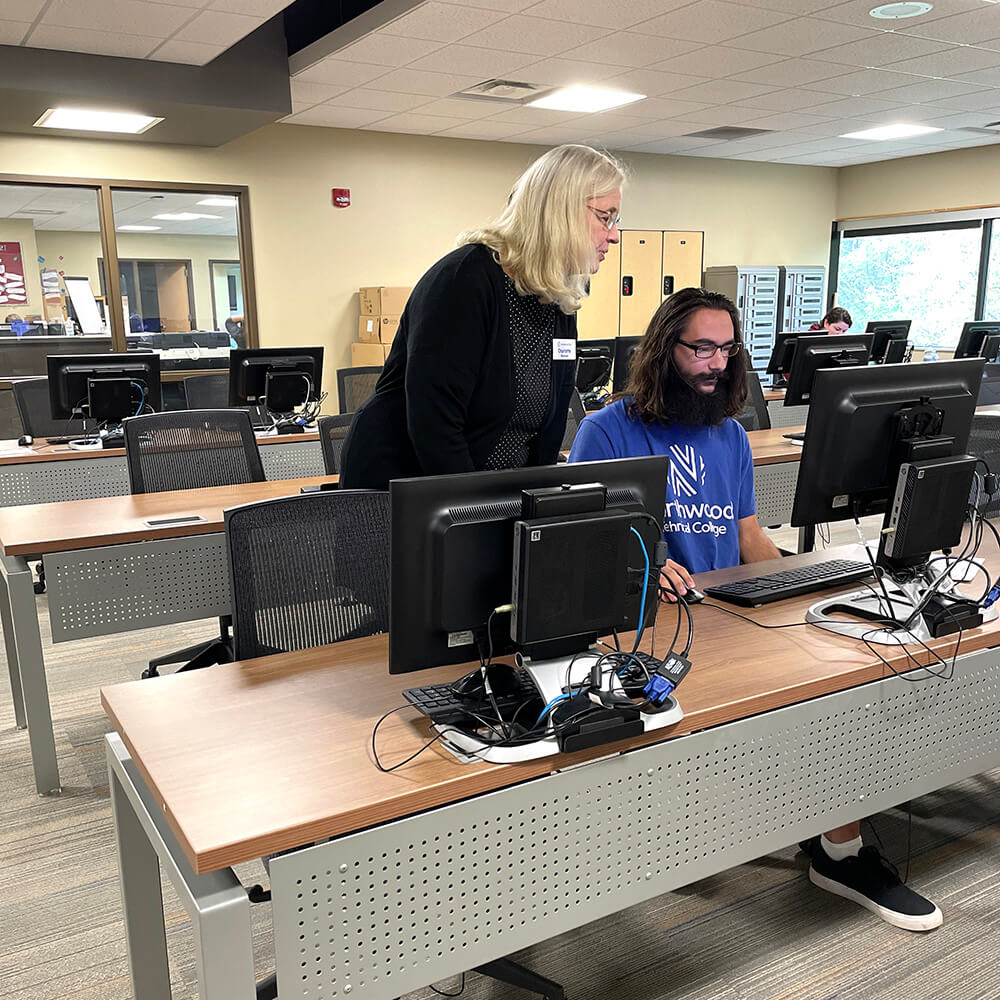 Academic Support Center
The Academic Support Center is committed to providing you with services and resources to successfully complete programs and courses, achieve personal goals or prepare for GED/HSED certifications to maximize your full academic potential. Support is student-centered, accessible, inclusive, and free of charge! 
Math, Science and Writing Labs
The Math, Science and Writing Labs help you with content-specific skills. You can get help and guidance with daily assignments, test preparation and projects such as research papers, care plans and resumès. 
Learning Technology Center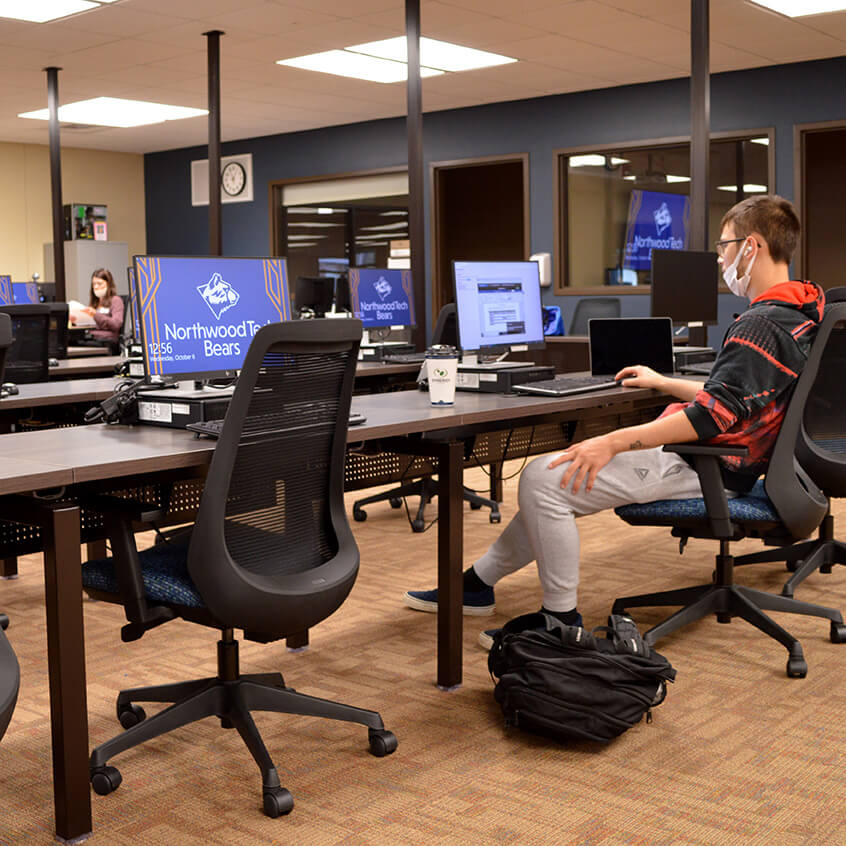 Learning Technology Center
The LTC provides on-the-ground support for all your technology needs: Northwood Tech online applications, online resources for your classes, your computers or personal devices, software installs and much more. Use the computer lab and access printers, copiers, and scanners.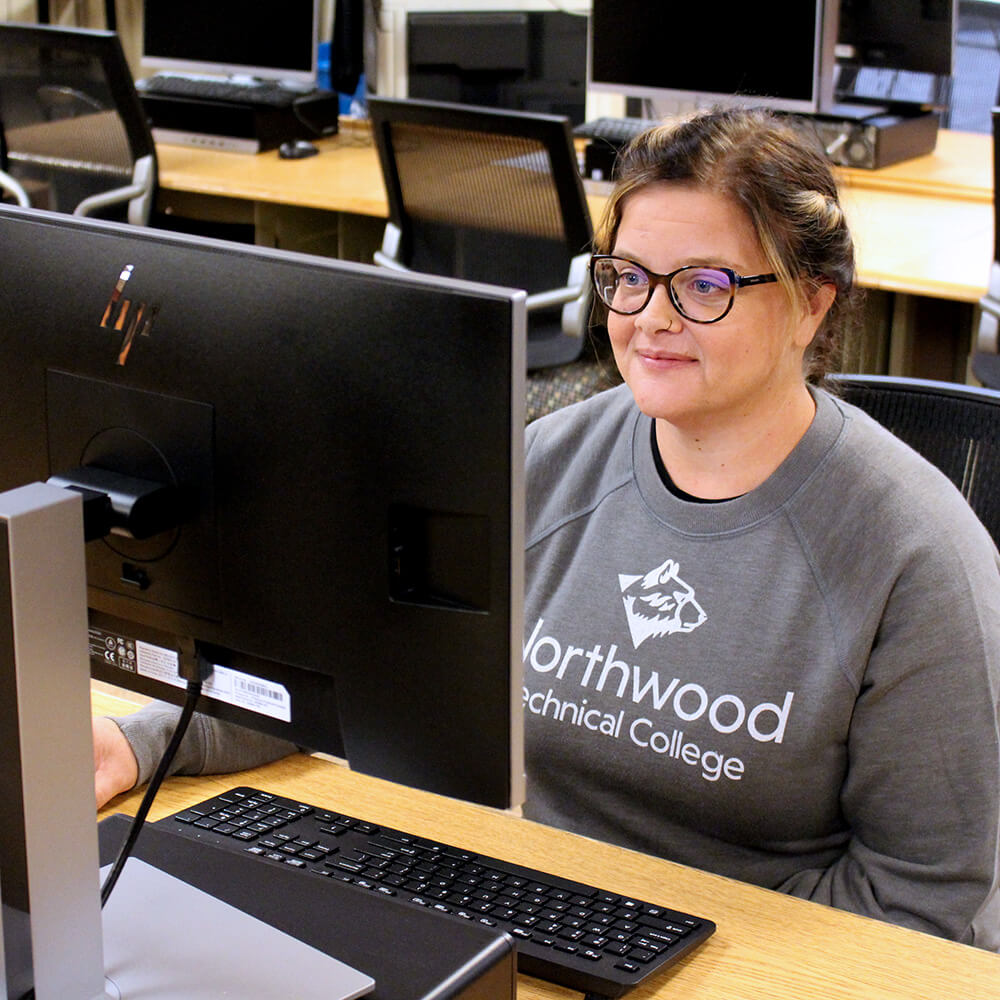 Library
Find the information you're looking for to complete your coursework and projects. Stop into the Library for access to computers, printers, scanners, books, journals, newspapers, and research help.
Online you can access the library catalog, journal databases, eBooks, streaming videos and check out our FAQ for 24/7 support.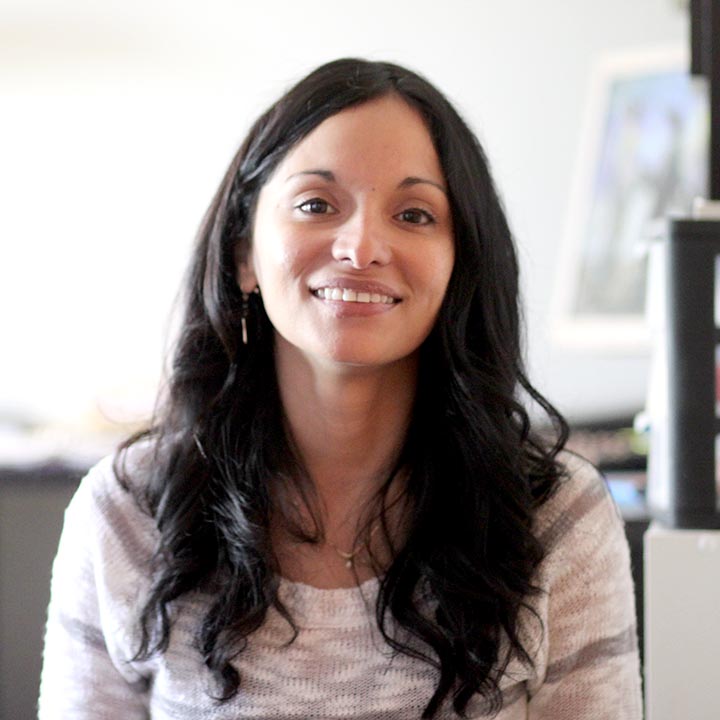 "Success is really dictated on the person's perception of themselves and their attitude. It doesn't have to happen right out of high school. When you're ready for what it is that you want, focus on it and it's yours." 

Maria Reyes, Nursing Associate Degree Graduate
Course and Program Support
Staff collaborates with program faculty and staff, as well as other campus partners, to provide a range of services, programs, and resources to support student learning. Through individualized and group instruction you can:
Participate in foundational skill building classes in math, writing and reading

Learn test taking strategies and study skills

Enhance critical thinking skills

Obtain basic computer skills

Acquire employability skills including resume writing and interview techniques

Develop strategies that fit your learning style

Receive free peer tutoring services

Academic Coaching: individual one-on-one support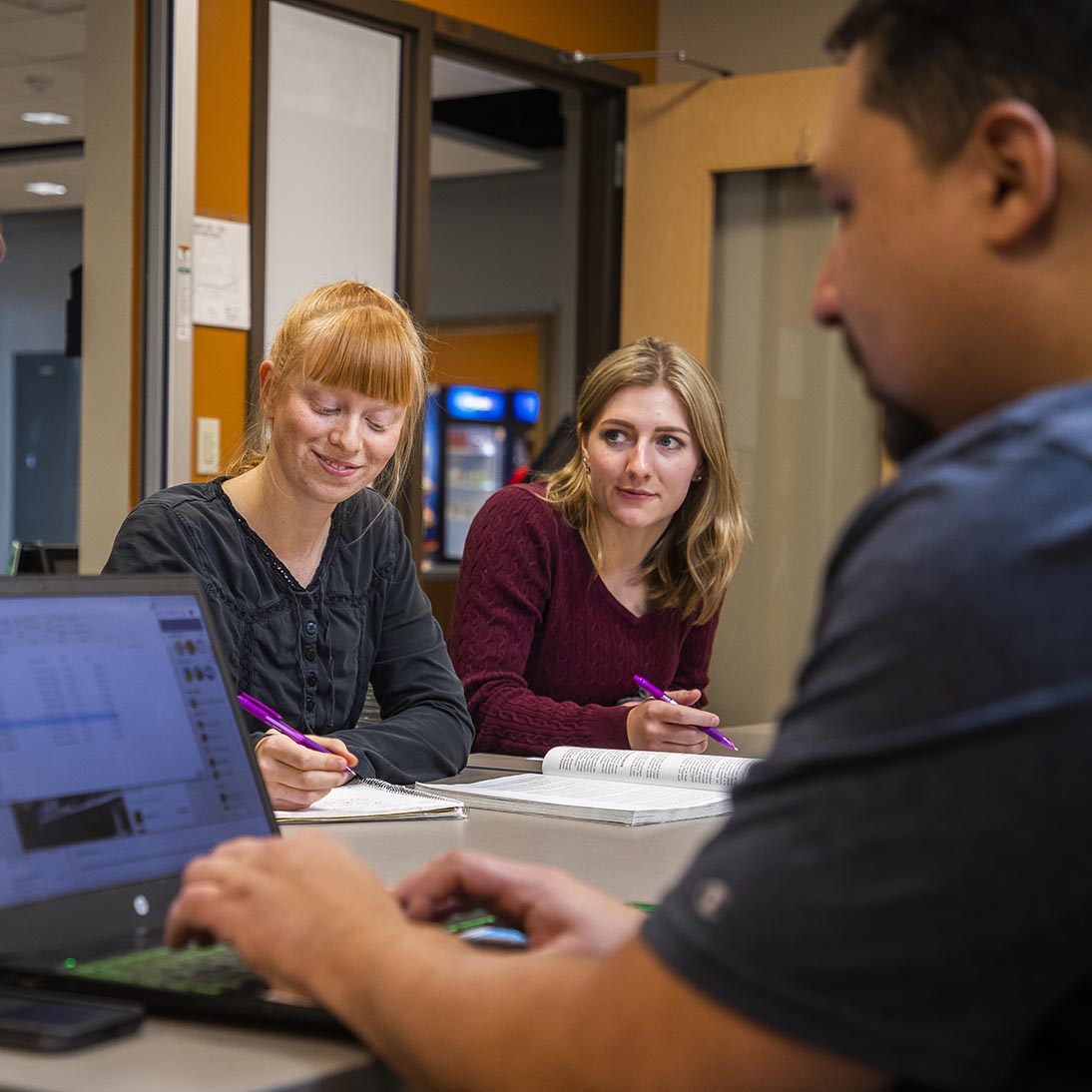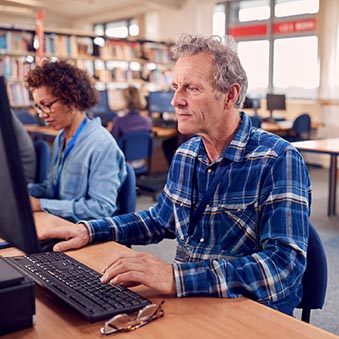 General Education Diploma (GED)/High School Equivalency Diploma (HSED)
Individuals interested in obtaining their GED/HSED participate in a State required orientation and assessment. Instructors work with students to develop an individual learning plan.
Northwood Tech offers free classes in math, writing and reading as needed prior to GED/HSED testing.
Adult Learner Education
Have you been out of school for a while? Would you like to brush up on your academic skills and build confidence?  Classes are personal and flexible, with a variety of options including lab and structured classes to meet your needs. These classes are available to those 18 and older.
Learn at a comfortable but challenging level, from the very basic to pre-college.

Subject areas include reading, writing, spelling, vocabulary, grammar, problem solving, and math.

Get a personalized study program built around your own learning level and learning style.

Work toward your own goals, on your schedule.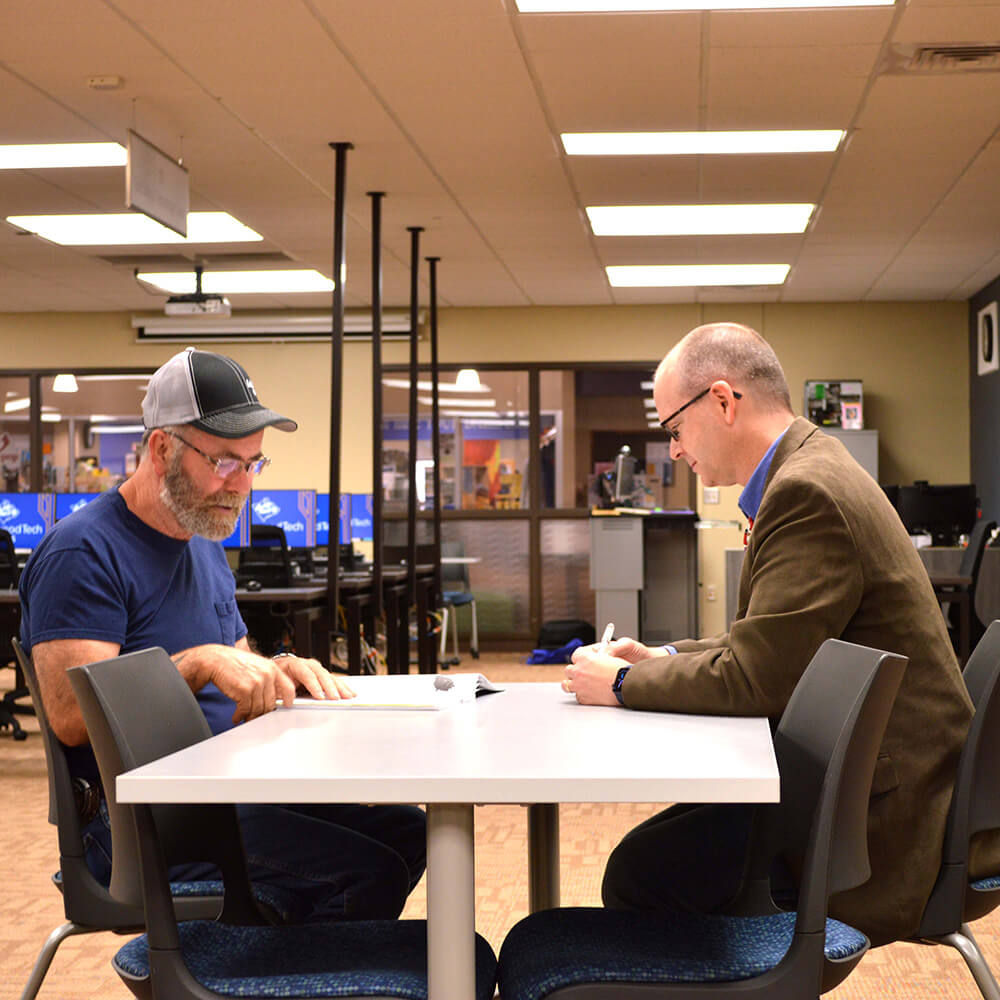 English Language Learner (ELL)
English language learner classes are designed to provide you with an academic environment to learn the English language as quickly as possible. An English language instructor is available to provide support in reading, writing, speaking and career skills.
Spanish: Clases de aprendizaje de inglés están diseñadas para proporcionarle un ambiente académico para aprender inglés lo antes posible. Un instructor de lengua inglesa está disponible para proporcionar apoyo en lectura, escritura, habla y habilidades de la carrera.

Somali: Casharrada barashada luuqada Ingiriisiga waxaa loogu talagalay inay ku siiyaan jawiga tacliinta si ay u bartaan luuqada Ingiriisiga sida ugu dhakhsaha badan. Tababaraha luuqada Ingriiska ah ayaa diyaar u ah inuu bixiyo taageerada akhriska, qorista, xirfadaha xirfadda iyo hadalka.

Hmong: Cov tub ntxhais xyaum kawm lus Askiv yog tsim los qhia koj txog qhov chaw kawm ntawv kom kawm lus Askiv sai li sai tau. Tus kws qhia lus Askiv muaj los pab txhawb kev nyeem ntawv, sau ntawv, hais lus thiab kev ua haujlwm.
Accommodations
Reasonable accommodations for persons with disabilities will be made to ensure access to academic programs, activities, services and employment in accordance with Section 504 of the Rehabilitation Act of 1973 and the Americans with Disabilities Act (ADA), Amendments Act of 2008 (ADAA). 
Northwood Tech provides confidential, student centered-planning to help ensure educational success. It is your right to request services to assist in your educational experience.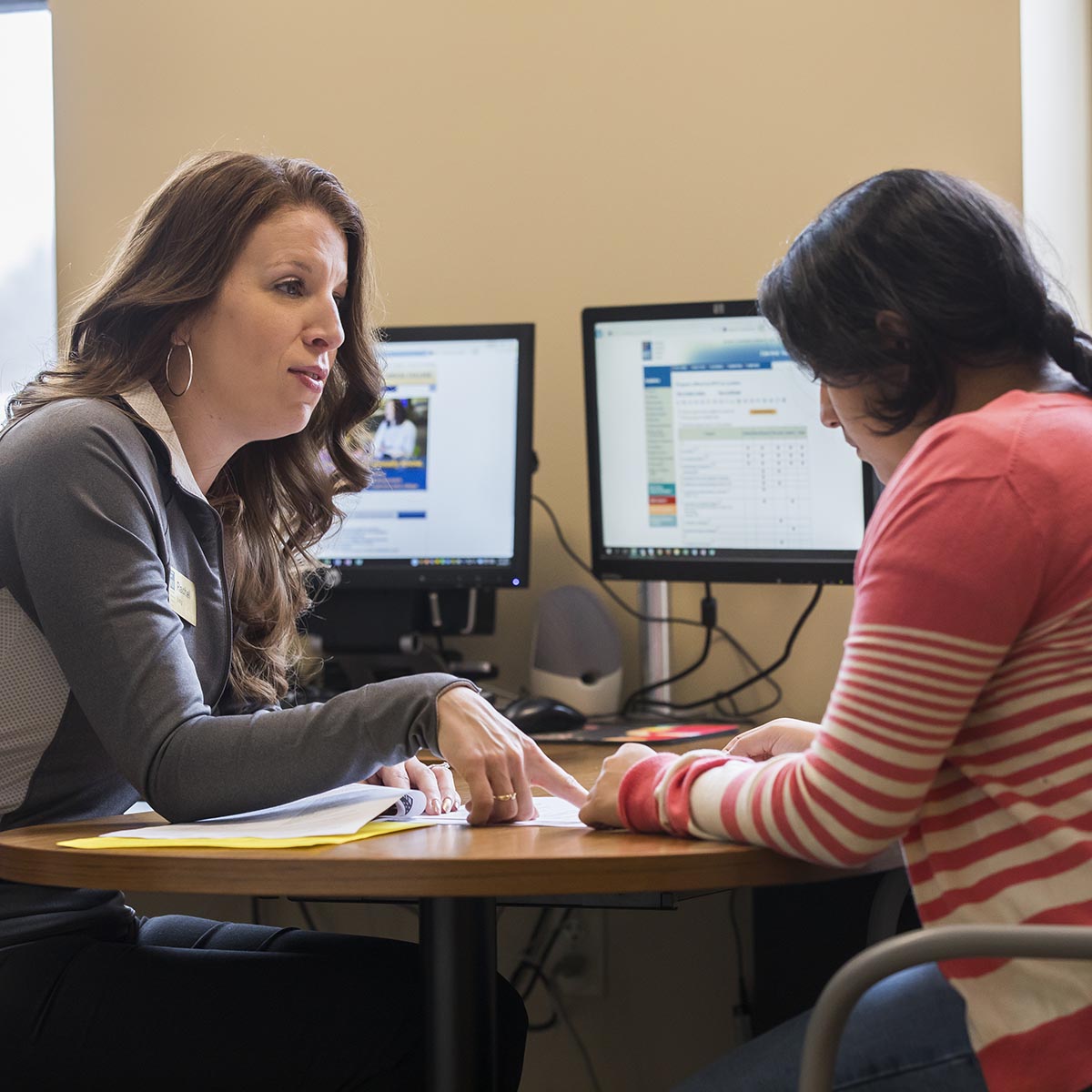 Academic Advising
During the first term of attendance at Northwood Tech, you will be assigned an academic advisor. Academic advisors help you with academic issues such as determining appropriate classes and sequencing of the courses and registration activities. The advisor will often be the person best qualified to assist a student in working out the specific procedures for their academic pursuits and frequently is best informed about local career opportunities in the student's field. Academic advisors are available for questions or special help during office hours.